Evangelical Immigration Table Ad Campaign Asks Supporters to 'Pray for Boehner'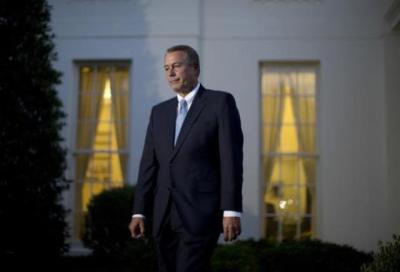 Correction Appended
The Evangelical Immigration Table have announced a print and radio ad campaign asking supporters to pray for God to help Speaker of the House John Boehner (R-Ohio) find a solution to the broken immigration system.
The ads will appear in the Washington D.C. daily free newspaper "Express," on radio stations in the D.C., North Carolina and Dallas-Fort Worth area in Texas, and on Spanish-language radio stations in Southern California. They also bring the Evangelical Immigration Table's total paid media efforts at over $1 million.
In one of the 60-second ads, a pastor introduces himself as Dub Karriker and informs listeners that "our immigration system isn't working and it is hurting everyone."
"Families are separated, employers can't find the workers they need, and the undocumented that want to get right with the law are told to get in a line that doesn't exist," Karriker says. "We know that we can do better."
Karriker references that hundreds of thousands of evangelicals pray for immigration reform and calls upon American Christians to pray for their Speaker of the House.
"More than ever, Speaker Boehner needs our prayers. Congress can pass a true conservative solution that will actually fix our immigration system. Right now, opponents of reform, are trying to keep Congress from even debating the issue," the pastor adds. "Please join me in praying for Speaker Boehner and House leadership, that God will help them find an immigration solution that reflects Biblical values."
The series of ads features pastors from local congregations; Karriker's church, Christian Assembly Church, is based out of Durham. Hector Hermosillo, who pastors Semilla@Eastside at Eastside Christian Church, in Anaheim, said that he chose to participate in the campaign because he wanted to speak for many of the marginalized members of his congregation.
"I decided to record the radio ad because I feel that with the ad I could be the voice for those that are voiceless in my congregation," Hermosillo said on a Thursday conference call. "As a Latino pastor in the U.S., I have to deal with the fact that our broken immigration system impacts many Latino families."
Hermosillo added that through his work in the church, he has spent time with individuals who have been "unjustly detained and deported" or "separated from their families."
"Personally, the Bible doesn't call me to judge the reasons why immigrants came to this country. The Bible calls me to serve them, to love them, to welcome them. It calls me to treat them justly — that should be the response for all of us who call ourselves Christians," Hermosillo added.
Correction: Dec. 9, 2012
An article on Friday, Dec. 6, reported that the Evangelical Immigration Table was spending $1 million on new ads. The new ads will bring total Evangelical Immigration Table spending to over $1 million.