Evangelical Leaders Not Planning Meeting With Trump Over Stormy Daniels Controversy: Johnnie Moore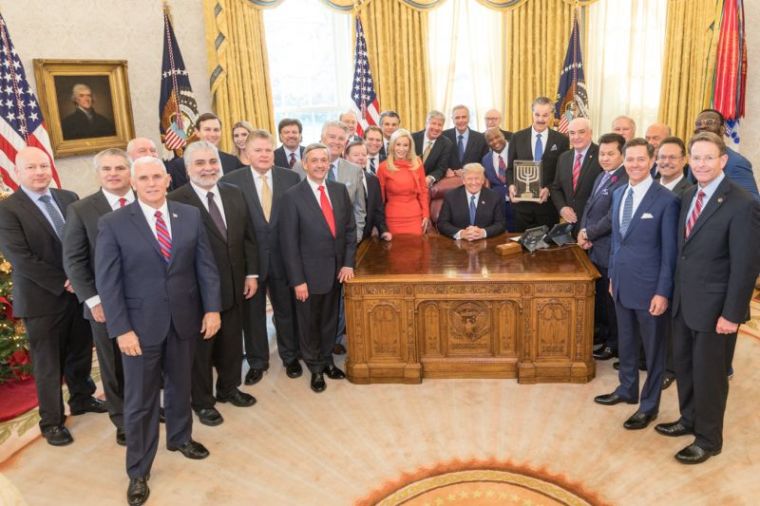 Evangelical leaders are not planning to meet with President Donald Trump over the Stormy Daniels controversy, according to an evangelical Trump administration adviser and human rights activist.
National Public Radio published a report Friday morning citing unnamed sources who said that evangelical leaders were planning to hold a meeting with the president about the allegations from Daniels about an extramarital affair and $130,000 payoff to keep quiet.
Johnnie Moore, an informal adviser to the Trump administration, emailed a statement to The Christian Post and other news outlets regarding the NPR story.
Moore explained that while there is an "ongoing discussion happening about a potential summit of conservative evangelicals in June in D.C.," the conference is "at a conceptual level only" and furthermore "doesn't center around the president at all."
"[A]ttaching the planning of the meeting to any personal accusations against the president is entirely farcical," said Moore, "that isn't the purpose and it has never been a point of discussion."
Regarding the anonymous sources for the story, Moore noted while he's not directly involved in planning the proposed event, he's an "informed observer" since he's been invited into all the discussions about it.
"I'm nearly certain the anonymous sources mentioned in the NPR report have zero firsthand knowledge of the planning discussions because it is a very, very small group involved," continued Moore.
"They must be speaking from absolute rumor and assumption. And, I would reiterate, this is an entirely conceptual conversation at this point as it is."
Recently, a porn star named Stephanie Clifford, known professionally as Stormy Daniels, garnered headlines for her claim that she had had a one-time sexual affair with Trump in 2006 and that during the 2016 election, a Trump lawyer paid her $130,000 to keep silent.
According to Daniels, she and Trump had their affair in July 2006 at American Century celebrity golf tournament in which Trump invited the porn star into his room and they had what she later described as "textbook generic" sex.
In 2011, Daniels reportedly passed a lie-detector test when asked about her affair with Trump, according to a document published by CNN on March 20.
Earlier this week, Trump broke his silence on the Daniels controversy, briefly stating at a news conference that he was unaware that his lawyer Michael Cohen had paid Daniels $130,000 in hush money.
"You'll have to ask Michael Cohen," explained Trump, as quoted by CNN. "Michael is my attorney. You'll have to ask Michael."