Evangelicals urge Trump to save humanitarian aid programs after cutting millions, cite Luke 12:48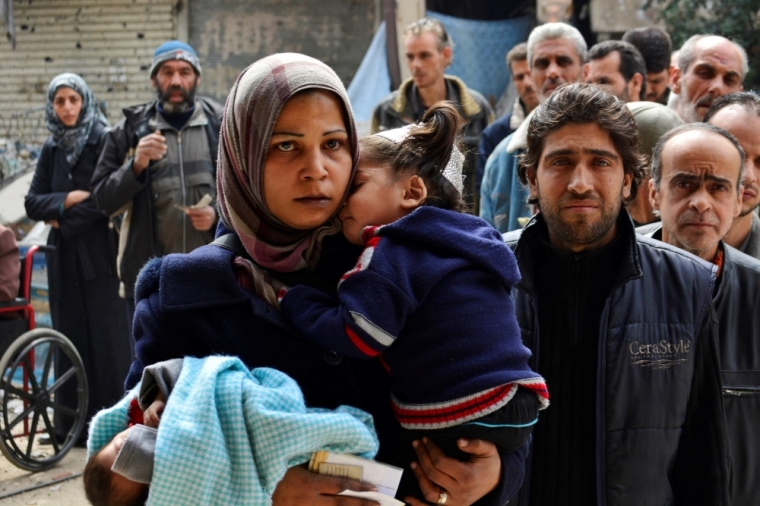 As the Donald Trump administration continues to conduct a review of United States foreign aid spending after cutting aid earmarked for Palestine, Syria, and Pakistan last year, evangelical leaders are calling for the continued funding of crucial U.S. aid assistance programs overseas.
Leaders of over 25 leading faith-based groups and nonprofits have signed onto a letter sent to President Donald Trump, Vice President Mike Pence and National Security Advisor John Bolton last Friday calling for the protection of America's development, diplomatic, and humanitarian programs around the world.
The letter was signed by prominent figures like leading Southern Baptist ethicist Russell Moore, former Southern Baptist Convention President Ronnie Floyd, World Vision President Edgar Sandoval and National Hispanic Christian Leadership Conference President Samuel Rodriguez.
The lead signatory of the letter is National Association of Evangelicals President Leith Anderson.
"As Christian leaders from across the United States, we write to share our strong support for our nation's efforts to assist our brothers and sisters around the world," the letter, a copy of which was shared with The Christian Post, reads.
"These vital resources and programs save lives, cure diseases, protect our freedoms, and help millions around the world lift themselves and their families out of poverty and into a brighter, more secure future."
The letter comes as the Trump White House has spoken out against a Democrat-led House bill that, among other things, would have provided $12 billion more for "international affairs programs" than the administration had wanted.
The administration complained that the House-passed spending bill, H.R. 21, also included $2.9 billion more "for economic and development assistance, including funding for the West Bank/Gaza, Syria, and Pakistan, where our foreign aid is either frozen or under review."
Although the faith leaders' statement doesn't specifically mention programs or countries by name, it asserts that America's leadership on the global stage is "manifested in investments in longer-term development programs that have helped to reduce by half the number of people living in extreme poverty."
The programs, they say, have also "reduced infant mortality rates by 50 percent, promote human rights and fight to protect the religious freedom of those persecuted around the world."
"Jesus taught us that 'from everyone who has been given much, much will be demanded; and from the one who has been entrusted with much, much more will be asked,'" the letter reads, citing Luke 12:48.  "Our nation has been richly blessed, and we have the privilege and obligation to share some of those blessings with those in need around the world. We do this through our private missionary, development, and humanitarian programs. But our government also has an indispensable role to play in diplomacy and in poverty-focused assistance programs."
As over 68 million people are displaced around the world and millions of others are dealing with severe hunger, the Christian leaders say that that now is not the time to "ignore our nation's responsibilities to alleviate the suffering of those who are less fortunate." They also say that it is not the time to pull back from our leadership role around the world."
The faith leaders argue that the U.S. should instead "strengthen and expand upon the achievements made over the last several decades."
"As Ambassador-at-Large for International Religious Freedom Sam Brownback recently observed at the first State Department Ministerial on Religious Freedom, 'We need partnerships in the defense, security, foreign affairs, [and] foreign aid communities [to] help us pursue universal respect for religious freedom,'" the letter asserts. "For one percent of the federal budget, development and humanitarian programs are cost-effective and ensure America remains a beacon of hope for those in need around the world. We pray that as you lead our generous people you will find the way to meet our nation's responsibility to those less fortunate."
The letter was also signed by leaders such as Mat Staver, founder of the conservative religious freedom nonprofit Liberty Counsel; Kelly Shackelford, president of the religious freedom legal group First Liberty Institute; Star Parker; president for the Center for Urban Renewal and Education; and Saul Anuzis, president of the 60 Plus Association.
Last year, the Trump administration scaled back financial support for a United Nations agency providing humanitarian aid to about 5 million Palestinian refugees. In August, the U.S. canceled over $200 million in aid for the Palestinians in the Gaza Strip and West Bank, a decision a State Department official said was made "at the direction of the president."
In December 2017, Trump threatened to cut off financial aid to countries who voted in favor of a United Nations resolution against the U.S. decision to recognize Jerusalem as Israel's capital.
"They take hundreds of millions of dollars and even billions of dollars, and then they vote against us. Well, we're watching those votes. Let them vote against us. We'll save a lot. We don't care," Trump said at the time. "This isn't like it used to be where they could vote against you, and then you pay them hundreds of millions of dollars and nobody knows what they're doing."
In September, the U.S. ended all of its funding to the U.N.'s Palestinian refugee agency, the United Nations Relief and Works Agency. A day later, the Trump administration nixed about $300 million in military aid to Pakistan over what he says is the government's inability to take care of terror groups.
In a tweet last January, Trump called out Pakistan for giving "no appreciation or respect."
Also in August, the Trump administration reportedly cut about $230 million in global reconstruction aid to Syria until the United Nations can lead a "credible and irreversible" political process in the civil war-inflicted nation.