Ex-LGBT Freedom Marchers to Testify to Holy Spirit's Transforming Power in Los Angeles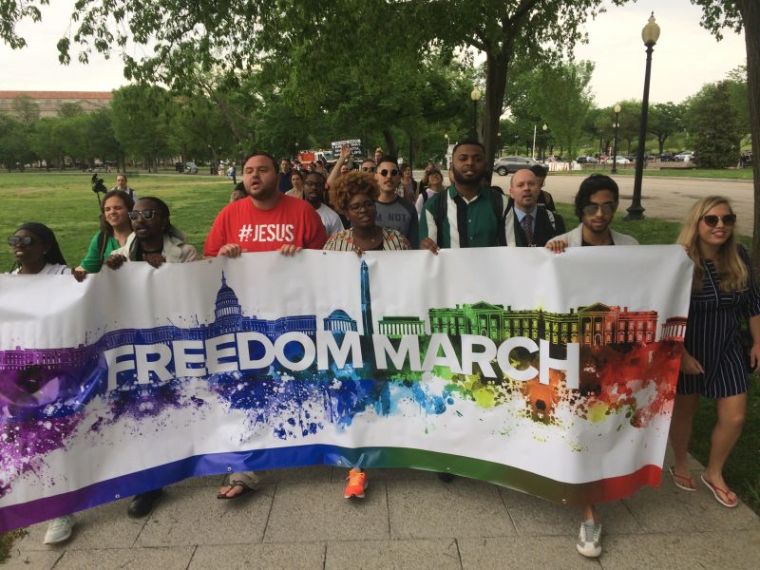 Former LBGT-identified people will be testifying publicly about how the Holy Spirit transformed their lives at an event called the Freedom March.
The march, which will be held in Los Angeles on Nov. 4, will feature worship and the sharing of testimonies by men and women who left behind the homosexual, bisexual and transgender lifestyle and identity because of grace and the transforming power of a relationship with Jesus Christ. The Los Angeles march comes months after the first-ever Freedom March took place in Washington, D.C. earlier this year.
Jeffrey McCall, who was once a male prostitute and lived for a few years as a transwoman named Scarlet, is founder and CEO of the Freedom March, McCall told The Christian Post in a phone interview on Wednesday that next month's march will feature even more speakers and he considers it divine timing given the cultural and political climate. Twelve former LGBT men and women spoke in Washington, D.C. last May and there will be around 20 speaking at the Los Angeles march.
"California is really a hotbed of politics right now with AB 2943 [a bill that would have banned therapy for persons with unwanted same-sex attractions under the consumer fraud law in the state] almost passing this year," McCall said.
"And also there is a film coming out that same weekend," he said, referring to "Boy Erased" which features Nicole Kidman and Russell Crowe. The movie tells the story of a boy whose Baptist parents force him to take part in what is derisively called "gay conversion therapy." 
The Freedom March team had wanted to hold the Los Angeles event in October but all of the doors shut, he said, explaining that what looked like a defeat was turned into a new opportunity.
"It's just kind of cool how God created a narrative for us to show the opposite side that same weekend," McCall said.
Since the first Freedom March in the nation's capital five months ago, participants have received numerous responses from those who are struggling. Though relatively few were able to attend the march in person, it was streamed online and thousands watched.
"What God created at the Freedom March was a sense of family. All these people across the country are now connected and meeting up with each other along with other overcomers."
McCall emphasized that in an age when even some evangelical churches seem to be capitulating on this issue, what they need to do is proclaim both grace and truth.
"We have to have a balance. The law came by Moses but grace and truth came by Jesus Christ. You can't just throw scriptures at [the LGBT community] and throw the truth at them without showing them grace and the power of the Holy Spirit and Jesus' love for them."
"And you can't just show them grace and say, 'Well, grace covers it. Do whatever you want.' There are some churches that do both. That's what I hope to see more of."
And grace precedes truth, he added, referencing the story in John 8 when Jesus defended and ministered to the woman caught in adultery but then told her to "Go and sin no more."
Freedom March organizers say want to continue to provide a platform for those who've left the LGBT lifestyle behind and will be reconvening in Washington, D.C. and Orlando, Florida, in 2019.
"I've always said it's not about gay to straight. It's about lost to saved," said Luis Javier Ruiz, a survivor of the 2016 Orlando Pulse Nightclub Islamist terrorist attack, in statement shared with CP about the upcoming march.
"Through the Freedom Marches we want to spread messages of love and acceptance for people who have shed their LGBT identity and show others that we do exist. These marches are our platform to educate and encourage others, and share in a community. We've had a great response from people, other community groups and churches."