Exclusive: 'The 33' Releases Photo Depicting Chilean Miner 'Pastor' Praying for Trapped Companion in Upcoming Antonio Banderas Film
Exclusive: 'The 33' Releases Photo Depicting Chilean Miner 'Pastor' Praying for Trapped Companion in Upcoming Antonio Banderas Film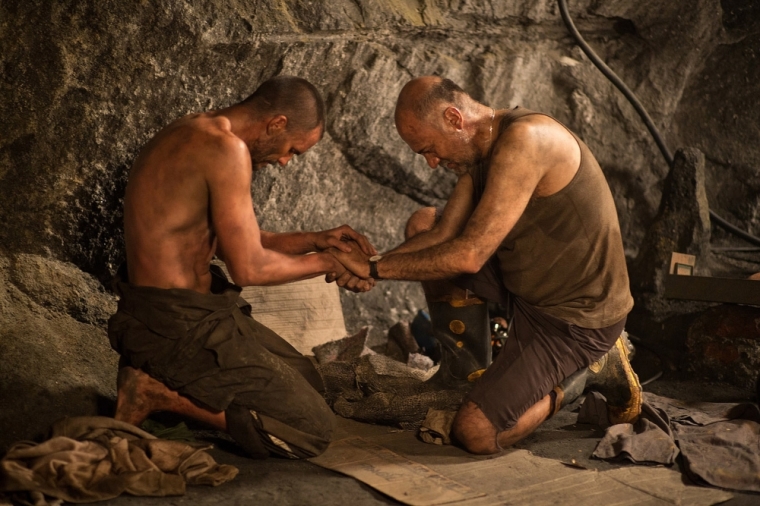 The upcoming film "The 33" tells the true story of 33 Chilean miners who were trapped more than 2,000 feet underground for 69 days in 2010.
An exclusive photo from "The 33" which depicts one of the miners considered to be the group's pastor, is seen praying for a fellow trapped companion and was shared with The Christian Post on Wednesday.
Jose Henriquez, who was a miner for 33 years, doubled as their preacher and acted as a "pastor and counselor" for the miners while they were trapped, teaching them and praying for them during their harsh trial.
Henriquez was commended for his service after the crew was rescued and was invited to speak at the National Prayer Breakfast in 2011.
"We realized we had only one alternative, and that was God Himself," said the 56-year-old at the breakfast, as reported by CNN.
"The hero is Jesus Christ, He is the only hero worth to mention. Regardless of what men did inside or outside, He deserves all the honor and the glory," added Henriquez.
He also spoke at Rick Warren's Saddleback Church in California around the same time where the mega pastor compared their experience to the biblical account of various patriarchs.
"He rescued Moses, he rescued Joseph, he rescued Jacob, he rescued Abraham, he rescued the children of Israel over and over and over. He rescued Jonah and Gideon, and I could just go on and on and on. The whole Bible is full of rescue stories," said Warren in 2011.
A trailer for the film was released earlier this month that also highlighted the faith element of the film. One of the scenes showed the group praying together.
"We can say a prayer together," says one of the trapped miners, while another responds, "I don't know the words." The first miner answers, "God doesn't care."
"The 33" hits theaters on Nov. 13. It stars Antonio Banderas and is directed by Patricia Riggen.