Facebook Apologizes, Republishes Abortion Instructions After Protests? (VIDEO)
Facebook removed a profile picture set by the director of a pro-choice advocacy group that outlines how a woman can self-administer an abortion using over-the-counter medication. But the social media site quickly reposted the image following protests.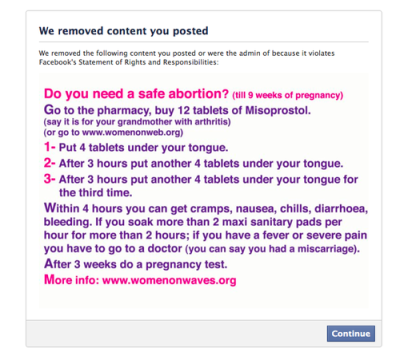 Rebecca Gomperts' Facebook profile image advises women seeking abortions to buy 12 tablets of Misoprostol – a medication used to prevent ulcers in arthritic patients – and instructs abortion seekers to say the requested medicine is "for your grandmother with arthritis."
Gomperts' advocacy organization, Women on Waves, sends groups of women on ships around the world to countries where abortions are illegal. The group, based out of Holland, says it only services nations at the request of local women's groups. Abortions are then conducted using pills.
Gomperts said the abortive method outlined in the photo is empirically safe and that the pro-choice group has been advising it for years.
"It's actually a sticker we designed to provide information on how women can safely induce an abortion using a medicine called Misoprostol," Gomperts told Radio Netherlands. "The text is based on information and research from the World Health Organization (WHO). So it is really quite safe."
A 2007 WHO statement confirmed "Vaginal misoprostol is an effective treatment for the termination of non-viable pregnancies before 24 weeks," but did not recommend the pill as an abortion treatment.
The group reposted the image on its Facebook page and received mostly positive comments from its members, while some pointed to the questionable safety and wisdom of performing the outlined method of abortion.
"While I agree with [women's] right to choose; also know frivolous lawsuits occur far too often," wrote Mike Zuberi. "Say somebody does this method of seeing this on [Facebook] and dies; their estate could sue FB for any number of reasons. It's business reasoning not any malicious thought going on here."
Gomperts said the Internet should be one place where people have the freedom to access any information without interference.
"It really worries me that there should be so much censorship on the Internet. Regardless of whether it's Google or Facebook," Gomperts said. "Because when you no longer know what's going on, you can also no longer discuss it. That's what we all should protest against."
Women on Waves said Facebook wrote a letter to Gomperts apologizing for the removal of the photo and said the decision was made in error.
The group claims on its website that a women dies every eight minutes from an unsafe, illegal abortion. According to the World Health Organization (WHO), that figure is specific to women in developing countries.
The Christian Post Daily Report 01.03.12