Facebook Snubs Crucifix Emoji Celebrating Christian Pride After Complaints About Rainbow Emoji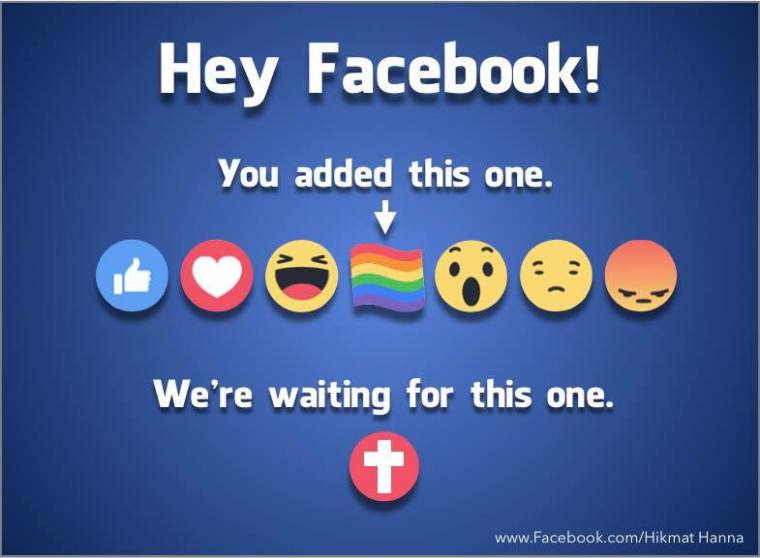 Despite an ongoing social media campaign by evangelical Christians pushing for Facebook to add a crucifix emoji to celebrate Christian pride like the new rainbow emoji celebrating gay pride, the company said it has no plans to do so.
"This reaction is not actually available on Facebook, and is not something we're working on," a Facebook spokesperson told Huff Post on Thursday.
Facebook said they added the gay pride reaction on June 9, in celebration of "love and diversity."
"We believe in building a platform that supports all communities. So we're celebrating love and diversity this pride by giving you a special reaction to use during pride month," the company said.
Two Saturdays ago, however, Hikmat Hanna, a Christian Facebook user who sometimes preaches, created a meme challenging the social network to include a reaction for Christians and encouraged others to join his campaign.
The campaign attracted the attention of Arizona evangelist Joshua Feuerstein, who shared the meme with his more than 2 million followers on Facebook and it went viral, drawing some 28,000 reactions and more than 9,500 shares.
A heated discussion also ensued between LGBT advocates and Christians who were divided on Facebook's decision to include the rainbow flag reaction celebrating gay pride.
"OK, so by that logic there should be one for Muslims, Jews, Buddhists and all other religions. Stop feeling persecuted, because it's not like they have reactions for all faiths except Christianity," Jamie Dunham said in a comment that drew more than 2,000 reactions.
In response, Debbie Sistare wrote: "I remind everyone that the rainbow is God's promise to us and He will never leave us. He extends this promise to the LGBT community giving them each a chance to turn to Him. So every time they look at their flag they can be reminded that God is real, He loves them and He is still waiting."
Feuerstein, who made the emoji controversy go viral, rose to national prominence when he started a campaign against Starbucks for using generic red cups without mentioning Christmas in 2015.
He previously recorded himself calling a Florida bakery to order a cake with the message: "We Do Not Support Gay Marriage." The bakery was forced to close temporarily after he alleged discrimination, according to The Washington Post.
Feuerstein has also steadfastly argued that America is a Christian nation, charging during a CNN interview that former President Barack Obama had to pretend to be a Christian in order to get elected.
With the end of June and gay pride month, Facebook has removed the rainbow emoji.
Facebook CEO Mark Zuckerberg recently announced that his company will be shifting its mission to focus on building communities that help to connect people with each other, like churches and Little League clubs minus the faith element.
"The thing that I think we all need to do right now is work to bring people closer together. And I think that this is actually so important that we're gonna change Facebook's whole mission as a company in order to focus on this," Zuckerberg announced at the inaugural Facebook Communities Summit in Chicago, Illinois, last Thursday.
He explained that over the last decade, Facebook which now has close to 2 billion users, had been working on making the world more focused and connected. While this has happened to some degree, he said, society remains "very divided."