Family of 6 Drowns Inside Van While Trying to Escape Harvey; Officials Fear More Dead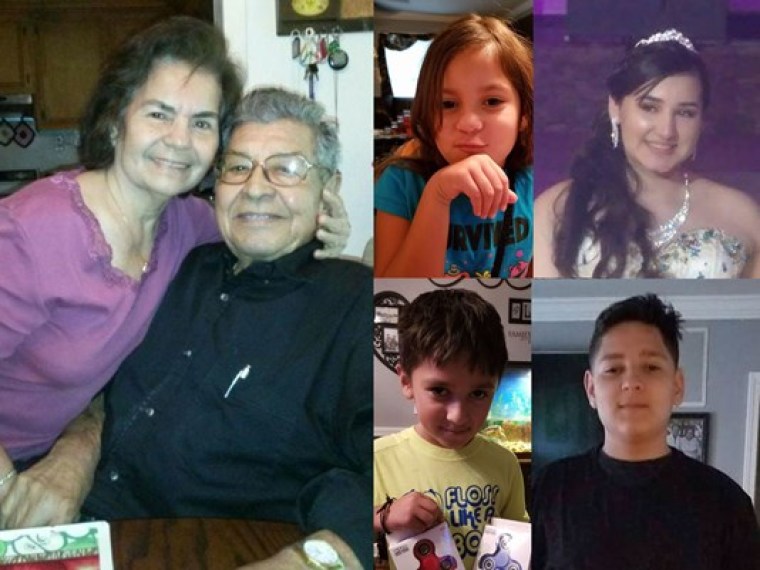 A desperate escape plan turned into a tragic horror story for six family members in Houston, Texas, Sunday after they were swept away then submerged in raging floodwaters from tropical storm Harvey while still trapped inside a van in which they were trying to find safety.
The family of four children — all 16 years and younger — and two older adults, are now presumed dead as officials worry that the death toll from the storm is likely to balloon well beyond the nine confirmed casualties so far.
Houston resident Virginia Saldivar told The Associated Press that she believes her six family members, including her four grandchildren, are now dead after the van, which was being driven by her brother-in-law sank into Greens Bayou in East Houston. The family members presumed dead were identified in a KHOU report as: Manuel Saldivar, 84, his wife Belia, 81, Daisy Saldivar, 6, Xavier Saldivar, 8, Dominic Saldivar, 14 and Devy Saldivar, 16.
"I'm just hoping we find the bodies," Virginia Saldivar told AP.
Spokesperson for the Harris County Sheriff's Office Jason Spencer told KHOU that they spoke with the driver of the van, Samuel "Sammy" Saldivar, who told them he was driving eastbound on Green River Rd. near John Ralston Rd. Sunday when rising water in Greens Bayou overcame the van. The driver identified the victims as his elderly parents and four great-nieces and nephews. Neither the vehicle nor the bodies have yet been recovered.
Witnesses told KHOU that the driver was able to crawl out of the van when the water hit. He reportedly told the children inside to try and get out through the back door but they couldn't. Family members told the network that the van sank quickly with everyone inside. Witnesses say first responders were in the area but they were unable to respond fast enough to save the victims.
At least nine people have been confirmed dead as a result of Harvey, including a woman killed Monday as she took a nap in her home in the town of Porter, northeast of Houston. A large oak tree toppled onto the woman's trailer home, reports said.
Police Chief Art Acevedo told AP that he's "really worried about how many bodies we're going to find."
KHOU's Brandi Smith highlighted in a now viral video how a truck driver could have drowned in his vehicle had she not drawn the attention of overwhelmed rescue workers trying to cover the sprawling city. The Houston metro area, according to AP, covers about 10,000 square miles which is an area slightly bigger than New Jersey.
As of Monday, some 3,000 people had been rescued by contingents of rescue workers and regular citizens but it hasn't been enough as people continue screaming for help from single-story homes where floodwaters have reached rooflines in some places.
And as more rain is expected from the storm at least until the end of the week, federal officials are warning of more danger.
"We are not out of the woods yet," Elaine Duke, the acting Homeland Security secretary, said Monday, according to The Washington Post. "Harvey is still a dangerous and historic storm."
In its latest warning Tuesday morning, the National Hurricane Center stated: "Catastrophic and life-threatening flooding continues in southeastern Texas and portions of southwestern Louisiana. Please see warnings and other products issued by your local National Weather Service office for additional information on this life-threatening situation."
And as more and more people displaced by the floods seek help with shelter, Austin city officials told The Washington Post that a local youth pastor came to the rescue after he himself was rescued from a flooded home.
Pastor David McDougle, 26, and his wife opened First Baptist Church North Houston to create a makeshift shelter for those in need. The church quickly reached capacity with nearly 300 people lying on the floor of the gym.
His food supply ran out around 5 a.m. Monday. People are also worried about drinking the tap water and the toilets in the church no longer flush. Despite the challenges, however, McDougle said he's keeping his faith in God.
"It's frustrating, but I'm just relying on God to fulfill His promises to us," McDougle told the Post. "We're all praying."