'Please God, help me': Family of slain NJ politician, pastor's wife still searching for answers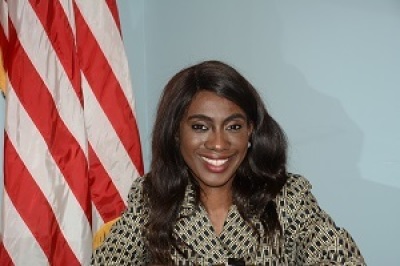 The family of Eunice Dwumfour, a Republican New Jersey councilwoman and pastor's wife who was murdered last month, is pleading for her killer to come forward as they are still searching for answers. 
In an emotional gathering at Sayreville Borough Hall, where Dwumfour served as a council member, her family called for justice and shared their grief.
Dwumfour, a 30-year-old mother who had recently married a pastor who lives in Nigeria, was fatally shot in her car just outside her townhome in the Camelot at La Mer apartment complex on Feb. 1.
She was found in her Nissan SUV with multiple gunshot wounds. The vehicle had traveled about 100 feet before crashing into two parked cars.
Her family, including her parents, Mary and Prince Dwumfour, husband Peter Ezechukwu, their pastor and lawyer, came together last week to appeal for justice, ABC7 reported.
"I need justice for my daughter," Mary Dwumfour said. "Please, God, help me."
Eunice's father, Prince Dwumfour, added: "I'm here today to let everyone hear our voice. Eunice is our daughter, who is a very, very good lady ... who didn't have any problems with anybody."
Eunice Dwumfour was a Newark native and was a single mother to her 12-year-old daughter. Her daughter was reportedly upstairs in their townhome when the shooting occurred. 
Dwumfour had recently married Ezechukwu, a Pentecostal megachurch pastor residing in Nigeria.
"There's a lot of memories, and I don't think I could ever forget about my lovely wife," he was quoted as saying.
The investigation is ongoing, with investigators exploring various angles, including her ties to the church her husband is affiliated with and other personal and professional relationships.
The FBI, Sayreville Police and the Middlesex County Prosecutor's Office are collaborating in the case. But so far, few details have been released about potential leads or suspects, and no arrests have yet been made. 
About a week after the murder, investigators disclosed that they were looking into Champions Royal Assembly in Newark, a local chapter of the Nigerian church where Dwumfour served as a pastor and was involved in finances, according to News 12 New Jersey. The outlet reported that Dwumfour went to the church along with Sayreville Council President Christian Onuoha. Both were listed as "officers or agents" of the church in corporate paperwork.
Onuoha told News12 that church members had their phones and modems looked at by investigators, adding that the car she was driving the night she was murdered was a gift from a congregant.
Champions Royal Assembly was founded over a decade ago in affiliation with televangelist Joshua Iginla, who heads the Abuja, Nigeria, megachurch of over 80,000 people, according to The Asbury Park Press. While the congregation met on the second level of a store, the address listed for Champions Royal Assembly and Fire Congress Fellowship was the same address as an apartment complex Dwumfour listed as her residence. 
"She was a treasurer with her church. Anytime you're dealing with money, sometimes there are people who are not happy," Democrat John Wisniewski, a former state assemblyman and lifelong Sayreville resident, told News 12. 
"And the one thing I've learned in my 22 years in public life is that as much as we think we know people, people also have private sides. And they also have things that they're dealing with and people that they're dealing with that none of us know about."