Farrakhan Exploits Charleston Tragedy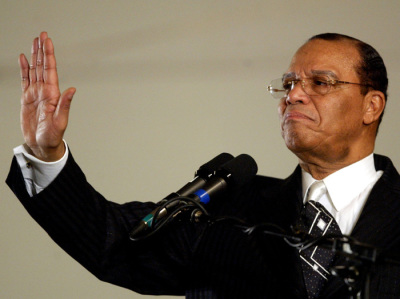 The recent, racially-motivated massacre of a bible study group in a historic African Methodist Episcopal church in Charleston has sparked grief, shock, rage, and an almost-unbelievable and moving expression of forgiveness from the victims' families. The shooting reignited a national conversation on the appropriateness of public displays of the Confederate battle flag; many prominent Southern Christians spoke in favor of its removal. Within Charleston, the church which was the site of the massacre was packed during the next Sunday's service. Thousands participated in vigils, and an estimated 20,000 people of every background marched together in solidarity, singing "This Little Light of Mine" and "God Bless America." Many public leaders recognized and reflected this solidarity and the forgiveness offered even while acknowledging and mourning the history of anti-Black and anti-Black church violence in American history; a vocal few, primarily from the political left, chose instead to exploit the tragedy for their own ends.
Louis Farrakhan, leader of the Nation of Islam, gave an impassioned speech denouncing America and aligning all white Americans with the sentiments of the racist murderer. This speech was given at historic Metropolitan AME Church in Washington D.C., the "National Cathedral of African Methodism," and received thunderous applause and cheers. Farrakhan did not hold back with his extreme and inciting vitriol. Speaking of the white people of Charleston that joined in the services, vigils, and marches he shouted, "White folks march with you because they don't want you upsetting the city. They don't give a damn about them nine."
Because the police fed the murderer shortly after he was (without incident) apprehended, Farrakhan accused them of supporting the murders. "And you know what they [the police] were saying? 'You did a good job killing all them [racial epithet].' You think they were sympathetic? If they were sympathetic with us they would have snatched him, put him in chains, had the gun on him." (Photos show the murderer in handcuffs.)
Farrakhan broadened his attack to include the country at large. "I don't know what the hell the fight is about over the Confederate flag," he roared, "We need to put the American flag down because we've caught as much hell under that flag as the Confederate flag. Who are we fighting today? It's the people that carry the American flag. What flag do the police have? What flag flies over the non-Justice department? What flag flies over the White House where a black man lives that's called [racial epithet] every day? What about that flag?"
He continued his attack, alleging an absence of justice. "So every time we die, they give us a symbol, no substance…. You [white Americans] don't know what justice looks like….What is the use of us pledging allegiance to a flag under which we get no justice?"
The murderer is currently in custody, pending a trial.
On the opposite side, President Obama gave the eulogy at the funeral of the Rev. Clementa Pinckney, murdered pastor of Mother Emanuel AME church. His eulogy focused on hope, grace, and the forgiveness expressed by the victims' families.
"According to the Christian tradition, grace is not earned. Grace is not merited. It's not something we deserve. Rather, grace is the free and benevolent favor of God as manifested in the salvation of sinners and the bestowal of blessings…. We may not have earned it, this grace, with our rancor and complacency, and short-sightedness and fear of each other — but we got it all the same. He gave it to us anyway. He's once more given us grace. But it is up to us now to make the most of it, to receive it with gratitude, and to prove ourselves worthy of this gift."
He did not accuse white Americans at large or deny that justice was possible in America (though he did plug several leftist policies). He spoke of the importance of solidarity:
 "We talk a lot about race. There's no shortcut. And we don't need more talk. (Applause.) None of us should believe that a handful of gun safety measures will prevent every tragedy. It will not. People of goodwill will continue to debate the merits of various policies, as our democracy requires — this is a big, raucous place, America is. And there are good people on both sides of these debates. Whatever solutions we find will necessarily be incomplete…. It would be a refutation of the forgiveness expressed by those families if we merely slipped into old habits, whereby those who disagree with us are not merely wrong but bad; where we shout instead of listen; where we barricade ourselves behind preconceived notions or well-practiced cynicism."
He ended the eulogy by singing "Amazing Grace."