Ferguson Protesters Stage Die-in Ahead of Grand Jury Announcement; Obama Meets With Michael Brown Supporters, Offers Words of Encouragement (Video)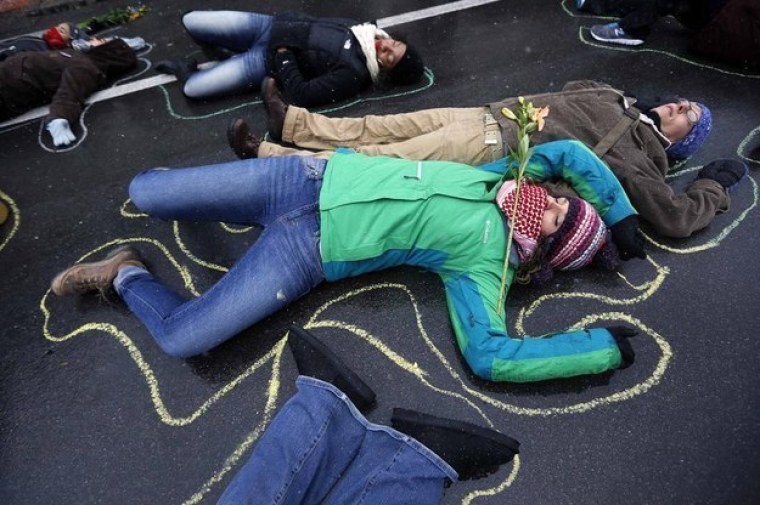 Ferguson protesters staged a die-in on Sunday amid reports that U.S. President Barack Obama recently met with activists and encouraged peaceful demonstrations.
Several hundred protesters braved wet weather conditions and laid down in chalk outlines at a St. Louis intersection, simulating being shot dead. The demonstration marked 100 days since unarmed teenager Michael Brown was fatally shot by Ferguson officer Darren Wilson.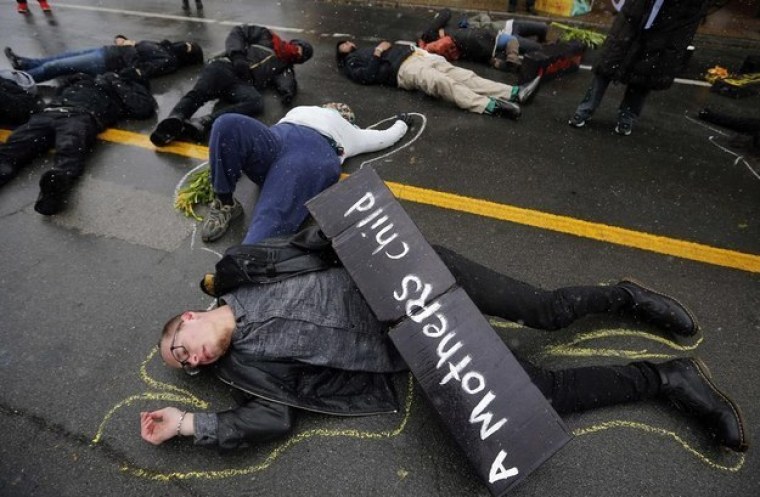 On Aug. 9, 18-year-old Brown had a fatal encounter with Wilson on a street in Ferguson and what exactly transpired during the incident remains a point of contention. The six-year veteran police officer claims he shot the teen in self defense, but Brown supporters claim the shooting was unprovoked after he committed a theft at a local Quik Trip.
"This is a mature movement. It is a different movement than it was in August. Then it just had anger, justifiable anger," said DeRay McKesson, a 29-year-old protest leader. "Now we are organized. We are strategizing. And we are going to bring our message to the power structure."
The case, which is being heard by a St. Louis grand jury, sparked nation-wide protests. On Sunday, dozens of young adults marched to the Delmar Loop chanting "Arrest Darren Wilson" before staging the die-in in the middle of the street.
"The is the reality of our last hundred days," said one demonstrator reported CBS St. Louis. "We saw a dead body on the ground, and afterward, constant police brutality. That's our reality."
Another demonstrator explained why protesters opted to protest at a busy intersection.
"When you make people uncomfortable, things happen," said activist Rockit Ali. "That's the whole point of this action is we want to bring it to places where it's going to make people of privilege uncomfortable."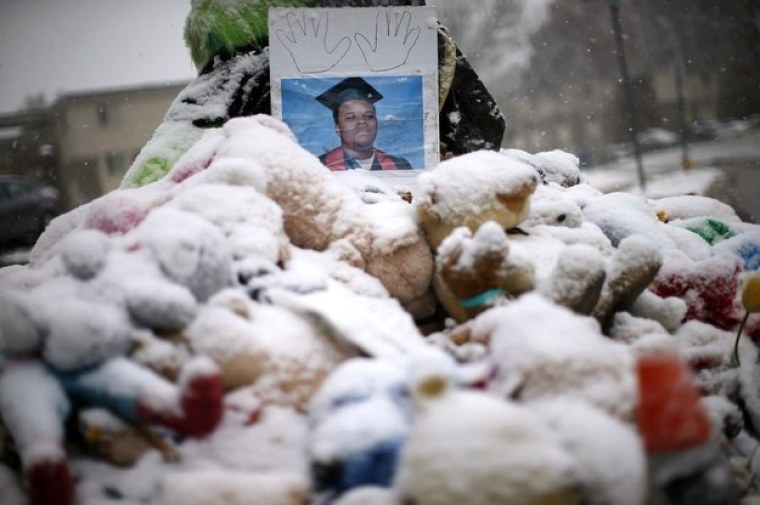 Obama reportedly met with high-profile activists, including Reverend Al Sharpton, on Nov. 5. He encouraged peaceful protests as the community awaits the grand jury outcome.
"[Obama] was concerned about Ferguson staying on course in terms of pursuing what it was that he knew we were advocating. He said he hopes that we're doing all we can to keep peace," said Sharpton to the New York Times.
On Nov. 12, key elected officials from Missouri took part in a conference call to discuss the case. Among the issues discussed was the ongoing protests and how police should respond.
One report claims officials also discussed the future of Wilson and embattled Ferguson police chief Thomas Jackson and whether or not they should both be fired ahead of the grand jury verdict. This has not been publicly confirmed by key officials.
"The Attorney General participated in a conference call this afternoon with federal, state and local elected officials from Missouri," Justice Department spokesman Brian Fallon said in a statement. "... The Attorney General stressed that going forward, it will be more important than ever that the law enforcement response to the demonstrations always seek to deescalate tensions and respect the rights of protestors. At the same time, the Attorney General said, it must be clearly communicated that any acts of violence by the demonstrators, or other attempts to provoke law enforcement, are unacceptable."
Last month Jackson, who previously apologized for the police department's handling of the civil unrest, denied reports claiming he intends to step down after the grand jury verdict.
"It's absolutely not true. Nobody has asked me to resign nor have I been fired," Jackson told the St. Louis Post Dispatch. "If I do resign, it will be my own choice."