Fewer Americans Are Getting Married as Many Millennials Postpone Nuptials Indefinitely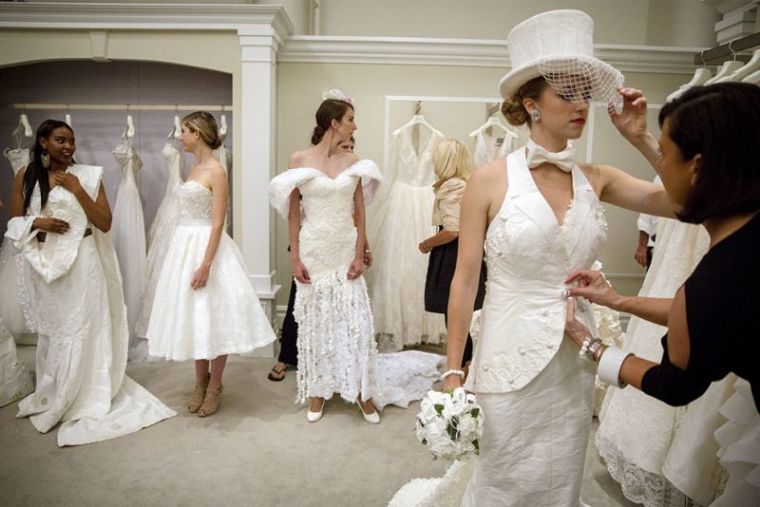 Not only are fewer Americans getting married, but many are delaying marriage, and those who are choosing to say, "I do," are inviting fewer guests, according to a report in Bloomberg, which looked at the latest data from the U.S. Census Bureau and private research firms.
The marriage rate, which is measured with the number of new marriages per 1,000 people, has been falling for decades, and it fell especially fast during the recession in 2008 and 2009, says a Bloomberg report, adding that it's unlikely people started getting married again even as the economy recovered.
This declining marriage rate might not be visible in the total number of marriages, as the population rises, but the number of U.S. weddings still fell last year, by 0.5 percent, to 2.162 million, according to estimates by the Wedding Report, a market-research firm specializing in the wedding industry, the report says.
"In Europe, and increasingly in the U.S., many couples are postponing marriage indefinitely, as it becomes more socially acceptable for couples to live together and have children together outside the bonds of marriage," it notes.
The report also cites research firm IbisWorld, which has predicted that the marriage rate will keep falling over the next five years.
Since the recession, wedding have also shrunk, the report adds, quoting from an annual survey of couples by the wedding website Knot, which shows that last year's average wedding had 141 guests, down from 149 guests in 2009. This means many couples are having to spend more on each guest. The average spending per guest is up 26 percent since 2009.
In 2014, a study by Washington D.C.-based Urban Institute showed that while only about 18 percent of Gen X women were married by 40, the number of their millennial counterparts waiting until age 40 to tie the knot could almost double.
That study said the percentage of millennials marrying by age 40 will fall lower than for any previous generation of Americans, even in a scenario where marriage rates recover considerably.
It added that in the early millennium period, from 2000 to 2004, the peak first marriage rate for single U.S.-born women at each year of age from 20 to 40 was .099, which indicated that among never-married single women age 25 in that period, just under 10 percent would have married a year later at age 26.
From 2004 to 2008, the immediate prerecession period, the peak rate was .088, and in the recession-and-after period, from 2008 to 2012, the peak rate further came down to .075, it said.
In an op-ed in The Christian Post in April, contributor Jennifer Murff analysed why millennial women are choosing to delay marriage.
One of the main reasons is too much debt, she wrote. "Unlike previous generations that married young, the average college graduate is entering the workforce with an average of $30,000 of student loan debt. In fact, finances are the third most common reason Americans cite for why they are not yet married."
There's also a lack of marriageable men, she added.
"In 2012, there were 34 percent more women than men who graduated from American colleges, and the U.S. Department of Education expects this gap to continue to increase through 2024. This education gap means that young women may need to be more open to finding suitable matches with men who have careers or educational backgrounds that vastly differ from their own — but who are a compatible match in other areas, such as faith, values, and worldview."