First Baptist Dallas Celebrates 150 Years; Robert Jeffress Talks Future Plans, Pastor Who Impacted Him Most
First Baptist Dallas Celebrates 150 Years; Robert Jeffress Talks Future Plans, Pastor Who Impacted Him Most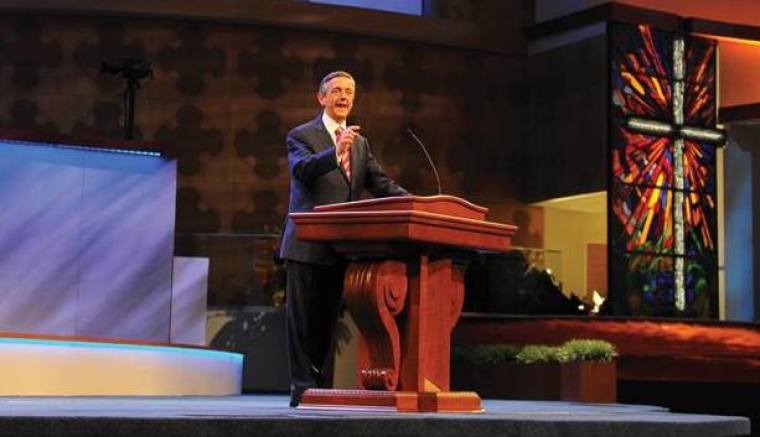 First Baptist Church of Dallas, Texas, the megachurch headed by Pastor Robert Jeffress, will be celebrating its 150th anniversary on Sunday.
Originally founded on July 30, 1868, the church that began with 11 members now has approximately 12,000 people on its membership roll.
FBC Dallas is planning to hold a special service on Sunday to commemorate the occasion, with Texas Governor Greg Abbott expected to be in attendance.
Attendees to the service will get a commemorative Bible for each family, as well as a children's book focused on the history of the church.
There will also be a message delivered by Jeffress about the past and future of the congregation, as well as a history display at the church's Ruth Behr Hall.
Jeffress, who took lead of the church in 2007, talked with The Christian Post on Friday about the milestone and other related topics. Below are excerpts from the interview.
CP: At a time when many churches are in decline or closing, how is it that First Baptist Dallas is celebrating its 150 anniversary and still going strong?
Jeffress: I think there's one simple answer to that. We are a church that's not built on a denomination or a church built on tradition or a church built on popular opinion. We are a church built on the Bible. The fact is, denominations change, culture changes, opinions change, but God's Word never changes. I think the reason God has blessed First Baptist for these 150 years is, this is a church that has been dedicated to proclaiming the unchanging truth of God's Word.
CP: According to your announcement, you will be delivering a special message at the service. What will be in this message?
Jeffress: The spiritual foundation of this church is the Word of God, both the Living and the Written Word of God. But I'm going to talk about three other foundations that explain why I think God has blessed this church in addition to the spiritual foundation.
I'm going to talk about the fact that First Baptist Church Dallas is a church that has been built on commitment. Our people, for 150 years, have shown a passion for doing the will of God and being willing to make whatever sacrifice necessary.
Secondly, Frist Baptist Dallas is built upon the Gospel. We deal with urgency to share the Gospel with as many people as possible and as soon as possible. And that sense of urgency is what drives us.
And then, we are a church that is built upon the Bible. And that's why I think you have such a diverse church at First Baptist Dallas. We're not just a church filled with a bunch of middle-aged white people. We have people from all different backgrounds coming to our church. All different races, all different economic statuses. Why? Because they are hungry to hear the Word of God.
CP: What efforts are you undertaking to make sure that FBC Dallas continues to endure and grow, possibly for another 150 years?
Jeffress: We're trying to minister to those in our immediate vicinity. Downtown Dallas is booming in growth. In fact, the whole metroplex is having 400 new people a day come to the Dallas-Fort Worth metroplex. So we want to minister to those who are in our immediate vicinity, but we have always been a church with a worldwide impact.
First Baptist Dallas has always had a worldwide impact and we're continuing that tradition by using our broadcasts and internet capabilities, our messages are heard now on a thousand radio stations every day throughout the country. Our weekly television program is seen on more than 16,000 stations and cable systems in all 195 countries. So we're seeking to fulfill the Great Commission by using the new technology God has given to us.
CP: Who's the pastor that's had the biggest influence on you and how you lead your church?
Jeffress: My greatest influence was my pastor growing up here, Dr. W. A. Criswell. It's interesting, in a 100-year period of time the church only had two pastors: Dr. George W. Truett and then Dr. W. A. Criswell. And I supposed the greatest impact Dr. Criswell had on my life was giving me confidence in the trustworthiness of scripture.
Dr. Criswell's favorite verse of the Bible was Isaiah 40:8, "the grass withers, the flower fades, but the Word of our God shall stand forever."
CP: What are your future plans? How long do you plan to be lead pastor?
Jeffress: I plan to be here until God raptures me, or takes me home, one way or the other. So I'm not going anywhere until they chase me out of here.
CP: Has the church's involvement with politics over the years, particularly your outspoken support for President Donald Trump, had any negative impact on the church? If not, why do you think it hasn't?
Jeffress: Our church is bursting at the seams. In fact, even though we opened up this $135 million campus five years ago, we're already out of room. We're getting ready to add a $35 million extension to our children's area because we have so many young families.
Our church has always felt like our mission is not just to stay in the holy huddle and isolate ourselves from the world, but to influence the world. And you know, that's what politics means. The Latin word for politics means "to influence." And so, First Baptist has had a history of being a political as well as spiritual force.
Presidents, beginning with Woodrow Wilson, Gerald Ford, Richard Nixon, and George Bush have all sought counsel of pastors at First Baptist Dallas. So my involvement in that arena is not unusual for the church, it's something that's very familiar to the church.