First Black Pastor At Lakewood Church Talks Faith and Ministry: 'I Believe What I Speak'
Pastor John Gray is the first African-American pastor to join Joel Osteen's Lakewood Church in Houston, Texas, and he considers it a "high honor" to be a part of the largest congregation in the United States.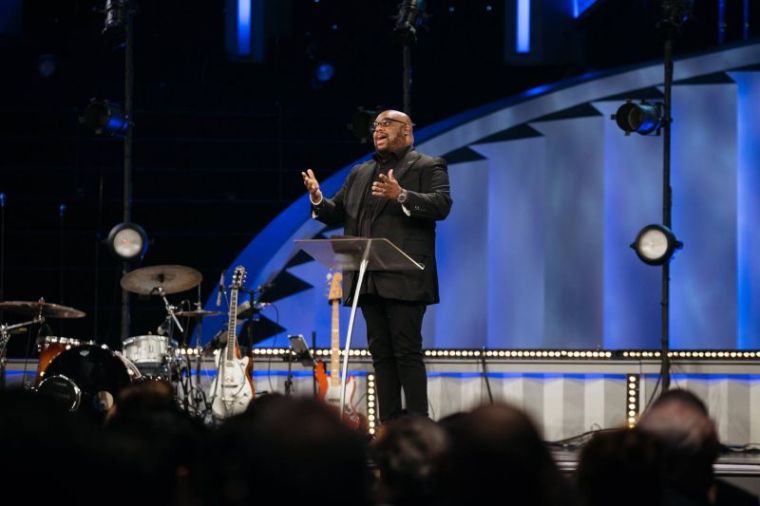 Gray talked to Oprah Winfrey on her show "SuperSoul Sunday," and revealed that he has been a part of Lakewood since January 2013.
Despite leading the same congregation, Gray said he is actually the exact opposite of Osteen. "I'm this fiery, loud, kind of boisterous guy, and he's the sweetest guy in the whole world," he shared. "If he's in 'Friday the 13th,' he'd still be this guy: 'Jason, don't stab people. You're supposed to love people.'"
However, what makes the two of them work well together is their mutual respect and unity. They might have different personalities, but Gray said they are working for the same person — God.
"The reason why we connected is because we have different expressions, but the same heart," he said. "He casts a wide net of hope. Anybody is allowed to walk into that church and find hope and life. Every single person that we will ever encounter is created by the same God ― I believe that, and everybody has inherent value. So, we were able to connect."
Gray also discussed the large crowd who regularly attends church. He is currently leading the Wednesday night service. Gray said attendance has shot up rapidly since he started —  from 2,500 to 9,000.
"It's about 9,000 ― on a Wednesday, in Houston, in traffic, Oprah," he told the host. "You can't even stay saved in the traffic in Houston. You have to come to church after all the cussing you do on the highways."
Gray reflected that Lakewood regulars seem to love hearing him speak because he is able to walk the talk. "I believe it's because they know my heart is pure and I'm authentic in what I share," he said. "I believe what I speak."
Gray and his wife Aventer will be starring in the new OWN series called "The Book of John Gray," according to Ebony. In it, the Christian couple will share their struggles as a family and hope to encourage people who are facing their own challenges as well.
"We don't mind being transparent about our flaws and we don't mind celebrating others," Aventer said of their show. "Hope is something everybody needs a dose of every single day, so you're not swallowed up by the climate we're in. So we're happy to be the biggest advocates of hope right now."