3 Views: Did the First Debate Help Hillary Clinton Gain on Donald Trump?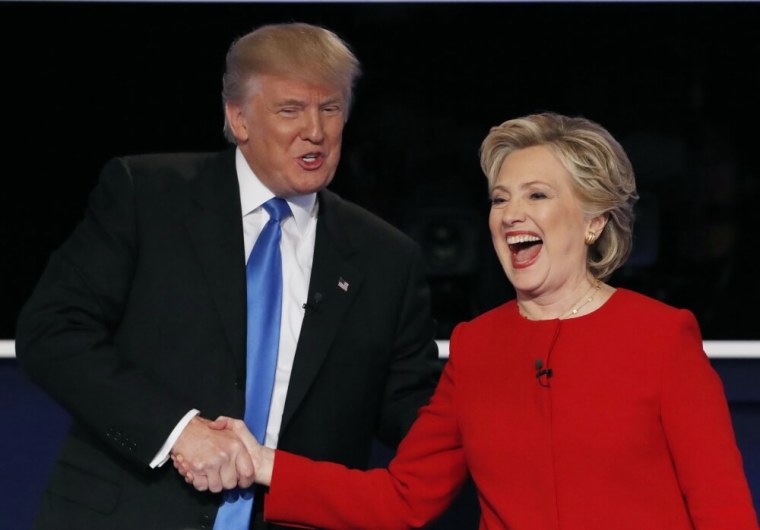 A week has passed since the first debate between Democratic presidential nominee Hillary Rodham Clinton and Republican presidential nominee Donald Trump.
Held at Hofstra University and moderated by Lester Holt, many viewed the debate as a clear victory for Clinton, thus adding a boost to her campaign.
What do the polls say about the debate's impact on the race? Below are three perspectives on the projected odds for who will win next month.
1. Real Clear Politics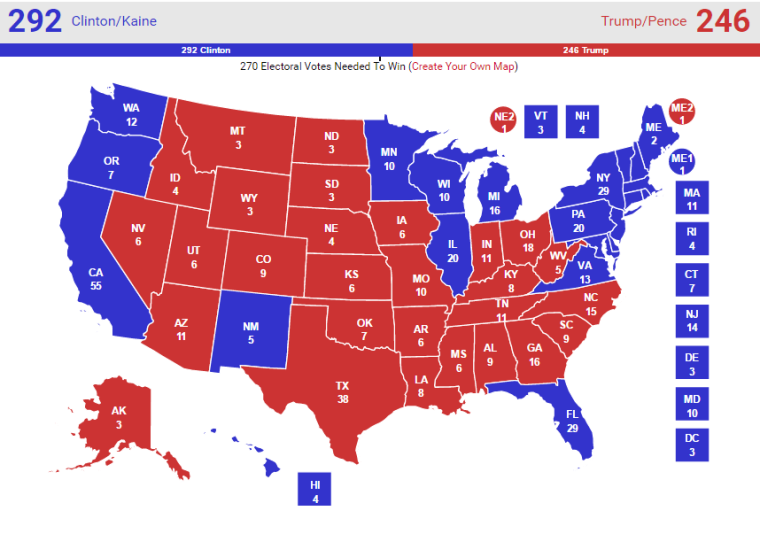 Despite the widespread belief that Clinton won the first debate, Real Clear Politics noted very little movement on their "no toss ups" map.
Accessed Monday morning, RCP's "no toss ups" projected Clinton to win with 292 electoral points against Trump's 246 electoral points.
Clinton's majority includes securing the southern states of Virginia with its 13 electoral points and Florida with its 29 electoral points.
For his part, in contrast to mid-September Trump secured the states of North Carolina and Colorado, which before were projected to go to Clinton.
This is close to what the "no toss ups" map recorded in mid-September, with the Clinton campaign having 293 electoral points and the Trump campaign having 245.
RCP's map with the toss-ups, or swing states going to neither candidate, also found little change from mid-September, with Clinton having exactly one more electoral point secured than she did weeks ago (201 vs. 200).
2. Polly Vote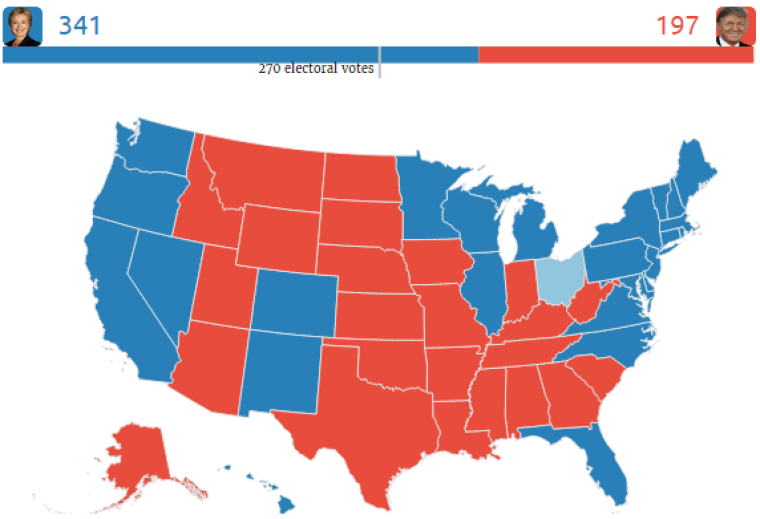 The election forecasting website Polly Vote gave Clinton a landslide victory on points, albeit only a slight majority for the popular vote.
In a map updated Monday morning, Polly Vote predicted Clinton to win with 341 electoral points and 52.3 percent of the vote versus Trump's 197 electoral points and 47.7 percent of the vote.
Polly Vote's map had Colorado, Florida, North Carolina, and Virginia securely going for Clinton, with Ohio labeled as leaning Democrat.
The forecast gave Clinton a similar landslide prediction in mid-September, with the Democratic then projected 332 electoral votes and 53 percent of the popular vote.
Libertarian Party nominee Gary Johnson and Green Party nominee Dr. Jill Stein were not included in the analysis.
3. Five Thirty Eight
As with Real Clear Politics and Polly Vote, FiveThirtyEight predicts a Clinton victory in November, with the Democratic hopeful having a 68.7 percent chance of victory versus Trump's 31.3 percent.
The odds of a Clinton win are a considerable increase from mid-September, when FiveThirtyEight gave her a 59.3 percent chance of winning and Trump a 40.7 percent chance of winning.
The latest FiveThirtyEight map also predicted Clinton receiving 47.1 percent of the popular vote, followed by Trump getting 43.7 percent and Johnson getting 7.8 percent.
This prediction is in stark contrast to the site's July 30 prediction model, which gave Trump a 50.1 percent chance of winning, the only time thus far in their tracking of the election in which the Republican hopeful was leading.