Five Nigerian Christians Forced From Vehicle, Executed in Ditch in Latest Attack by Islamist Extremists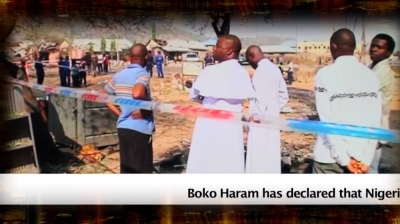 Five individuals have been executed by Islamists after declaring themselves followers of Jesus Christ outside of the Nigerian city of Jos last week.
The shocking incident saw Islamists stop a minibus and order its occupants to get out. After finding out five individuals were Christians, they were forced to lie down in a ditch, where they were then shot dead. Victims Pam Gyang, Felix John, Jimmy Tiger, Ishaku Gyang, and Dachung Monday, were all members of a Church of Christ in Nations (COCIN) congregation in the nearby town of Foron, according to BosNewsLife.
Another man, Emmanuel Sunday, was caught up in the violence when gunmen also stopped him driving by on his motorbike and demanded to know if he was a Christian.
"When I told them I was a Christian, they asked me to join a group of people already ordered to lie down by the side of the road. I did as I was ordered to do, and then one of the men came and searched me and took money from me, including my mobile phone," according to Morning Star News.
"It was when the gunmen started shooting and killing those of us that were Christians grouped together that I ran into a nearby maize farm, because it was already dark. They shot wildly at me, but I escaped unhurt, except the injuries I sustained while running in the bush," he added.
Sunday fled, running for the next two hours back to his village, where he learned that two of the women killed were also from his hometown. Despite the horror he witnessed, Sunday testified that he felt God was the power behind his escape.
"It was not my ability that made it possible for me to escape, but it was God that made me escape to be alive to tell the story of how the attack happened and to show his miracle in my life," he said.
Two other Christians, one a pregnant woman, were also wounded in the attack.
Grace Yop Gyang, the pregnant widow of victim Pam Gyang, told Morning Star News that despite her loss, she still was grateful to God and hoped that the Islamists would themselves find Christ.
"I don't have much to say except to praise God for His sustaining grace in our lives," Gyang said. "My husband is a friend, and I'm already missing him. But what can I do but thank God for his life. I pray that through his death those who killed him will get to know Jesus as their savior."
Local religious official Pam Jang Pam believed that the gunmen "were a combined band of ethnic Fulani herdsmen and Islamic extremist mercenaries."
Pam added the frequency of violence directed at Nigerian Christians has left them exahusted, begging the government to "please do something about these attacks on us. The church is tired of these attacks."
In recent years, Nigeria has been a hotbed of violence with Muslim extremists attacking Christians on a regular basis. The violence has been led by a group known as Boko Haram, a jihadist terrorist group seeking to make Nigeria an Islamic state and impose Sharia law. Since its inception in 2001, the group has gained notoriety by killing Christians and bombing their churches and schools. Boko Haram have also been accused of colluding with the Fulani, who have had long-time contentious border disputes with Christians.