From janitor to executive: How faith played a key role in life of 'Flamin' Hot' Cheetos creator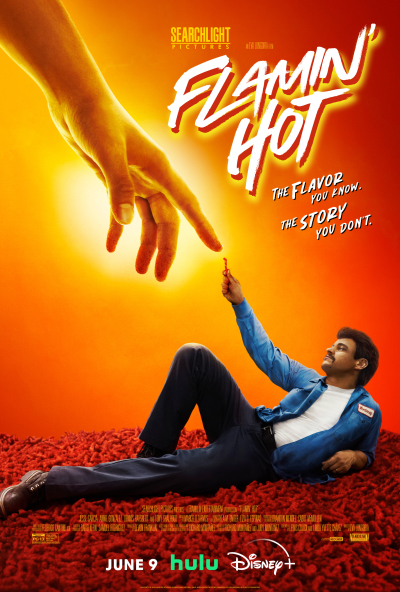 Flamin' Hot Cheetos are arguably one of the more popular chips across the United States, but the inspirational story behind their invention was relatively unknown — until now. 
"Flamin' Hot," releasing on June 9, 2023, by Hulu and Disney+, brings to the big screen the true story of Richard Montañez, a Mexican-American father who, while working in a humble custodial role at the Frito-Lay company, invented the idea of a chile-cover Cheeto, eventually becoming a head executive at the company. 
The film stars Jesse Garcia, Annie Gonzalez, Matt Walsh and Dennis Haysbert and is directed by Eva Longoria and produced by DeVon Franklin, a bestselling author who is also behind the inspirational films "Miracles from Heaven" and "Heaven Is for Real."
In an interview with The Christian Post, Franklin said the rags-to-riches story portrayed in "Flamin' Hot" is "unique" because "Nobody would ever think that there's an inspirational story behind Flaming Hot Cheetos."
"Richard is a real-life superhero," he said. "My hope is that people watch this film and say, 'I can do it, and it doesn't matter what title I have, it doesn't matter what job I have, there's a destiny and a calling on my life, and that God has a plan for my life. And if I commit to it, I can not only achieve it but achieve even more than I could imagine."
The film is loosely based on Montañez's memoir, Flamin' Hot: The Incredible True Story of One Man's Rise from Janitor to Top Executive. He and his wife, Judy — who plays a prominent role in the film — were "very involved" in the film's creation, according to Franklin. 
"They read scripts, they met with me, obviously, multiple times, our writers multiple times, even multiple times we'd be on set and call them and say, 'Hey, in this situation, what would you do?'" Franklin said. 
The film follows Montañez from his childhood in an abusive home, where he had to drop out of school and work as a laborer, to his young adulthood, where he had regular run-ins with the law. His family struggled with extreme poverty, and he routinely faced opposition from those who didn't want to see him succeed, often because of his race.
The real-life Montañez is a devout Christian, and his faith is woven throughout the film. Prayer is a central part of his life, sustaining him amid desperate circumstances and giving him courage in the face of obstacles. In one scene, he prays in desperation for God to rescue him from his bleak circumstances. 
"Even though we may know the goodness of God, and we may have experienced the goodness of God when life happens to all of us, our faith can be shaken, and it can be challenged," Franklin said.
"To be reminded of who God is and what He can do, and seeing movies like this, and reading books, and having people in our lives that can help keep us encouraged, I think it's essential for the human experience. I don't know anyone who has faith all of the time. We all have moments of doubt. We all have moments of uncertainty. And it's what we do in those moments that help us define the moment instead of the moment defining us. I do believe that being reminded of God's power is essential, and we all need that."
The influence of his wife brought about his conversion, changing the trajectory and focus of his life. God, he realized, did indeed have a plan for his life. 
"Faith played a big role in their life," Franklin said.
"And we felt like we wouldn't be telling their story correctly if we left it out. So it was about incorporating it authentically in the way in which they experienced it in real life. So what you've seen in the movie, in terms of their faith journey, is directly from them, sharing with us the role that faith had in their lives, and then specifically the role that faith had in Richard's success. At first, he wasn't a believer, and he wasn't believing that there was a plan … and he really hadn't accepted a life of Christ. And through this process, he did, and everything changed for him for the better."
Flamin' Hot Cheetos are today a billion-dollar brand, but that was never Montañez's goal. Rather, he wanted to save the struggling Frito-Lay company and the jobs of his peers: "He wasn't even trying to be great. He was just trying to serve. So my hope is that people watch this film and they say, 'Wow, I can serve, too. I can do that," Franklin said. 
And though Montañez's perseverance and determination helped him rise above his circumstances, it was the support of his wife and colleagues, in collaboration with his faith, that ultimately helped him succeed. 
"We all need help to do what it is we're called to do," Franklin said. "And there's no journey in this life that God has given us that we can only do by ourselves. I think sometimes we don't want to help for pride reasons or fear that it makes us look weak. But the most successful people I know are the ones who have asked for the most help, and gotten the most help along the way. So when you see the power of community displayed in the film, and you see how much help he got, I want people to be reminded one, that it's okay to get help, but then two, I want people to be inspired to give help."
"Flamin' Hot" debuts on Disney Plus on June 9. It's rated PG-13 for some strong language and brief drug material.