Florida Football Officials Bar Christian Players From Praying Before Game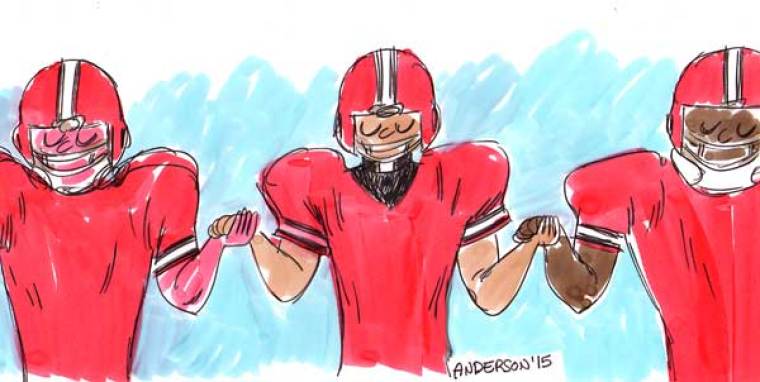 The Florida State High School Athletic Association restricted members of the football teams of two Christian high schools, their fans and coaches to pray together before their game at the Citrus Bowl in Orlando on Friday.
The game between the Cambridge Christian School in Tampa and the University Christian School from Jacksonville was held Friday without a pregame prayer because the Association had denied them permission.
The Christian schools had requested for permission for the prayer over the loud speakers.
"What we really want to do is raise awareness," baynews9.com quoted Tim Euler, the head of Cambridge Christian School in Tampa, as saying. "All we're asking for is an opportunity for two Christian schools to pray."
Euler added, "We've played 13 football games this year. We've prayed before every one of them."
"We do this [in] every game, we pray over the loudspeaker. The Pledge of Allegiance over the loudspeaker. I don't understand it," Mark McConnell, a football fan, told wesh.com.
"Two Christian schools in the field today, why not let them have what they do at their normal schools?" another fan, Doug Henry, was quoted as saying.
"The facility is a public facility, predominantly paid for with public tax dollars, makes the facility 'off limits' under federal guidelines and precedent court cases," the head of the FHSAA, Dr. Roger Dearing, said in an email message to the two schools earlier during the week. "In Florida Statutes, the (host and coordinator of the event) is legally a 'State Actor,' we cannot legally permit or grant permission for such an activity."
Corey Sobers, an official with the FHSAA, sought to explain the restriction, saying, "We did not allow them to have the prayer over the PA system, however, both schools are free to pray on their own, the fans can pray. They want to honor their faith. We're very sympathetic of that, but we need to make sure from a legal standpoint that we're not overstepping our bounds."
The Christian schools didn't have enough time to appeal the Association's decision or hold a discussion with the FHSAA.
"I don't foresee Florida High School budging on this," Euler explained. "The state legislature opens up every one of their sessions in prayer and that facility is paid for with tax dollars. So, as far as I'm concerned, neither of their two reasons to deny both schools' request to have a corporate prayer is valid."
University Christian won the game 61-16 and won its eighth state title, tied for second in Florida's history.