Floyd Mayweather Reportedly Furious at Justin Bieber After Pop Star Unfollowed Him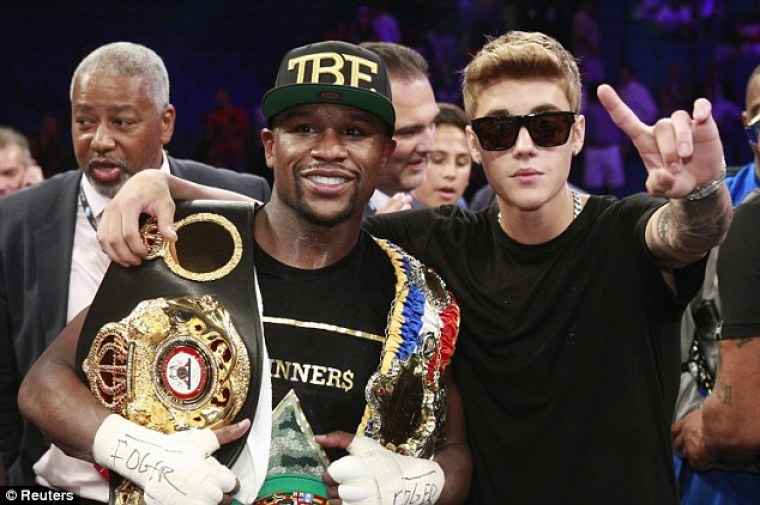 Boxing superstar Floyd Mayweather Jr. is reportedly furious with churchgoing singer Justin Bieber, who decided to unfollow Mayweather on Instagram and distance himself from the boxer reportedly over his "obsession" with strip clubs.
According to celebrity news website TMZ, sources close to Bieber have revealed that the pop singer is being counseled by Hillsong Church, and is looking to take a step back from "bad influences."
"We're told church pastors did not single out Floyd as a bad influence, but Justin decided on his own he needed some distance. Our sources say Justin didn't want a clean break from Floyd, he just wanted to 'reset boundaries' ... walling himself off from things like Floyd's obsession with strip clubs," TMZ wrote.
"Justin unfollowed Floyd on Instagram as part of the resetting of boundaries, and our sources say Floyd went 'insane, nuclear.' He lashed out at Justin, called him a 'traitor' because Floyd had stuck with Justin during his meltdown when everyone was attacking Bieber."
Bieber and Mayweather were reportedly close friends in the past, with the singer accompanying the undefeated boxing champion to some of his previous fights.
The revelations, which are also being reported on by Yahoo Sports and other sources, come days before Mayweather's fight with UFC's Conor McGregor, said to be the richest in boxing history.
McGregor has said that the fight, scheduled for August 26 in Las Vegas, is set to break records and surpass the $618 million generated by Mayweather's clash with Manny Pacquiao in 2015.
Bieber unexpectedly canceled the last remaining 14 dates of his Purpose world tour in July, but denied rumors that Hillsong Church was behind his decision.
Australia's Channel Nine and others claimed that Bieber was looking to "reconnect with his faith." But a Hillsong spokesperson insisted that the church did not play a role in the developments.
Bieber has talked about his Christian faith in posts to his 89.5 million Instagram followers, and earlier this year wrote: "Let the devil know NOT TODAY! The devil has no power when you know the LIVING God! His name is JESUS!! Why worry when you can worship."
In a later statement regarding the cancellation of his tour, Bieber said he needed to protect his calling.
"On the tour I've learned the more you appreciate your calling the more you want to protect your calling. Me taking this time right now is me saying I want to be sustainable..," he said.
"I want my career to be sustainable, but I also want my mind heart and soul to be sustainable. So that I can be the man I want to be, the husband I eventually want to be and the father I want to be."