'For King & Country' Luke Smallbone Talks About 'Crave' Album, 'The Bible' Soundtrack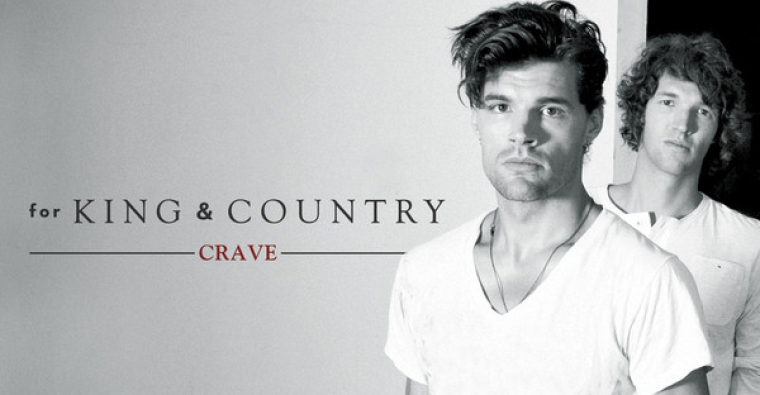 For King & Country is a Christian rock-duo made up of brothers Joel and Luke Smallbone from Australia. Billboard Magazine named them as one of the "New Artists to Watch" for in 2012, and their songs have been featured in TV series including, "The Vampire Diaries" and "Drop Dead Diva."
Luke Smallbone sat down with BREATHEcast recently to talk about the band's first full-length album Crave and what it's like to be featured on "The Bible" miniseries soundtrack.
BREATHEcast: Tell me a little bit about your last album, Crave. I know it's your full-length studio album.
Luke Smallbone: Crave was released Feb. 28, 2011. We just had our one-year anniversary. When people ask us where the stories and lyrics come from, the way we like to put it is as if you were to take a year out of someone's life...those are the things we write about. We write about our highs and lows, our relationship with the Lord. There are some love songs and breakup songs on there. We strive to be very honest and real with our lyrics, so that's why we took a year out of our lives to write about those things.
BREATHEcast: How would you say it compares to the self-titled EP?
Smallbone: The EP was before all of the labels and those types of things. There's a different concentration that takes place when you do an album with a label and you have that support and a lot of people in the building that are great at what they do. They stretch and pull us. Hopefully the lyric content gets more honest and gets more real and people can see, "hey they're not just trying to write a song that's catchy."
BREATHEcast: How do you think Crave will compare to future records with label support?
Smallbone: We're already doing some writing for the next one. You always hope that things continue and that you can grow and change. Most of all Crave will always be the first. My wife and I just had our first child. The truth is you can never play favorites as a father but there will always be something about your first-born. I think it's the same thing with an album.
We always talk about the future being more bright and exciting so hopefully on the next we can trump the first one.
BREATHEcast: They always say you have your whole life to write your first record.
Smallbone: And then you have your "sophomore slump." That's what we're trying to avoid. We wrote over 100 songs for the first album so we're going to try and write quite a lot as well. I told some people the other day if I don't feel like I've put in my all for the second album I'm not going to sleep very well at night. That's the truth.
I think when you're given these opportunities in God and life, you have to give all you got to it. These things come and go. Right now we're given the opportunity and we want to do all that we can to take advantage of that.
To read the full BREATHEcast interview, click here.