'For the Love of Ruth' Film Brings Modern Biblical Story of Ruth to TV (Interview)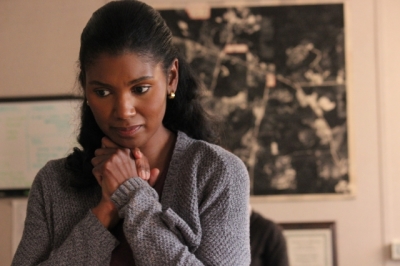 Denise Boutte was praying for a breakout film role after starring in a number of Tyler Perry productions, but she did not expect portraying a well known biblical character in "For the Love of Ruth" would impact more than just her acting career.
Boutte, the 33-year-old actress who has proven her comedic timing and acting abilities in screenwriter and producer Tyler Perry's "Meet the Browns" and "Why Did I Get Married" will debut on small screens as the biblical character Ruth in a modern retelling of the Old Testament story.
"In my professional career, I had been waiting and praying for a project that would allow me to show a different side of my acting. It wasn't about the hair or the makeup, it was about the heart," Boutte told The Christian Post. "So when this project was presented to me, I was like, this is the project I've been having on my dream board for some time now, waiting for that wonderful opportunity."
"For the Love of Ruth" will premiere on TV One just in time for Mother's Day, featuring an all-star cast of Loretta Devine portraying Naomi, James Pickens Jr. playing her brother-in-law, Stephen Marachond, and Gary Dourdan appearing as Braxton Marachond.
While there are some slight differences in the televised modern retelling of the biblical story of Ruth that features Braxton in place of the Bible's Boaz, writer Rhonda Baraka kept many elements presented in the Bible. Ruth, a hard working woman who hasn't had an easy life, forms a bond with her mother-in-law, Naomi.
However, when Ruth's husband and Naomi's son dies, faith and love prove to be important for the characters' whose lives are transformed throughout the film. Boutte described playing Ruth as a humbling experience that allowed the actress to explore a range of different emotions.
"Ruth's journey, she actually did have faith. She wouldn't have actually identified it as such in the beginning until she meets Loretta Divine's character, Naomi, and Angie Stone's character who tries to reel her in because she's had a hard life," Boutte said, describing her character. "But she's a survivor. She's always had the glass half full perspective. But until she meets Naomi, played by Loretta Divine, she really doesn't know what that is."
Viewers will witness Ruth drawing closer to her Bible and faith as her bond with Naomi gets stronger, which is something that stood out to Boutte.
"She is pretty fearless; until Naomi shows her exactly what faith is she really doesn't have the ability to take it to the next level. For me personally, it was just a very humbling experience living with this character the time I portrayed her," Boutte told CP. "She had a hard life and I can say thank you God I was blessed not to have been in a lot of the situations she was in."
In the film, Naomi has to deal with a cancer battle, which Boutte admits was not easy for her. The actress' mother faced a similar battle two years prior, after the loss of Boutte's father.
However, she believes others may be able to look to this film for inspiration if they can identify with similar circumstances.
"Here is this woman that nothing can shake her faith. Even in having cancer that was in remission and came back, it's not going to shake her because she's like, 'I need something and if I don't have this in my life to make this journey as peaceful as possible, I have nothing,'" an emotional Boutte told CP. "So just to see that unchanging, unwavering faith in the midst of a storm, I think that all of us can take something from that."
No matter where people are on their spiritual journey, Boutte insists there is something special for them in "For the Love of Ruth."
"It doesn't matter if you're not the most religious person out there, the point is that it's nourishing and nurturing for the soul. (The film) is not quoting every Bible verse known to man," the actress said. "There are some quotes that are in there, but for the most part you don't have to think that you're going to be beat over the head. If you are human, there's a story in there that you can relate to with regard to your life journey."
"For the Love of Ruth," produced by Swirl Films will premiere at 8 p.m. ET on Saturday, May 9.