Former KKK Leader David Duke Says Rep. Steve Scalise 'Elected on False Pretenses,' Failed to Be Like David Duke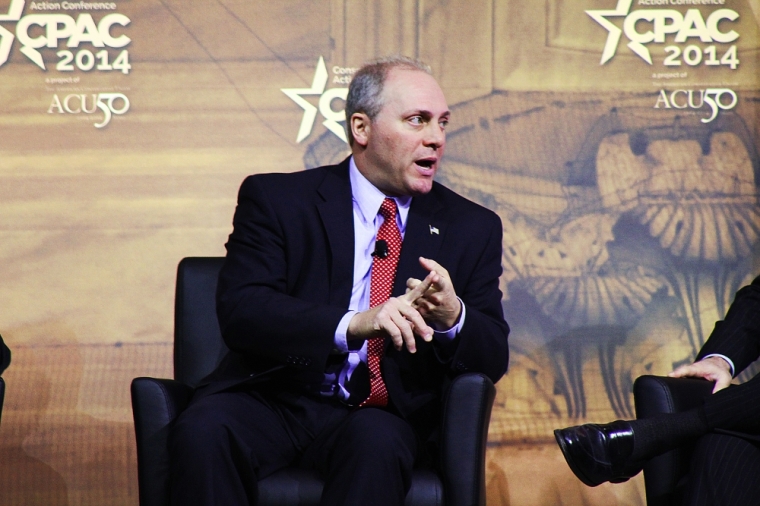 Former Ku Klux Klan leader David Duke revealed that he is considering running against Representative Steve Scalise (R-La.) because Scalise was "elected on false pretenses."
"He got elected as David Duke without the baggage," Duke said during an appearance this week on "The Jim Engster Show." "He got elected on false pretenses. He's not David Duke. He's basically condemning the people of his district who voted overwhelmingly for me to be their U.S. senator and voted to be their governor."
Duke ran for the state's governorship and was nearly elected in 1991. Since then, he has largely remained out of the political spotlight but during Scalise's campaign was brought back after it emerged that the Rep. had spoken at a conference hosted by the European-American Unity and Rights Organization in 2002. Scalise claimed that he did not know of the group's highly racist views when he was there and allegedly told a reporter that he was "David Duke without the baggage."
Scalise, the third-highest ranking Republican in the House, was called on to step down but refused to do so and no other Republicans in the Congress encouraged him to do so amid the controversy. However, Duke called Scalise a sellout and wants to challenge his role in politics and in the state.
Determined to better his image among some congressional members, Scalise agreed to meet with Marc Morial, president of the National Urban League and former Democratic mayor of New Orleans. Morial and Wade Henderson, head of the Leadership Conference on Civil and Human Rights, wrote a letter to Scalise outlining their views on the Voting Rights Act, the need for infrastructure reconstruction, and immigration.
"We're pleased that Representative Scalise has responded positively to our request for a meeting," Henderson said in a statement this week. "We see this as an opportunity for GOP leadership to turn the page on a troubling history of dog-whistle segregationist politics. Rep. Scalise is now a member of congressional leadership with a responsibility to govern with all Americans in mind. We look forward to a fruitful discussion of some of the most pressing civil and human rights issues of the day like the restoration of the Voting Rights Acts, a strong education reauthorization, and reform of our criminal justice system."