Former neo-Nazi shares how Christ-like love of African American parole officer changed his life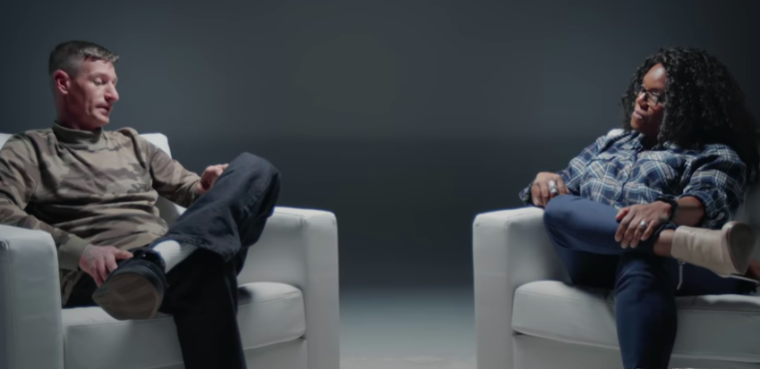 When Michael Kent met his probation officer for the first time after leaving prison, he was confused. 
With a yearslong association with neo-Nazi groups — he began attending rallies and events at just 15 years old — Kent's reputation as someone who disliked the black community was well known. So when Tiffany Whittier, an African American woman, knocked on his door one night, he thought there must be a mistake.
"The first thing I said to her was, 'Are you alone?'" Kent recalled. "She said, 'Yes.' I wasn't sure what to think because anybody who knew my case file knew I was totally against anybody that was black. But she showed up at my house by herself, knowing who I was. She took that chance. I instantly had respect for her. I realized she had courage."
It wasn't long before the two developed what Kent described as a "big ol' bond." Over the months, Whittier helped Kent abandon his old habits and embrace the positive, challenging him to grow into the man God created him to be. 
"She instantly became a godsend to me," he shared. "She mentored me, helped me and loved me. Most parole officers just saw me as a number, and I always ended back up in the system. This woman was someone I was supposed to hate, but she showed me love that my people, my peers, my own culture didn't show me. She opened up my eyes and my heart in a whole new way."
A devout Christian, Whittier told CP it is her faith that allows her to see the humanity in those she works with, regardless of their background. 
"Everyone deserves to be treated with dignity and respect," she said. "I care about these people. I saw Mike's tattoos. I saw his case file before I went to his home. So, I knew what I was getting into. But I wanted him to be comfortable. I wanted him to feel heard. I wanted him to know I viewed him as an equal.  Yes, I'm your probation officer, but I want to see you be successful."
"I knew," she added, "that God was with me when I went to Michael's home. I knew He was going to guide me and tell me in my gut if I was in danger. I believed God when He said, 'This is okay.' And if it's God's will for me to go, I'm okay with that, too. I'm not scared to go because I know where I stand with Jesus."
Kent's first encounter with racism began at the age of 12 when his black friend's mom told her son she didn't want Kent in his house because he was white.
From there, Kent's anger towards the black community only grew. And over the years, he became heavily involved with extremist groups and drug abuse, finding himself continually in trouble with the law. 
"When I think about my past, it makes me sick to my stomach," he said. "Some of the stuff I did still gives me nightmares. I don't even recognize that person." 
Kent admitted that he still wrestles with issues from his past and said that the road forward isn't always easy. 
But thanks to Whittier's witness, Kent said that not only has his perspective on race shifted, but he developed a deep and intimate relationship with God, allowing him to be optimistic about the future.
"Looking back, I think God had a plan for me. God wanted me to struggle first before I could see my full potential and see what I was capable of," he said. "I see God's hand in all of it. Because if Tiffany wasn't a probation officer, I wouldn't have even looked at her. I would have called her every negative word in the book. I never would have given her a chance."
"But," he added, his voice breaking, "she took that chance and believed in me. I believe I owe it to humanity and society, my kids, our youth and everybody else to encourage them to learn something new and open their minds."
Whittier and Kent's unlikely friendship was first featured in the I Am Second Conversations and is now retold in a new book from the organization titledI Found Love.
At a time when racial tensions are at an all-time high, the pair said they hope their story can help foster reconciliation and healing.
Though she's always seen her career as a calling from God rather than simply a "job," Whittier told CP that her experience with Kent has given her a newfound sense of purpose and mission.
"Jesus doesn't define us by our worst mistakes," she said. "Michael wasn't a believer at first because he could not see how God love him and forgive him for all the hurt that he's caused people. But that's what Jesus is about: forgiveness and loving unconditionally. That's what drives me, helping others and reflecting Jesus. That's what brings me comfort and joy. It's not a job to me; it's my passion."
She encouraged others to "get comfortable with being uncomfortable" and step out of their comfort zones to get to know someone who looks or acts differently from them.
"Look for the good in people. It takes so much more energy to hate than it does to love," Whittier said. "Love can overcome hate. If you open your heart to the Lord Jesus Christ, if you open your heart to love, you can overcome anything."
"We will have our trials and tribulations, but at the end of the day, we're all dealing with the same trials and tribulations. Once we get together and talk about these issues, we can overcome them together."
Watch Michael and Tiffany's story below: