Frailer Eddie Long Returns to Church After Hospice Rumors, Church Sings 'I Got the Victory'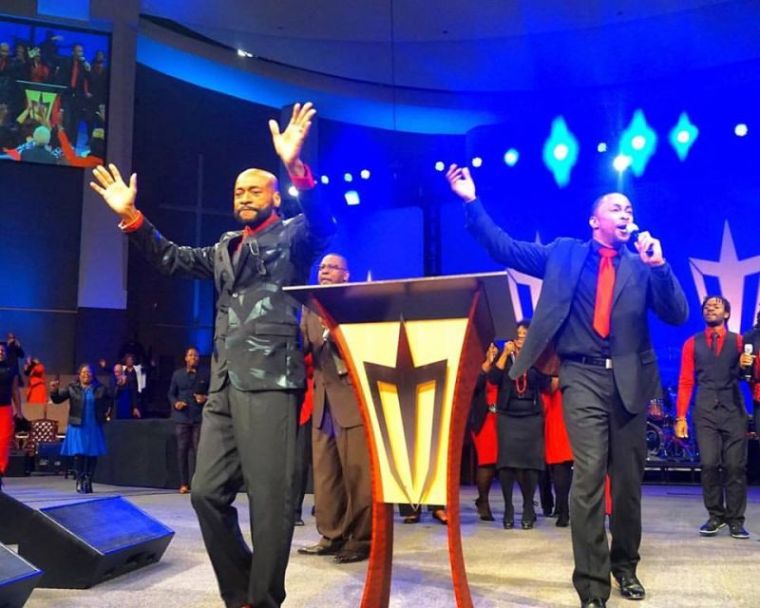 A propped up and apparently frailer version of controversial megachurch pastor Bishop Eddie Long was paraded before his congregation Sunday as they defiantly sang "I Got the Victory" days after his church denied last Thursday that he was in a hospice.
The appearance comes after rumors surfaced last week that Long, who leads New Birth Missionary Baptist Church in Lithonia, Georgia, was getting care at a hospice.
Long's assistant, Elder April McLaughlin, told The Christian Post last Thursday that her boss was simply resting and refused to say whether his rest was associated with the undisclosed "health challenge" he admitted he was facing in September.
"No, not ever in hospice! Currently, not accepting calls but thanks for verifying the rumor," McLaughlin told CP, reiterating that Long was "doing well."
On Sunday, in a 48-second clip, however, Long's condition appears to have deteriorated. With his arm locked into the arm of one of his male singers for support, Long made his way onstage clapping. The singer then releases him and he claps independently in the video with the vigor of a much older person.
In August, the once portly megachurch preacher who was accused by multiple young men of coercing them into sexual relations, sparked a national conversation when he posted  a video to YouTube where he looked emaciated and almost unrecognizable. He claimed at the time that his new look was due to a new vegan diet.
"This is Bishop Long, you say 'Bishop! What happened to all of you?' Well, all of me is melting away," the 63-year-old Long began in the video.
"I've been getting a lot of calls, people saying 'Bishop, what's going on?' Well, I said to my congregation, I'm gonna live to be 100-years-old, maybe have a few more years. But you know what? I wasn't gonna get there stopping by Popeye's you know. That was my weakness, the biscuits with the honey and chicken wings, spicy and all of that," he continued.
After questioning from CP and other media, Long admitted that he was battling an illness, sparking further speculation of what the illness might be. Some have speculated that the illness he is facing is cancer but the church refuses to publicly discuss the nature of his illness.
"I am recovering from a health challenge that I trust God to deliver me from. It is unrelated to the eating for life diet consisting of mostly raw vegetables that I am continuing, as part of a holistic approach to good health," Long said in September.
On his return to work in October, however, Long declared to his congregation that "God has healed me."
"I've been on a journey and just recalibrating myself. And like I said, I had some health issues and God has healed me. The manifestation is coming through and we stand in that," Long said.
Drawing on his own healing narrative, Long then proceeded to conduct a healing service with his congregants for those afflicted with chronic pain in the October service where he made the declaration.
"When I woke up this morning, God expressed to me that there are some of you who suffer in this congregation of chronic pain. You have to be controlled by painkillers. If I'm speaking to you jump in the aisle. There's a healing balm in here," the preacher said.
New Birth has refused to confirm whether Long's "health challenge" is back.