Francis Crowned the 'People's Pope' During Historic Visit to New York City (PHOTOS)
Pope Francis Greeted Like a Rock Star by the Faithful Who Turned Out in Droves at Opulent St. Patrick's Cathedral
NEW YORK — Surveys have found that most Roman Catholics are head-over-heels in love with their new pope, and according to several of the faithful who turned out for Francis-led services this week in New York City, the surveys are absolutely right.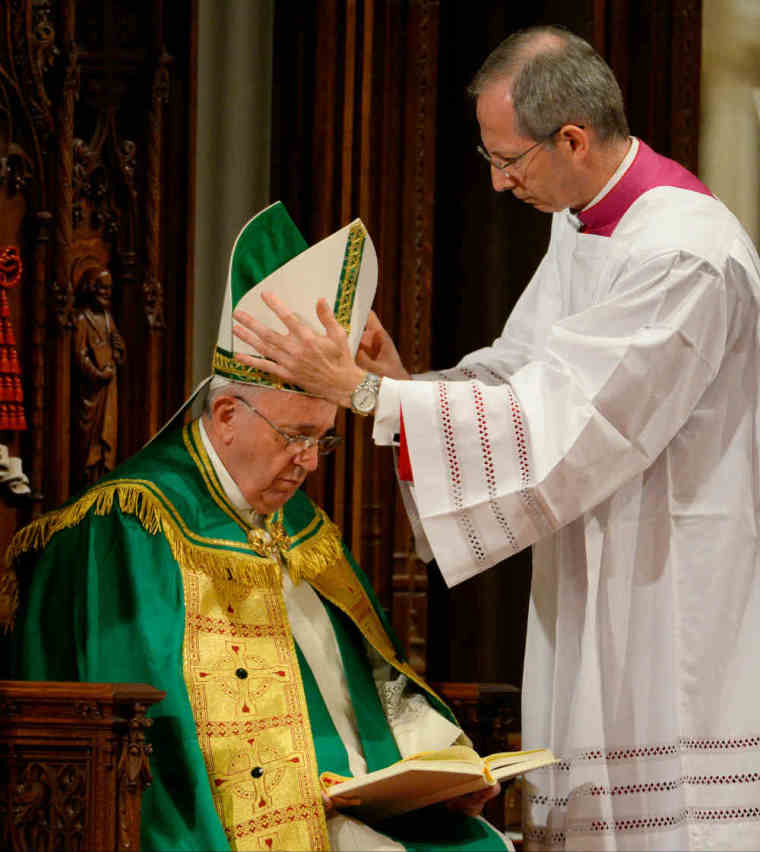 Everyone asked among the more than 2,000 people in attendance at St. Patrick's Cathedral in Midtown Manhattan for evening prayer (Vespers) on Thursday all said the same thing in a variety of ways: Pope Francis is different; he's a man of the people; he's humble; he's hands-on.
The sentiment was expressed by both older and younger generations of Roman Catholics.
The nonpartisan Public Religion Research Institute reported in August that its surveys found that an "overwhelming majority of Catholics have a favorable view of Pope Francis (90 percent)," while 67 percent of Americans in general view the pontiff favorably.
The Pew Research Center, a nonpartisan fact tank based in Washington, D.C., reported on their survey's findings in March that "nine-in-10 U.S. Catholics now say they have a favorable view of Francis, including nearly six-in-10 who have a 'very favorable' view."
The survey considered how opinion of Francis has evolved since he became leader of the world's more than 1.2 billion Roman Catholics in 2013 (it increased from 57 to 70 percent).
Pew also noted that Francis's favorability rating was nearly as high as that of John Paul II during his tenure, which ended in 2005, and that it far exceeded favorability of his immediate predecessor, Benedict XVI.
The surveys' findings were backed up by a variety of guests who participated in the evening prayer at St. Patrick's Cathedral Thursday night.
Here is what some of the Catholic faithful think of the pontiff.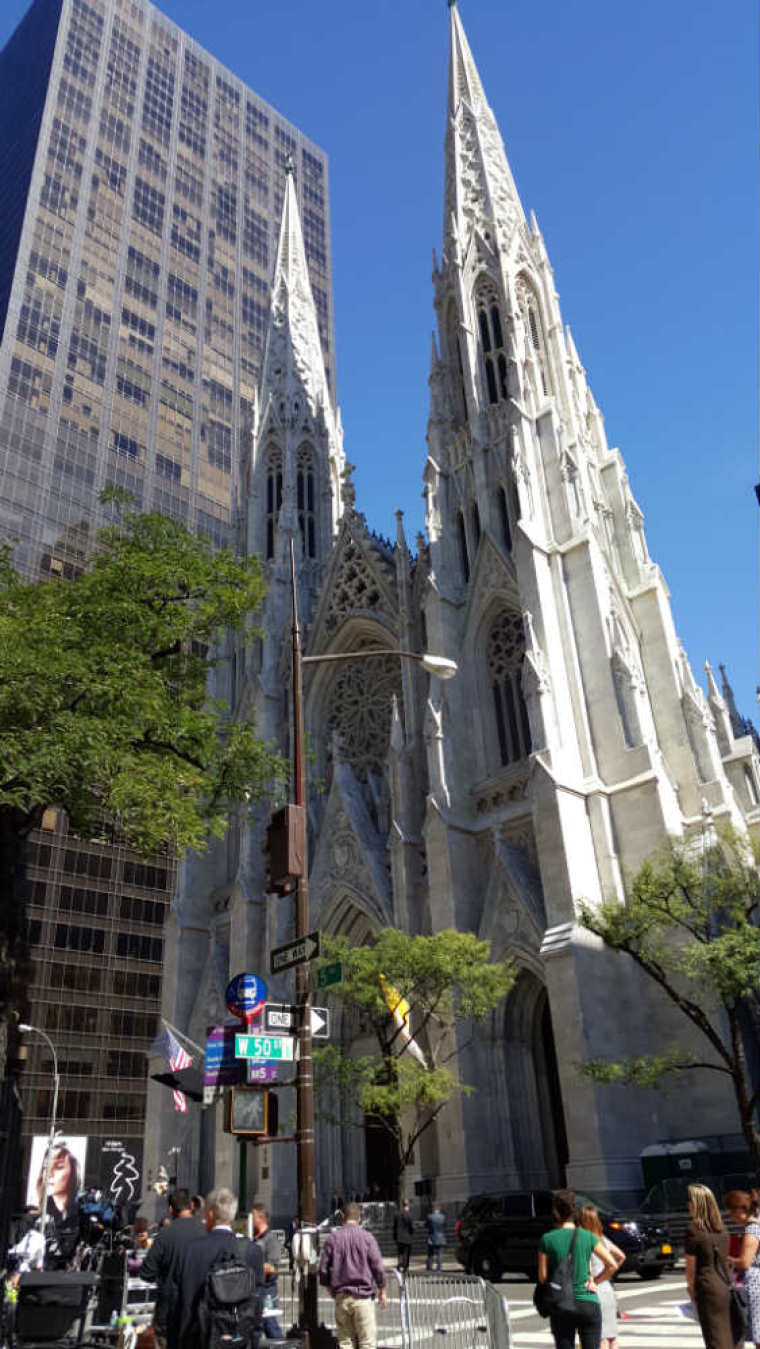 Twenty-something Fransheska, traveled from Washington Heights in upper Manhattan with her mother, Egla, to attend the service.
Although Fransheska said attending Vespers was pretty much her mother's idea and that she has not been paying as much attention to Francis as perhaps others have, she did know that she liked the pope.
"He's different. He's more people-friendly. He'd rather be with the people than just on the sidelines. He's a change from what we've usually seen in the church," said Fransheska, who did not provide her last name.
Egla, who has lived in New York City for 30 years, agreed with her daughter. The woman, appearing to be in her 60s, wore a red velvet top to compliment her megawatt smile.
"Just like my daughter said. It's a new vision of faith basically with him. Definitely," said Egla, who was barely able to conceal her excitement over seeing the pope in person.
When Pope Benedict XVI visited New York City in 2008, she did not "have the chance," to see him. "Oh my God, it's a blessing," she said of having an audience with Francis. "It's a blessing to be here today."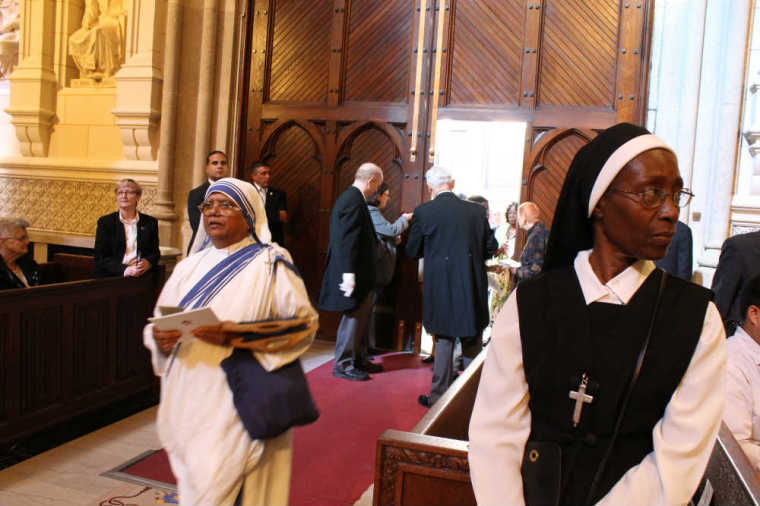 Joseph Sozio, who, along with his wife and a little over a dozen other people, had slightly elevated seats at the front of St. Patrick's just steps from the altar where the pontiff stood to lead prayers and deliver his homily.
Asked why he was at St. Patrick's Cathedral, Sozio kept it simple and direct: "To see the pope."
"It's a once in a lifetime experience," he added, not discounting the Pope Benedict-led Mass at Yankee Stadium he attended seven years prior. But Benedict is no Francis, as Sozio seemed to indicate.
"He's excellent," said Sozio, in his 40s and from Westchester County. "He truly is the pope of the people, the common man. I was at the Vatican last summer and he sleeps in the same quarters where visiting bishops come. He doesn't sleep in the big palace, so to [speak]. He's in touch with everybody."
Laura Hagan, a seasoned and smartly-dressed Manhattanite who lives just blocks away from St. Patrick's, was exuberant to be sharing the same space with the pope.
"I think it's incredible. We don't have enough words to tell you how exciting, not only [to] us, but the whole world of (sic) this wonderful, humble, loving man. I feel very lucky, along with my husband, to be privileged to just be in the same cathedral with him, in the same place," said Hagan.
She also lauded the efforts of the New York Archdiocese in completing renovations on St. Patrick's Cathedral, literally, just in time for Francis's arrival.
Hagan concluded with just two words: "I'm elated."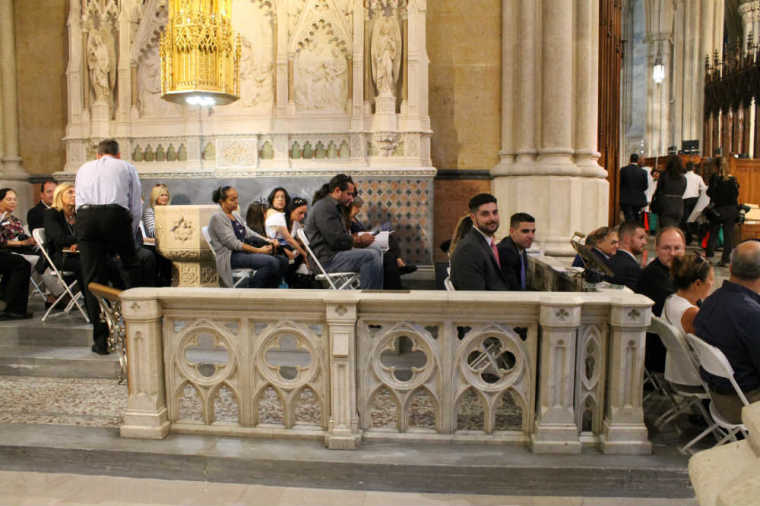 Two brothers in their 20s also had a few words about Francis and found special significance in not only his visit to New York City, but also in his stop in Cuba days before.