Franklin Graham: Christians Are Under Assault in America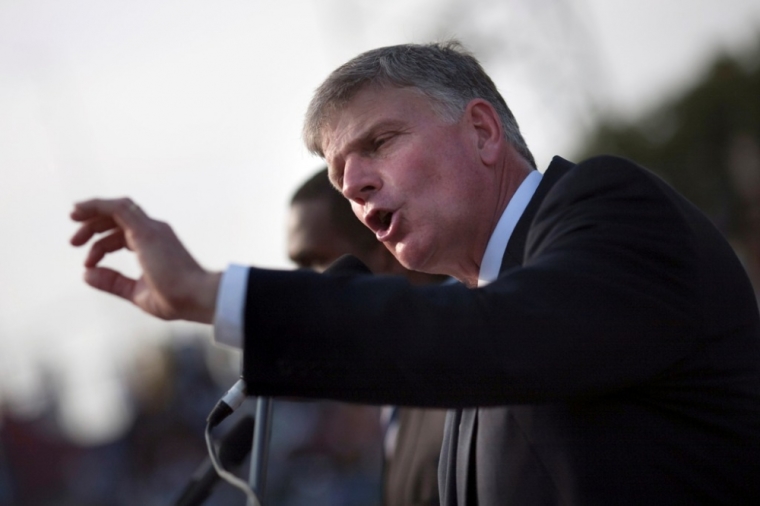 America is in imminent danger due to its mockery of God and gross immorality, said the Rev. Franklin Graham in an op-ed this month for Decision magazine.
Graham warned in his commentary that the nation is on the precipice of spiritual disaster. " … America is in deep trouble and on the verge of total moral and spiritual collapse — unless God intervenes," he wrote.
The theologian asserted that there is a growing chasm between believers and those who no longer fear God. "Never before have I seen such a sharp rift in the moral and spiritual fabric of our country," he said. "The Cross of Christ has become the deep divide between a growing segment of our population that no longer fears God and those who follow Christ as Lord and Savior."
The Samaritan's Purse CEO charged that Christians are under attack. "We Christians are not just simply tolerated — we are under constant, unrelenting assault for our beliefs and practices."
Graham said that in an increasingly secular society, biblical principles and values have had a lessened impact upon education, government and politics. He said he has lost hope for either the Democratic or Republican parties.
The evangelist asserted that if the country doesn't turn back to God it will experience a fall from grace. "Unless we repent and turn quickly to Him for forgiveness and restoration, our nation will no longer be the city on the hill that has helped bring the illuminating light of biblical truth to the world."
Graham sees the current spiritual state of the country as a crystalized battle between good and evil. "The Cross of Christ is the dividing line between the righteous and the unrighteous, between the deceitfully dark powers of evil and the liberating light of the Gospel, between the virtues of godly living and the unfettered lusts of corrupt, debased passions," he wrote. "The wisdom and power of the Cross appears as more and more foolishness to those who suppress the truth and rebel against its claims."
The theologian recalled the biblical story of how King Belshazzar saw a hand writing on the wall of his palace, which Daniel interpreted to be a message that his kingdom was about to come to an end, explaining that God had judged Belshazzar and he had fallen short, and that his kingdom would soon be transferred to a new world power.
"I wonder if the handwriting is now on the wall for America. Has God decided that our idolatry, immorality and godlessness has become such a stench in His nostrils that we as a people will experience a harsh form of Divine judgment? Have our iniquities grown so foul and vast that we will reap the bitter harvest of our wickedness and rebellion against Almighty God?"
"I don't know the answer to that," Graham wrote, "but I do believe that God is able to restore and heal us if we repent of our sins — personal and corporate — and turn to Him in humility and reverence. The Bible tells us that the Lord is patient toward us, 'not willing that any should perish, but that all should reach repentance,' (2 Peter 3:9)."