Franklin Graham defends Trump not reciting Apostles' Creed: 'The pharisees are after POTUS'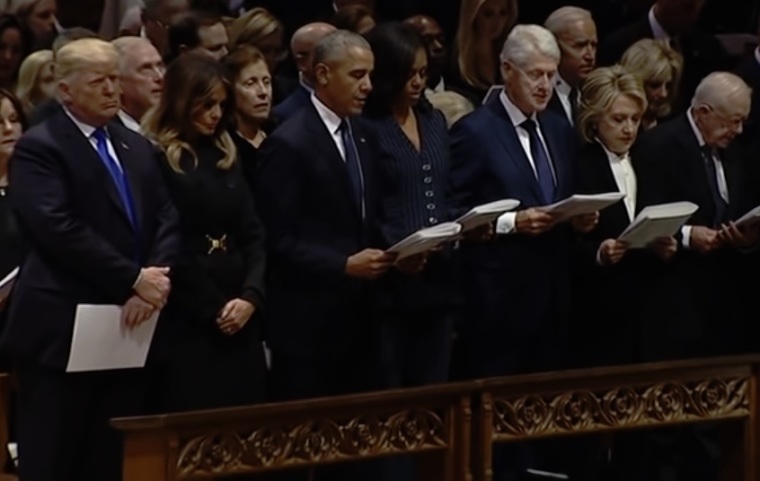 Leading evangelist Franklin Graham has come to the defense of President Donald Trump who did not recite the Apostles' Creed at former President George H.W. Bush's funeral on Wednesday.
Graham, son of the late evangelist Billy Graham and president of the Billy Graham Evangelistic Association, took to his Facebook page to respond to critics who've pointed out that Trump was the only U.S. president who did not recite the creed during the ceremony at Washington National Cathedral.
Graham, who has been vocal in his support for many of the administration's policy decisions and has in the past defended Trump on his Facebook page, compared Trump's failure to recite the creed (which declares belief in God the Father, Christ, and the Holy Spirit) to his own unwillingness to sing in church.
"Guess what — I don't usually sing in church. Why? Because I can't carry a tune! And, I have no rhythm," Graham wrote. "I have to watch someone else clapping or I get off beat, so usually I just keep my hands in my pockets. Look around in church sometime — lots of people aren't singing."
Graham then blamed the media for launching the firestorm surrounding Trump not reciting the creed.
"Isn't it a shame that the media and the Trump-haters couldn't even let the funeral of a well-loved president go by without trying to find fault with President Donald J. Trump?" Graham asked. "Shame on them. Nay-sayers always pointing an accusing finger. Instead, let's be thankful for all of the incredibly positive things he has done for our country (it's a long list) and lift him and Melania up in our prayers."
As Trump has been described by some conservative evangelical leaders as the most "faith-friendly" president of all time because of his administration's pro-life policies, the appointment of conservative judges and vows to protect religious freedom, many in the media have focused on the president's imperfections in his faith life and question why evangelicals would support him.
Conservative evangelical leaders who are closely aligned and have engaged informally with the Trump administration have had to answer over the last two years to criticisms of Trump's faith life, moral failings, and social miscues in church.
"Hey @Franklin_Graham here's your 'evangelical president' NOT reciting the Apostles' Creed at the funeral of your father's friend," contemporary pop Singer Richard Marx tweeted. "Maybe he thinks it's the name of the next movie with Stallone and Michael B. Jordan."
Trump was also mocked by liberal comedian Stephen Colbert on CBS' "The Late Show" Wednesday night.
Graham issued more comments on his Twitter page.
"The Pharisees are after @POTUS because he didn't sing at the funeral of President George H.W. Bush or recite the Apostles' Creed," the 66-year-old Graham wrote.
Graham is not the only evangelical leader to come to Trump's defense following Bush's funeral.
"I've stood next to President Trump and heard him recite the Lord's Prayer, and I sat behind him at Billy Graham's funeral and watched him and the first lady sing 'All Hail The Power of Jesus' Name,'" Robert Jeffress, pastor of First Baptist Dallas and one of Trump's most loyal evangelical supporters, told The Christian Post.
Jeffress claimed that the media attention surrounding Trump not reciting the creed is a "manufactured controversy" and a "nothing burger" "cooked up by the perennial Trump haters."
Jeffress added that there are times at his own church where he is "too distracted" by his own thoughts to sing the hymns or recite Scripture.
"I imagine the leader of the free world has a few things on his mind, as well," Jeffress explained.
Conservative Messianic Jewish radio host and author Michael Brown wrote in an op-ed that there really shouldn't be much concern over whether or not the president recited or didn't recite the creed because Trump is "neither our model Christian leader nor our model Christian example."
"His silence is of no material concern to me, since I would rather have a president who kept his promises to evangelicals and didn't worship publicly than a public worshiper who broke his promises to us," Brown wrote. "Would it be even better to have a fervent, committed, steady, mature, evangelical Christian who was as strong and determined as President Trump?"
He added that only God knows the reason why Trump didn't recite the creed.
"But even if it was the worst case scenario, namely, that he was silent because he is not a true believer in Jesus, that would only confirm the 'Cyrus' prophecies about him," Brown wrote. "(Namely, that God raised him up for His own good purposes, despite the fact that Trump himself did not know God, just as he raised up Cyrus, who was an idol-worshiping pagan king. See Isaiah 45:1-4, and note carefully the last words of verse 4.)"