George HW Bush met the Good Lord with courage and joy, George W Bush says
George HW Bush met the Good Lord with courage and joy, George W Bush says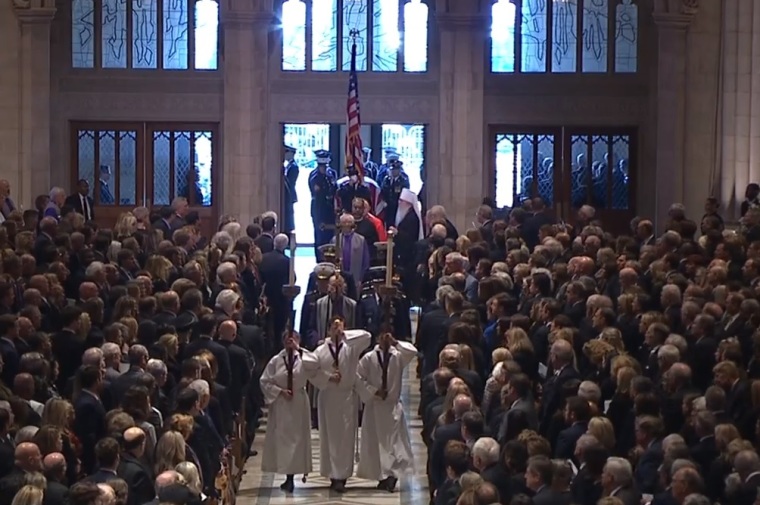 George W. Bush gave a eulogy at his father George H.W. Bush's funeral at the Washington National Cathedral on Wednesday, speaking about the "dignity, humor, and kindness" he showed his friends and family. 
Last Friday, George H.W. Bush passed away at age 94, dying months after his wife, Barbara. He served as the 41st president of the United States and oversaw the end of the Cold War and Operation Desert Storm. 
At the funeral service, Bush described his father's life as being "instructive," showing his children "how to grow with dignity, humor, and kindness, and when the Good Lord finally called, how to meet Him with courage and with the joy of the promise of what lies ahead."
"He was an empathetic man, he valued character over pedigree, and he was no cynic. He looked for the good in each person and he usually found it," said Bush.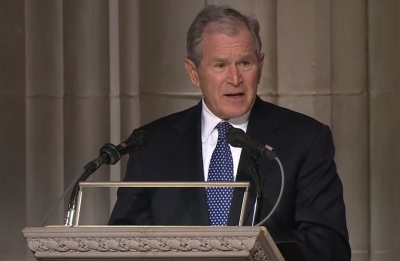 "Dad taught us that public service was noble and necessary. That one can serve with integrity and hold true to the important values like faith and family."
Bush said his father had a "quiet faith" and "he was sustained by the love of the Almighty" during times of trial, including the death of his three-year-old daughter Robin in 1953.
Bush recalled talking with his father over the phone minutes before his death, telling him "I love you and have been a wonderful father," to which his father replied "I love you, too."
Near the end of his remarks, Bush choked up briefly when describing his father as "the best father a son or daughter could have," before regaining his composure to continue speaking.
"And in our grief, I just smile knowing that dad is hugging Robin and holding mom's hand again," he concluded.
Bush gave one of four eulogies at the service. The other three were given by former Canadian Prime Minister Brian Mulroney; former U.S. Senator Alan Simpson of Wyoming, and historian Jon Meacham, who wrote a biography of the late president.
"George Herbert Walker Bush was America's last great soldier statesman. A 20th century founding father. He governed with virtues that most closely resemble those of Washington and of Adams, of TR and of FDR, of Truman and of Eisenhower," said Meacham.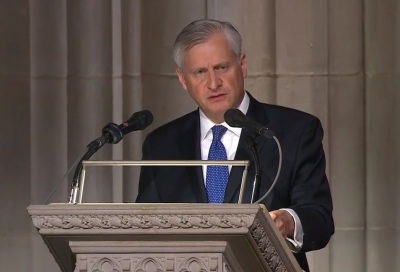 "He believed that to who much was given, much is expected and because life gave him so much, he gave back again and again and again."
The cathedral sanctuary was filled with mourners, with the funeral procession featuring several clergy, including The Episcopal Church Presiding Bishop the Rev. Michael Curry, and uniformed military personnel serving as pallbearers.
President Donald Trump and his wife Melania were in attendance, as well as Bill and Hillary Clinton, Barack and Michelle Obama, and Jimmy and Rose Carter. Also, former vice presidents Al Gore and Dick Cheney were in attendance. 
In addition to multiple choral and instrumental musical selections, award-winning contemporary Christian music star Michael W. Smith performed his song "Friends."
The Rev. Russell J. Levenson Jr., a close friend of the Bush family and the rector at St. Martin's Episcopal Church in Houston, gave the homily for the funeral.
During his sermon, Levenson spoke about being with George H.W. Bush in his last moments, with him and others present placing their hands on the former president and praying over him.
"It was a beautiful end. It was a beautiful beginning," he said. "For a moment, but a moment only, that dear point of light we know as George Herbert Walker Bush dimmed. But it now shines brighter than it ever before has."