George HW Bush personally asked Michael W Smith to sing 'Friends' at his funeral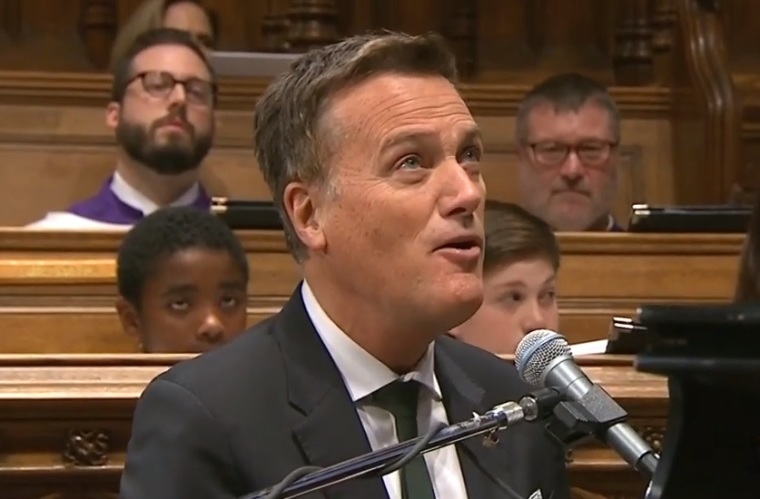 Attendees of President George H. W. Bush's funeral on Wednesday were serenaded by Grammy Award-winning Christian singer-songwriter Michael W. Smith at the late president's request.
On the day before Bush's memorial service at the Washington National Cathedral, Smith sat down with the Christian Broadcasting Network to talk about his decades-long relationship with the one-term president and former vice president.
Smith, who is known for his career as both a mainstream and contemporary Christian artist, explained that the last time he saw 41st president was about three months ago. During their meeting, Smith said, he was asked by the 94-year-old if he would sing his 1982 song "Friends" at his funeral service when he passed away.
"As we were leaving, we just gave him a hug and said 'We love you. We love you.  So good to see you,'" Smith told CBN News. "And about the time we leaving, he put his finger in the air and had that sparkle in his eyes and said: 'Friends are friends forever.' Deb and I walked out of there thinking this might be the last time that we see him."
To Smith, there aren't enough words to describe the honor of being asked to sing at Bush's funeral.
"[It] means something because I have been friends with him for 29 years," Smith said. "And so, the fact that he wanted me to sing at his funeral is just an honor beyond words."
Smith was accompanied in performing the song by the Armed Forces Chorus, the U.S. Marine Orchestra and the National Cathedral Choir. He also posted a rehearsal video of the performance to his Instagram page on Tuesday.
In a 2003 op-ed published by Crosswalk.com, Smith explained how his friendship with Bush began in 1989 when he performed in NBC's "Christmas in Washington" special.
"After the performance, the president asked some of us to come over to the White House. As we passed a piano, President Bush asked me if I'd like to play something. Without thinking, I blurted out, 'Is it in tune?' He responded, 'Well, I hope so!' And our friendship began," Smith recalled. "I'll never forget: I was playing Christmas carols ... in the White House ... for the First Family ... with Olivia Newton-John ... and the whole time I'm thinking, 'How did I get from Kenova, W.V., to here?'"
Smith explained that he would find himself a few months later in a heated tennis match with Bush's son, George W., who would later go on to become president in 2001.  
"I spent more time with the younger George when I performed at his brother Jeb's inauguration as governor of Florida," Smith explained.  "One of the biggest honors of my career came when George W. Bush asked me to perform at the prayer service honoring his own [presidential] inauguration. It was the first time I ever played the song 'Above All.' I was nervous, of course, and I think that I actually sang a few wrong words but I kept playing anyway. I appreciate so much what the Bush family has meant to our country."
Along with performing at George W. Bush's inauguration in January 2001, Smith also performed at Billy Graham's funeral in North Carolina and the late evangelist's memorial service at the U.S. Capitol earlier this year.
Bush's funeral was attended by all living former presidents as well as President Donald Trump and First Lady Melania Trump.
Eulogies were given by George W. Bush, former Canadian Prime Minister Brian Mulroney, former Republican Sen. Alan Simpson of Wyoming and Jon Meacham, who authored a biography titled Destiny and Power: The American Odyssey of George Herbert Walker Bush.
The homily was given by the rector of St. Martin's Episcopal Church in Houston, Russell Levenson Jr., a close friend and family pastor.
"It was a beautiful end. It was a beautiful beginning," Levenson said. "For a moment, but a moment only, that dear point of light we know as George Herbert Walker Bush dimmed. But it now shines brighter than it ever before has."