Franklin Graham, Greg Laurie, Evangelical Leaders Discuss 2018 With Ivanka Trump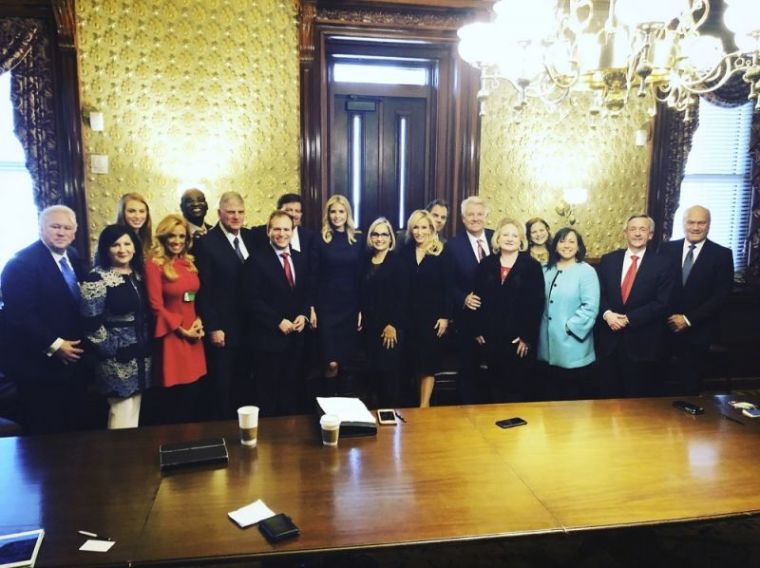 A small group of prominent evangelical leaders met with President Donald Trump's daughter, Ivanka, and several White House officials Thursday afternoon in Washington following the National Prayer Breakfast.
The group included Franklin Graham, California Pastor Greg Laurie of Harvest Christian Fellowship, Pastor Jack Graham of Prestonwood Baptist Church in Plano, Texas, Pastor Robert Jeffress of First Baptist Dallas, Maryland Bishop Harry Jackson of Hope Christian Church in Beltsville, and Pastor Paula White of New Destiny Christian Center in Apopka, Florida. 
"She invited us to stop over," Johnnie Moore, an evangelical public relations professional who plays a major role in leading evangelical engagement with the Trump administration, said of Ivanka in an interview with The Christian Post Friday.
"Like most of these meetings, it was an opportunity for the group to discuss what was on their minds. She also, at our request, talked a bit about some of the administration's priorities of 2018 and some of the highlights in 2017. That was the point of the discussion."
Moore, the former senior vice president of communications at Liberty University who now runs a public relations firm that handles press for a wide variety of evangelical figures and organizations, explained that the briefing lasted nearly two hours inside the Eisenhower Executive Office Building.
The meeting was originally only supposed to last about one hour.
"In 2017, the administration really exceeded our expectations on what they were able to accomplish in a such a short period of time," Moore explained. "We thought that we would be working on these issues for another four years."
The Trump administration has been able to accomplish much of the concrete social policy objectives that evangelical leaders on the president's faith advisory council laid out in 2017.
Such objectives included nominating conservative judges and justices, advancing pro-life measures, reeling back regulations that infringe on religious freedom rights, reversing Obama-era policies pertaining to transgender individuals and providing aid to Christians in the Middle East.
Now, Moore explained, the focus of Trump's evangelical advisory committee has shifted more toward bipartisan initiatives such as criminal justice reform, paid family leave, and workforce development.
"I remember someone at the table mentioned that it is a real joy to actually be able to work on the things that we are passionate about," Moore recalled. "It seems like, politically speaking, for so many years, we spent so much energy into just surviving because of the very real religious liberty concerns. But these are actually the areas that are our principal focus and the things that we are most passionate about."
As it has been no secret from the start of the Trump presidency that the door of the White House has been wide open for evangelical leaders, Moore revealed the "gift" the administration is giving evangelical leaders in 2018.
"The gift the administration is giving us in 2018 is to be able to work together, not on the political issues that draw the eyes of the press, but the issues of everyday life which the faith community is so invested in," Moore said. "The faith community is so capable of providing partnership with the government and Ivanka has been a key partner on this."
Moore explained that the discussion Thursday had less to do about policy initiatives and was more about public and private partnerships the government can pursue with faith-based organizations and houses of worship.
Such partnerships could be pursued to help improve social ills — whether through prison reentry ministries or ministries that strive to empower underprivileged communities in the job market through education and training.
According to Moore, the focus will not be so much on the type of partnerships that require federal grants but rather partnerships where government and faith-based organizations can work together without necessarily having to be dependent on each other.
"It is learning from one another, it is partnering with one another. It is the administration saying, 'If every church in the country adopted a prisoner when they went into prison and decided to care for them all the way through their reentry into society ...,'" Moore said. "You can't underestimate the power of the bully pulpit of the White House. There is a lot of education that can be had through relationship building and dialogue and there is a lot of work that can be done just through partnership that doesn't involve applying to get this grant."
"There is plenty of [opportunities for grants] too, with the new FEMA rules and the USAID policy in the Middle East ... but it's not a discussion that is leading with federal dollars going to these organizations," Moore continued. "It is actually a simple solution. The most transformative solutions happen through partnerships where neither the government or organizations are dependent on one another but benefit from the existence of one other."
As many today might have a narrow view of evangelicals as being conservative Christians who stand against things like gay marriage and abortion, Moore said that he is hoping to show in 2018 that evangelicals really care the most about people.
"When people think of evangelicals, they only think of us in terms of narrow issues," Moore said. "Most of us as evangelicals, we are engaged in politics only because we care about people. We don't like politics, we don't like being politically engaged but we care about people and policies affect people. In 2017, we focused a lot on the policies and the politics. In 2018, we are focusing more on the people. The focus is sort of in lockstep with the administration."