Franklin Graham, Jerry Falwell Jr., Johnnie Moore Criticize Pope Francis for Suggesting Donald Trump Not Christian
JFK 'Rolling Over in His Grave' Because Pope Called Trump 'Not Christian,' Falwell Jr. Says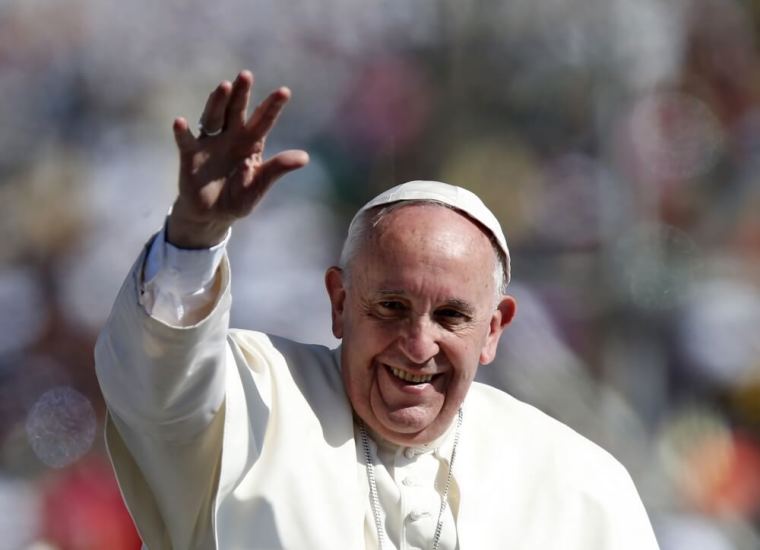 A number of prominent Protestant leaders, including Franklin Graham and Jerry Falwell Jr., are criticizing Pope Francis for implying yesterday that Donald Trump's intention to build a wall on the southern border is "not Christian."
After the Pontiff chastised Trump's desire to build the wall instead of "building bridges" in a conversation with reporters during his return flight home from Mexico, the real estate mogul responded Thursday by saying that it is "disgraceful" for a religious leader to question a person's faith.
Falwell, the president of Liberty University who endorsed Trump for president earlier this year, told CNN that the Pope's comments would cause America's first Catholic president, John F. Kennedy, to roll over in his grave.
"I think the Pope is mistaken. I think John F. Kennedy would be rolling over in his grave right now if he could hear what the Pope was saying," Falwell, the son of the late televangelist Jerry Falwell Sr., said. "That's a man who fought to be president against lots of prejudice because many Protestants in this country did not want to elect a Catholic president. He broke down those barriers and here is the Pope trying to say … we have to choose leaders that share his faith, the Christian faith."
Although the Pope explicitly said in his conversation that he was not going to get involved in American politics by telling believers who they should vote for, Falwell contended that the Pope fully intended to get involved in American politics with his remark about Trump.
"In the middle of an election, to question someone's Christianity, the Pope is bringing up Christianity as a criteria for being president, in my view, that is what he said," Falwell argued. "I think it was wrong for many Christians to refuse to vote for Mitt Romney because he was a Mormon. I don't think that is our job."
"It's not our job to choose the best Sunday school teacher like Jimmy Carter was," Falwell continued. "Our job is to choose who can best defend and protect our nation, who would be the best president and who would lead us away from $20 trillion in debt and restore our country's economic viability."
Graham, the president of the Billy Graham Evangelistic Association and Samaritan's Purse humanitarian organization, took to Facebook to argue that the desire to protect national security by building a wall does not defy the Gospel.
"The Pope has suggested that Donald J. Trump is not Christian because he wants to build a wall between the U.S. and Mexico," Graham wrote in a Facebook post Thursday. "I agree that as Christians we should try to build bridges with everyone that we possibly can, but that doesn't mean that we should compromise our national security."
Graham continued by explaining that it's not just Trump that favors erecting a wall. A number of the Republican presidential candidates in the 2016 election also favor building a wall to seal off the southern border, including Florida Sen. Marco Rubio, Texas Sen. Ted Cruz, Dr. Ben Carson and Ohio Gov. John Kasich.
"Are they not Christian either?" Graham asked. "My advice to the Pontiff — reach out and build a bridge to Donald Trump. Who knows where he may be this time next year!"
As the South Carolina Republican primary will take place Saturday, evangelical author Johnnie Moore hypothesized in an interview with Newsmax that the Pope's comments will only help Trump win over the support of evangelicals.
"Now, only one thing matters: Evangelicals in South Carolina," Moore, a former senior vice president at Liberty University, said. "While Trump vs. the Pope might arrest the attention of the world's media, it might strengthen his hand among some Evangelicals in the deep South.
"No one is supporting Trump because of his Christianity," Moore continued. "They are supporting him because they think he can fix America — and now he even has the Pope talking about it."