Franklin Graham reflects on New Year, first Christmas without father Billy Graham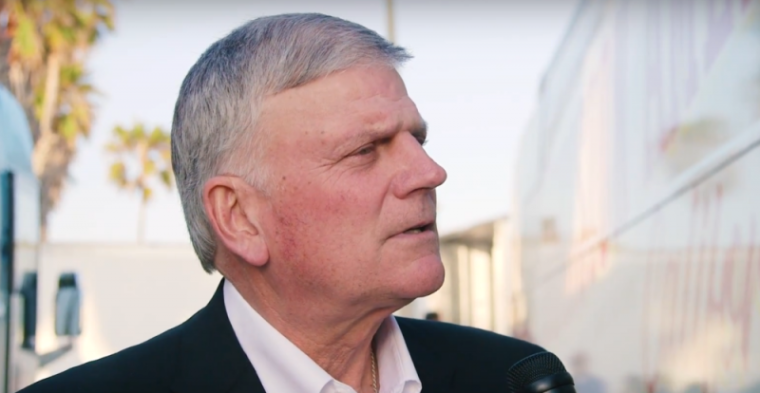 Prominent evangelical leader the Rev. Franklin Graham shared his thoughts about the upcoming new year and his family having their first Christmas without his father, the late Rev. Billy Graham.
In an episode of the Fox News program "Fox & Friends" on Christmas Day, the president of the Billy Graham Evangelistic Association was asked about new year's resolutions and the importance of becoming a Christian in 2019.
"This is a great time to start a new year and have that relationship with God through faith in His Son, Jesus Christ," stated Graham, who also talked about the importance of Christmas.
"We can certainly just thank Him for all that He's given to us and His blessings on us. So, just thank Him this Christmas."
Earlier this year, Graham's father, the renowned evangelist Billy Graham, passed away peacefully at age 99 following years of declining health.
Graham explained on the "Fox & Friends" segment that he believed his father "gave his life to share this wonderful story" of Christmas and that Billy Graham is "in the presence of God."
"I'm so grateful for his legacy. I'm so grateful for the example that he set for me, for our family. And of course we miss him this Christmas, first Christmas without him, but I know where he is," continued Graham.
Earlier this year, Graham had a book published, titled Through My Father's Eyes, which centered on the lessons he learned from being the son of the 20th century's most famous evangelist.
In an interview with The Christian Post published on May 1, Franklin Graham explained that he hoped that readers of his book would see "what God can do in a person's life."
"If you're willing to trust Him and to believe in Him and to follow Him. And, the footsteps, watching my father, the steps that he took in life, the steps that he took were steps that he was following from his Father in Heaven. Guiding and directing him," said Graham.
"My father's path in life was directed by God. And I think if someone takes this book and looks at it, and reads it, they will see and understand that it wasn't Billy Graham, but it was God behind every step he took."
Graham spent Christmas Eve in Paradise, California, helping the thousands of residents who lost their homes in what ended up being the state's deadliest wildifre in November. Graham was joined by Samaritan's Purse volunteers and BGEA chaplains in holding three Christmas Eve services, distributing 4,593 meals from Panera Bread as well as over 10,000 pillows and stuffed lambs to the children.