Franklin Graham Says He's Trying to Help Both Saeed and Naghmeh Abedini in Difficulty
Only God Knows Details Surrounding the Abedinis' Marriage, Says Graham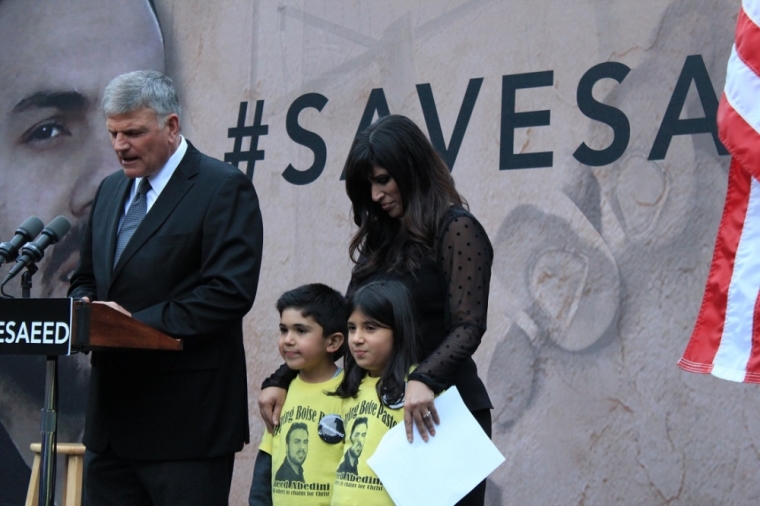 The Rev. Franklin Graham says that beside Saeed and Naghmeh Abedini themselves, only God knows the details surrounding the issues between them.
"While we rejoice at his (Saeed Abedini's) new freedom, we now lift him and his wife, Naghmeh, to the Lord for healing in their marriage. Other than God, no one knows the details and the truth of what has happened between Saeed and Naghmeh except them. There's an old saying that there are at least two sides to every story," Graham, the CEO of the Billy Graham Evangelistic Association, wrote in a Facebook message on Thursday.
Graham added that he is trying to be a friend and assist both, and said that there is a great need for prayer for their relationship.
"I can tell one thing for sure — not everything that has been reported in the media is true," he asserted.
Pastor Abedini was released as a hostage in Iran earlier in this month following three-and-a-half years in prison for his Christian faith. And during his first post-release interview back on American soil he told Greta Van Susteren of Fox News that he had been beaten and tortured in captivity.
He was finally reunited with his two children in Boise, Idaho, on Tuesday.
While Naghmeh said that she is rejoicing at their family's reunion, local news stations, such as ABC-affiliate KIVI-TV and others, reported that she also filed a domestic relations case in court against Saeed.
Naghmeh later took to Facebook to explain that she has taken legal action to make sure the couple's two young children stay in Idaho, and said that there has been abuse in their marriage.
"In very difficult situations sometimes you have to establish boundaries while you work toward healing. I have taken temporary legal action to make sure our children will stay in Idaho until this situation has been resolved," Naghmeh told her supporters.
"I love my husband, but as some might understand, there are times when love must stop enabling something that has become a growing cancer. We cannot go on the way it has been. I hope and pray our marriage can be healed. I believe in a God who freed Saeed from the worst prisons can hear our plea and bring spiritual freedom."
Graham, who supported Naghmeh through the long campaign advocating for her husband's release, said that he is trying to help both.
"As a minister of the Gospel, I have tried to be a friend to both and to assist them in getting Saeed home and in getting access to any help that they may need. Clearly, there is a great need for prayer for their relationship and their family," he continued.
"God has answered prayer by bringing about Saeed's release from prison, and now, Satan would like nothing more than to continue to destroy their lives. It is my prayer that this will not happen."