Franklin Graham Says He's 'Sick' of Hearing About Islam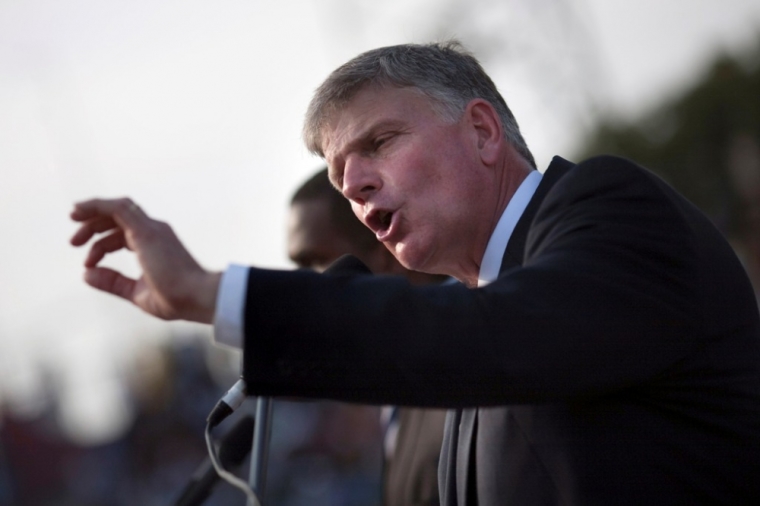 Evangelical leader the Rev. Franklin Graham has said that he is "sick" of hearing about Islam, and warned that neither Republicans nor Democrats can properly safeguard the United States.
"Are you sick of hearing about Islam? I am too — but it is a very real threat to the world and to our security here at home. Many are asking — Who can save us? Well tonight in the last GOP debate of the year, the Republicans will tell you they can. And the Democrats will argue that they can," Graham wrote in a Facebook post on Tuesday.
"But the Bible says that there is only one — Almighty God. 'The LORD is my rock and my fortress and my deliverer, my God, my rock, in whom I take refuge, my shield, and the horn of my salvation, my stronghold' (Psalm 18:2)," he added.
The head of the Billy Graham Evangelistic Association has been an outspoken critic of Islamic terrorism, and back in November following the attacks on Paris, which left 130 people dead, said that Islam "has declared war on the world."
"I don't know about you, but I don't want to live under Islam. I will bow my knee to no one except Almighty God," Graham wrote, and urged the U.S. to "elect a president and leaders willing to take the fight to the Islamic State."
IS, which has conquered territory across Iraq and Syria, has now carried out two large-scale attacks in France this past year, and warned that America can expect similar violence.
The militant threat has sparked a debate on national security in the U.S., particularly among the Republican and Democratic presidential candidates.
GOP frontrunner Donald Trump stirred controversy when he suggested banning all Muslims from coming to the U.S. as part of security efforts, and was widely criticized across the political field.
While Graham said that he backs Trump's suggestion, he points out that he has been advocating for something similar for some time.
"For some time I have been saying that Muslim immigration into the United States should be stopped until we can properly vet them or until the war with Islam is over," Graham wrote.
"Donald J. Trump has been criticized by some for saying something similar. The new Speaker of the House Paul Ryan said yesterday that he disagrees — saying that 'such views are not what this party stands for and more importantly it's not what this country stands for.' Politicians in Washington seem to be totally disconnected with reality," he concluded.
Trump has been defending his call to ban Muslims, and during Tuesday night's CNN presidential debate in Las Vegas, also stood by his proposal to kill the family members of IS terrorists.
"We have people that know what is going on, you take a look at the attack in California the other day, there were numerous people, including the mother, that knew what was going on. They saw pipe bomb sitting all over the floor, they saw ammunition all over the place," Trump said, referring to the San Bernardino attack, where an IS-inspired couple killed 14 people earlier in December.
"They knew exactly what was going on."