Franklin Graham Starts Fund 'to Help Persecuted Christians in the US'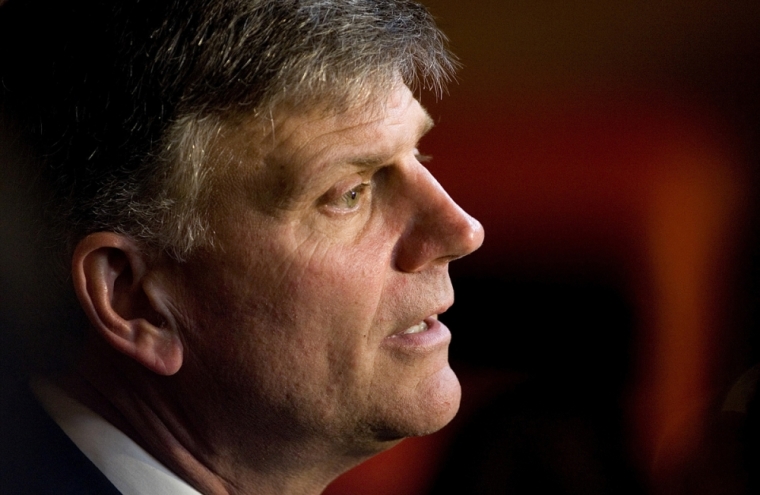 Evangelist Franklin Graham is using his resources as president of Samaritan's Purse to help Christian business owners in the United States who are being forced to pay steep fines and are even losing their businesses and livelihoods because they're refusing to participate in gay marriage ceremonies based on religious grounds.
Graham has established a sub-section of Samaritan's Purse to help Christians in the U.S. who have experienced significant financial loss due to their faith.
"The fund was created to help persecuted Christians in the U.S., including Aaron and Melissa Klein. It was activated last weekend, and the organization has not yet announced any numbers," Karen Dye, a spokeswoman for Samaritan's Purse, told The Christian Post on Friday.
Christian business owners, including Barronelle Stutzman, owner of Arlene's Flowers in Richland, Washington, and former owners of the now closed Sweet Cakes by Melissa bakery in Gresham, Oregon, Aaron and Melissa Kelin, have been ruled guilty of violating their respective states anti-discrimination ordinances for refusing to provide services for same-sex marriage ceremonies.
These businesses were severely affected and their owners were left struggling to cope in the aftermath.
Graham already reached out to the Kleins to help them pay their $135,000 fine issued by a judge, and has decided to expand his mission to help others in similar situations. He recently said he expects to see persecution in the U.S. soon.
"I believe we're going to see persecution in this country," Franklin said in a statement. "We've already seen many laws that have been passed that restrict our freedom as Christians. I believe it's going to get worse. We do have a problem in this country and we are losing our religious freedom and we're losing it a little bit, day by day."
Sweet Cakes Bakery owner Aaron Klein recently spoke with The Christian Post about his experience and his message for fellow Americans in similar situations.
"I would say, on a personal note, don't be afraid to stand up for the Bible, for God's truth, for the sake of Jesus Christ … that is something that is near and dear to my heart. From a political standpoint, I would say this: every American should be free to live and work by their faith without being afraid that the government will punish them for doing so," Klein said.
Franklin, through Samaritan's Purse, reached out to the Kleins and even offered to help them raise funds to pay for their fine after a GoFundMe page was taken down due to violating the website's policies.
The organization's good work is being felt, and is greatly appreciated, by the Kleins.
"I called Franklin, and he said, 'Don't be discouraged. God will use this. He will work in it — there are a lot of people behind you.' I felt blessed by that in and of itself. He took the time to do that and he's a busy guy," Klein told CP.