Franklin Graham warns Liberty graduates about 'culture of confusion,' 'lies from Hell'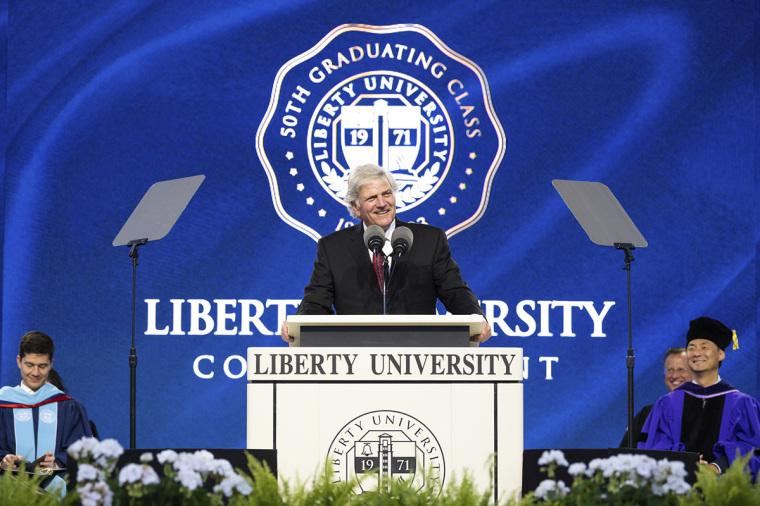 The Rev. Franklin Graham has told Liberty University graduates that the nation is being dominated by a "culture of confusion and lies," which come "from Hell."
Graham, who had two children that had graduated from Liberty years ago, was the keynote speaker for the Lynchburg, Virginia-based university's commencement Friday evening.
During his remarks, the president of the Billy Graham Evangelistic Association told graduates that he prayed that "this class will stand for truth," noting that "our world is changing."
"It has changed so much, just in the time since you set foot on this campus a few years ago," said Graham. "Think how much it has changed. The increase in violence, the moral decline."
"I can't help but think that the heart of God is grieved as He looks at our world today. Our country. Oh, I love our country, but it's in a downward spiral morally, spiritually, economically, politically."
Graham went on to say that he believed the nation was "in a freefall" because the country had "turned our back on God and His truth," urging the graduates to be a "beacon of light,"  "standing on the Word of God" while living in "a culture of confusion and lies."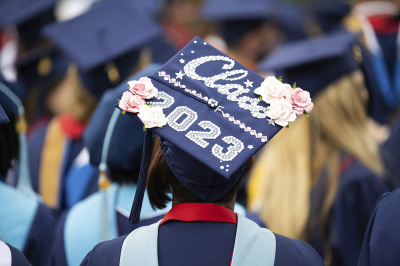 Graham declared that "the Bible doesn't contain truth, it is the truth," adding that "every Word of God is true" and that "truth is not what you say it is, truth is what God says it is."
Graham quoted John 14:6, "Jesus answered, 'I am the way and the truth and the life. No one comes to the Father except through me,'" explaining to those gathered that "Jesus is not a way to God, He is the way to God."
"Many churches today have compromised on the authority and truth of God's holy word. Many of our politicians and leaders have bought into the lies of culture and the woke ideology," Graham warned.
"The world wants you to believe that we are more than just male and female, that we can be transgender, whatever we choose to identify as. That's a lie. It's just a lie from Hell."
Graham added that "the world wants you to believe that homosexuality is OK as long as it's between two people in a 'loving relationship.' That's a lie. Its sin. It's a sin against God."
"The world wants you to believe that you can have sex with anyone you want to have sex with as long as it's consensual. It's a lie. God made sex to be in a marriage relationship, between a man and woman," he continued. "The world wants you to believe that abortion is OK, that it's a woman's choice. It's a lie. It's a choice, but it's murder. It's a sin."
"Where does all this come from? It comes from Hell. It comes from Satan. He's the author and he's the father of lies. You see, the world wants you to sit down and shut up. No, don't you do that. I want you to stand up, to shout out, to lift up your voice, to lift up the truth."
In March, Liberty announced that Graham would be the keynote speaker, with then-Liberty Interim President Jerry Prevo saying at the time that the Grahams have "been faithful friends and supporters of Liberty for a very long time."
"We have seen God use them to proclaim the Gospel of Jesus Christ throughout the world and come to the aid of so many families and countries in times of great disaster through the ministries of Samaritan's Purse and the Billy Graham Evangelistic Association," Prevo said.
"Who better to send the Class of 2023 out into the world as 'Champions for Christ' than Franklin Graham? … We are looking forward to hearing Franklin commission our new graduates to do the same as 'Champions for Christ.'"
Also in March, Liberty's board of trustees unanimously appointed retired Maj. Gen. Dondi E. Costin as its new president, and Thomas Road Baptist Church Pastor Jonathan Falwell as chancellor. Costin was the former president of Charleston Southern University, while Falwell is the son of Liberty founder Jerry Falwell Sr.
"As one whose life and ministry have been profoundly shaped by Liberty University, I can think of no educational institution with more global impact than my two-time alma mater," said Costin in a statement emailed to The Christian Post earlier this year.
"[My wife] Vickey and I look forward to locking arms with the Liberty family as we honor the university's past and drive toward its future. With God's help and for His glory, the very best days of our great University are still ahead of us."