Franklin Graham's Operation Christmas Child Exceeds Goal, Collects 10 Million Shoeboxes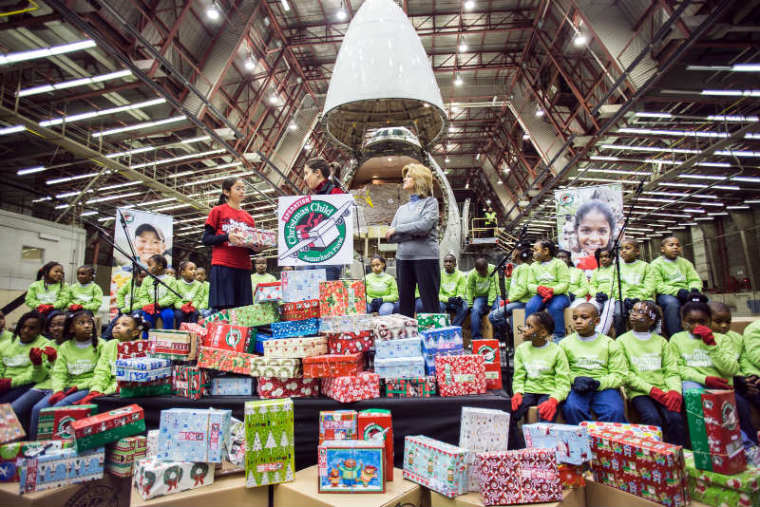 The evangelical humanitarian organization Samaritan's Purse has exceeded its donation goal of 10 million gift-filled shoeboxes in 2014 in its popular charity program, Operation Christmas Child.
Through Operation Christmas Child, donors from across the United States and 12 other Western countries can donate shoeboxes filled with small age-appropriate gifts that are then compiled and distributed by the ministry to millions of less fortunate children across the world.
Samaritan's Purse, an organization run by Franklin Graham, the son of world-renowned evangelist Billy Graham, announced this week that it exceeded its global goal for 2014 by receiving over 10.4 million shoeboxes, with over 8 million of them coming from donors in the United States. The shoeboxes will hopefully provide a glimmer of hope to underprivileged children in more than 100 nations.
"The 10 million shoeboxes are being distributed worldwide right now. We are sending these gifts to local churches in more than 110 countries around the globe this year," Operation Christmas Child's domestic director Randy Riddle told The Christian Post. "That was our worldwide goal and our global goal: collecting shoebox gifts in 13 countries and sending them around the world. We are very thankful to surpass our global 10 million goal."
Each shoebox includes a variety of small gifts like toys, school supplies, t-shirts and personal hygiene items. Donors are also encouraged to include personal notes and a photo of themselves.
Along with the shoebox gifts, each child receives an Operation Christmas Child Evangelistic tract. Kids as young as two years old and teens as old as 14 will receive the gifts.
"This is many times the first time that these children have ever received a gift of any kind," Riddle explained. "Working with our local church leaders, this platform allows us to share the Gospel with children who have never heard about Jesus before, or never had an experience like this before to hear a clear presentation of the Gospel.
"We have Gospel literature that is handed out alongside every shoebox gift and there is typically a verbal proclamation of Gospel with the shoebox gift," Riddle continued. "It teaches these children that there is someone here on this Earth that loves them and cares about them and has not forgotten them and that there is a God in Heaven who loves them as well."
Riddle added that not only will millions of kids be excited to receive the gifts, many of them will have the opportunity to participate in a 12-lesson discipleship program called "The Greatest Journey," that teaches the children about the Bible and Jesus Christ and is available in more than 60 languages and 75 countries.
"We believe the shoebox gift is the platform that launches the opportunity to share the Gospel and then launches millions of children into this worldwide discipleship program," Riddle said. "It is first, another opportunity to proclaim the Gospel with these children. Then it is 12 lessons on following Jesus, who Jesus is and following Jesus, and how to reach others who need to follow Jesus."
When the 12-lesson program is over, the kids go through a graduation ceremony where they receive their very own Bible in their native language. Riddle said more than 2 million kids participated in the "The Greatest Journey" in 2014, and expects over 3 million to participate in 2015.
Although Operation Christmas Child has not yet set their global shoebox goal for 2015, the operation's domestic goal for 2015 is to receive over 8.6 million from donors in the U.S., Riddle said. Riddle added that he expects over 11 million shoeboxes will be donated from all over the world in 2015.
Although there is no immediate plan to distribute shoeboxes in new regions of the world that have not previously received the ministry's gifts, Operation Christmas Child did distribute shoebox gifts to the children affected in Iraq for the first time last December, when over 60,000 shoeboxes were airlifted to the refugee children displaced by the Islamic State terrorist group in Kurdish Northern Iraq.
"That was a new area for us and we are consistently looking to share the Gospel with unreached people groups and the least reached people groups as well," Riddle said.