'Free Markets Are Miracles,' Panelist Claims; Debate Opens Dalai Lama's Mind to Capitalism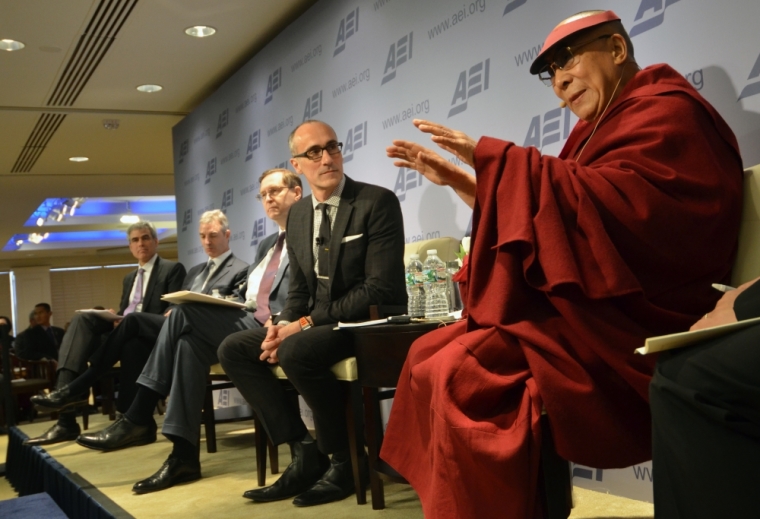 WASHINGTON – A panelist speaking on the morality of markets proclaimed that capitalism is miraculous, and the debate may have convinced the Dalai Lama – leader of Tibetan Buddhism – to open his mind to capitalism.
"Free markets really are miracles," declared Jonathan Haidt, professor of Ethical Leadership at New York University, at the American Enterprise Institute on Thursday. "You really can turn water into wine, vast quantities of wine, at low, low prices, as long as the vineyard owners can get access to cheap credit and transportation networks, and have property rights."
The Dalai Lama seemed impressed by such arguments. "After listening, yesterday and today, I have more respect for capitalism," the religious leader, a self-described Marxist, declared, with a laugh.
Before the panelists began, the religious leader started with a strong view of the importance of individual action. "To bring happy life, happy individual, happy family, happy community, happy nation, ultimately happy world," he argued, change must not originate from government or the United Nations, but "from individual."
R. Glenn Hubbard, professor of Finance and Economics at Columbia University's Graduate School of Business, presented a five-step argument for the morality of the free enterprise system. "Free enterprise economies have demonstrated both absolute and relative success in both generating prosperity and alleviating poverty," Hubbard argued, "not by government action, but by an opening of markets." He referred to the collapse of Soviet Communism in arguing that other systems do not work as well.
Hubbard also admitted that capitalist economies have problems, however. He argued that there are few incentives for innovation and entrepreneurship in the current economic climate, and that large governments are holding new businesses back. "A social safety net is important, but what's even more important is the ladder to work," he stressed. "Earned success is an important moral objective – it's not just about GDP." Free societies are most likely to allow that, despite their problems, Hubbard claimed.
Daniel Loeb, the founder and head of $13 billion hedge fund firm Third Point, agreed that capitalism is the only system that can create widespread wealth. "There is no other system that can create the prosperity that we have," Loeb declared, admitting that "it isn't perfect and there are folks left behind." He also gave reason for hope, however, mentioning an education project that elevated poor children in the Bronx to the third highest test scores in New York State.
Loeb briefly discussed the complexity of investment decisions he makes every day, explaining that the wealth he creates requires robust financial markets, the rule of law, and a system of credit, among other things. He thanked the Dalai Lama for his leadership, explaining that learning meditation in India taught him how to make tough decisions wisely and calmly.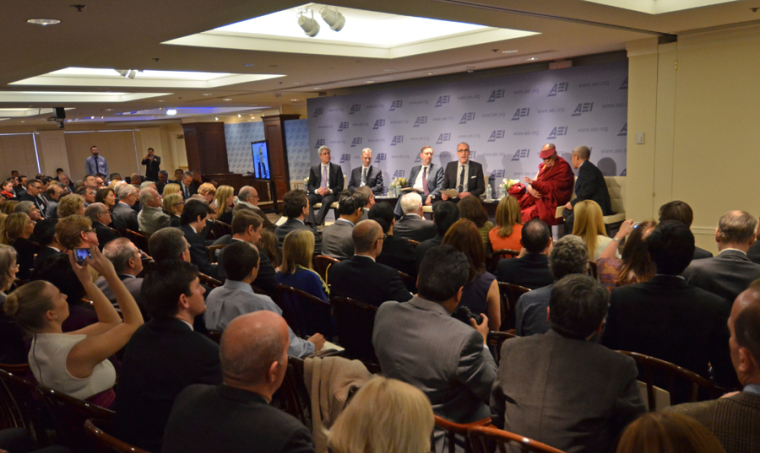 Haidt closed the panel, discussing "three stories of capitalism," three views of the free market system.
"Once upon a time, work was real and authentic … Then one day, capitalism was invented and darkness spread across the land," Haidt began, explaining the first Communist story. In this view, wicked capitalists forced people to work for less than they were worth, sucked up money, and spent it bribing public officials for influence. He quoted the Dalai Lama's past comments, "between socialism and capitalism, I am a socialist."
Haidt also told another story of capitalism, however. "Once upon a time, and for thousands of years, almost everybody was poor and most people were serfs or slaves … Free market capitalism was born and in just a few centuries, poverty disappeared and people got dignity, safety, and longevity," he narrated. Tracing all modern wealth to the economy, Haidt declared that "free market capitalism in this story is our savior, and Marxism is the devil."
While Haidt argued that evidence clearly supported the second view, and the Dalai Lama seemed to be inching toward it, he also warned that "because free markets are astonishingly good, people start to worship them," and they become blinded to real problems. Haidt referred to Pope Francis' attack on "a crude and naive trust in those wielding economic power," and the widening gap between rich and poor. The venture capitalist prophesied wide agreement for a third "story of capitalism," which praises its successes even while searching for ways to make the system fairer.
Arthur Brooks, president of the American Enterprise Institute, summarized the panel and the Dalai Lama's positions. Among them, he listed the religious leader's focus on "understanding our common humanity," and "the good news that global brotherhood and sisterhood are in our hands." When it comes to capitalism, Brooks articulated the Dalai Lama's position, with which the religious leader had no disagreement. "The free enterprise system is a blessing, but it has to be predicated on moral living."