Front Yard Grave Dug Up; Alabama Family Grieves Watching Man's Wife Exhumed From Front Yard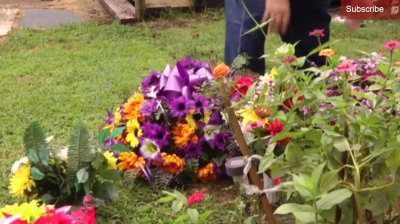 A front yard grave has been dug up in Alabama as a woman was exhumed on Friday in front of weeping relatives.
The exhumation took place after the woman's husband lost a long battle to keep her remains buried there recently. He had buried her there according to her final wishes, but he was recently ordered by a court to allow her body to be exhumed and moved.
Husband James Davis was joined by his five children as well as some of his grandchildren to stand nearby as the body of his wife, Patsy Davis, was dug up from next to their front porch.
A loud winch was used by workers to lift a concrete vault from the ground, which contained the casket and the remains of Patsy Davis. As the workers carried out the exhumation, daughter Rita Webb was visibly distressed at the developments.
The day had come after four years of court battles and orders, which included a number of appeals. However, in the end the exhumation took just an hour to carry out.
Davis, 74, said, "She would not believe that they did what they did to her, because she never deserved this."
Patsy died in 2009 after 48 years of marriage to James; she had suffered from health issues for a number of years when she died.
James Davis has explained extensively that he was simply carrying out his wife's dying wish to remain at their house.
However, controversy has surrounded the home since her burial, and James has been forced to fight a long hard battle to try and keep his wife at the home, which is based in Stevenson, a small railway town in Alabama's northeastern corner with about 2,600 residents.
James had applied for permission to bury his wife at the site, but was refused; he buried her there anyway. The city then sued him to have the grave removed, and a county judge sided with authorities.
The case went all the way to the Alabama Supreme Court, but things ultimately ended badly for James, as his appeal was refused.
Patsy Davis' remains will now be cremated and placed in an urn, and James has now said that he will keep her with him at home.
Davis said, "I'm adjusting to what's going on. I've come to the realization that in the end Mama winds up ashes anyway 'cause we all go back to dust."
Here is a video news report from 2012 into James Davis' battle: