AG Garland unsure if FBI agent was fired for memo on 'radical-traditionalist Catholics'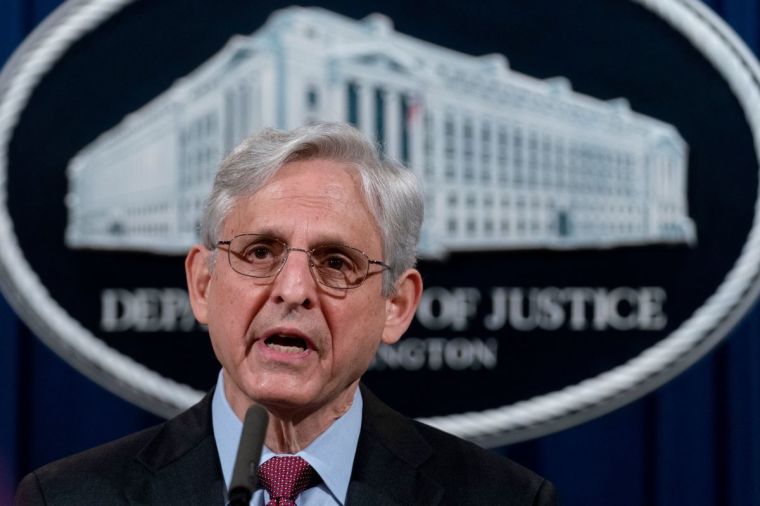 U.S. Attorney General Merrick Garland has come under fire from Republican lawmakers and advocacy groups for what they have deemed as unsatisfactory answers about an FBI memo on radical-traditionalist Catholics. 
The Republican-controlled U.S. House Judiciary Committee held a hearing Wednesday titled "Oversight of the U.S. Department of Justice."
The purpose of the hearing, as stated on the committee's website, was to "examine how the Justice Department has become politicized under the leadership of Attorney General Merrick Garland." 
One part of the hearing focused on a document circulated in the FBI Richmond Field Office earlier this year, made public in January by former FBI agent Kyle Seraphin. The "domain product" warned that "the increasingly observed interest of racially or ethnically motivated violent extremists (RMVEs) in radical-traditionalist Catholic ideology almost certainly presents opportunities for threat mitigation through the exploration of new avenues for tripwire and source development."
Rep. Jeff Van Drew, R-N.J., asked Garland if he agreed that "traditional Catholics are violent extremists." Garland said, "I have no idea what … traditional means here." Van Drew defined "traditional Catholics" as "Catholics that go to church."
Garland stressed that he and FBI Director Christopher Wray have "said that we were appalled by that memo," prompting Van Drew to ask Garland again if he thought traditional Catholics were extremists.
"Catholics are not extremists, no," Garland replied. 
When Van Drew asked if there was "anyone fired for drafting and circulating the anti-Catholic memo," Garland told him he didn't know the answer to that question. 
"There is a disciplinary process that the Attorney General is not permitted to intervene in."
Garland, whose Jewish grandmother fled from religious persecution in Europe, took issue with the question of whether the FBI was discriminating against Catholics. 
"The idea that someone with my family background would discriminate against any religion is so outrageous, so absurd, it's hard to even answer your question," Garland said. 
The FBI document stated that radical-traditional Catholics are "characterized by the rejection of the Second Vatican Council (Vatican II) as a valid church council; disdain for most of the popes elected since Vatican II, particularly Pope Francis and Pope John Paul II; and frequent adherence to anti-Semitic, anti-immigrant, anti-LGBT, and white supremacist ideology."
Vatican II took place from 1962-1965 and is credited with shaping "the Modern Roman Rite Catholic Church," instituting liturgy reforms and amending the denomination's "attitudes towards non-Christian religions, roles and responsibilities of the laity, views on religious freedom, etc."
The domain product clarified that "Radical-traditionalist Catholics compose a small minority of overall Roman Catholic adherents and are separate and distinct from 'traditionalist Catholics' who prefer the Traditional Latin Mass and pre-Vatican II teachings and traditions, but without the more extremist ideological beliefs and violent rhetoric." It expressed concern that RTCs and RMVEs would find common ground in "areas such as abortion rights, immigration, affirmative action, and LGBTQ protections."
Tom McClusky, director of government affairs for the advocacy group CatholicVote, released a statement reacting to Garland's testimony.
"Merrick Garland has proved himself to either be a very bad liar or totally incompetent," McClusky said. "Either way the answer is the same: he needs to resign or be removed from office."
The House Judiciary Committee revealed findings last month showing that the FBI's Richmond Field Office "coordinated with multiple FBI field offices across the country" to produce the document expressing concern about "radical-traditionalist Catholic ideology."
The FBI submitted a document to the House Judiciary Committee illustrating that both the FBI Portland Field Office and the FBI Los Angeles Field Office "were involved in or contributed to the creation of the FBI's assessment of traditional Catholics as potential domestic terrorists."
The committee discovered that an FBI contact in Portland "informed on a deceased [Racially or Ethnically Motivated Violent Extremist (RMVE)] subject" who had "sought out a mainline Roman Catholic community" and then "gravitated to [Society of Saint Pius X (SSPX)]." 
Earlier this year, CatholicVote filed a lawsuit against bot FBI and the DOJ for failing to provide internal communications containing a series of terms related to the Catholic Church that it requested under the Freedom of Information Act. That litigation remains ongoing.