Biden DHS portrayed 'fervent' pro-lifer as national security threat in mitigation exercise: docs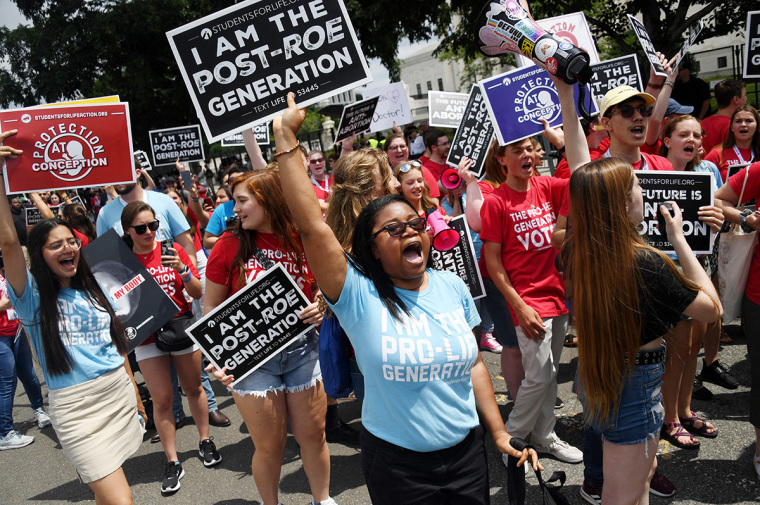 An exercise created by the United States Department of Homeland Security presents a passionate pro-life advocate as someone prone to engage in an act of domestic terrorism as critics of the Biden administration point to the document as evidence of a targeted campaign against those who "oppose abortion on demand and voted for former President Trump." 
America First Legal, a nonprofit organization founded by Stephen Miller, a former adviser to Trump, has released a series of documents it obtained via a Freedom of Information Act request. The documents pertain to what it characterized as "the Biden Administration's disturbing collaboration with Big Tech to censor Americans and use domestic violence to spy on American citizens — all under the guise of facilitating and implementing the strategies outlined in the 'National Strategy for Countering Domestic Terrorism.'"
On Monday, nearly two years after America First Legal submitted the FOIA request, the organization published some of the DHS documents it received in response to their inquiry.
One document from the Department of Homeland Security's Office for Terrorism and Targeted Violence Prevention outlines a "Choose Your Own Adventure" exercise where viewers must select from "3 difficult choices" in one of five separate scenarios as they respond to situations portrayed as red flags for domestic extremism. 
The document, dated Jan. 29, 2021, includes a scenario where the viewer is expected to take on a role of a preacher who has a congregant named Ann that "has become increasingly more fervent about her pro-life stance." After witnessing Ann, who serves as the "radicalization suspect" in the scenario, engage in a "heated discussion" with another parishioner during a prayer group, the preacher receives a question from her about whether or not the Bible justifies violence in defense of the unborn.
The viewer, acting as the preacher, is expected to choose from one of three options where the individual would either "schedule counseling with Ann on church teachings and violence prevention," "talk with Ann's husband about whether or not he's noticed any changes in behavior" or "reach out to talk to a member of her church group to ask about her recent interests." In the second scenario involving Ann, the viewer is expected to act as an employee at a new bakery in the town where the pro-life activist resides.
"As the mayor walks up to the ribbon in at the bakery entrance, you hear another attendee yell 'baby killer' toward them," the exercise states. "You turn to find the shouter and are shocked to see that it's Ann, a woman who you've always known to be empathetic in the past."  
The scenario presents the bystanders with three options to choose from on what to do in the aftermath of the hypothetical situation. These include contacting Ann's husband to "discuss what you just witnessed and check to see if everything has been okay lately," reaching out to her preacher to "ask about her behavior" and stopping by her house to "chat and see how she's doing."
In the third scenario involving Ann, the viewer is expected to assume the role of the woman's hairdresser, who listens as "she brings up pro-life arguments and begins ranting, saying that something should be done to put a stop to the Planned Parenthood office in the next county" during a routine hair appointment. In the scenario, "she shares videos of violent protests on her phone and you notice increasingly more militant language from Ann." 
The choices presented to the hairdresser as responses to the situation include calling the sheriff to "ask him about when you should be concerned about the situation," asking coworkers and staff of the hair salon about the conversation and whether "they've noticed anything different lately" and conducting research about "the groups that Ann was talking about." 
The other red flag situations included as part of the "Choose Your Own Adventure" exercise profile a teenager believed to have undergone "racial/ethnic radicalization," a father depicted as an "anti-[government]/authority" and an "abusive stepdad," a young animal rights and environmental activist and a "budding conspiracy theorist" who has "become fixated on conspiracy theories regarding government connections to child abuse and trafficking." 
In a statement issued in response to the documents, America First Legal Senior Counselor and Director of Investigations Reed Rubinstein condemned "the Department of Homeland Security's transformation into a domestic intelligence organization and a Stasi-like Deep State internal security apparatus." 
According to Rubinstein, "It is a very long way from 'see something, say something' regarding an unattended suitcase at the airport to profiling patriotic and politically conservative Americans as abusive parents and domestic terrorists because they oppose abortion on demand and voted for former President Trump. The agency is out of control."
The newly obtained documents are not the first time the federal government has classified or implied that pro-life activists constitute a national security threat. A March 1 report compiled by the Director of National Intelligence warned that "domestic violent extremists (DVEs) who are motivated by a range of ideologies and galvanized by recent political and societal events in the United States pose an elevated threat to the homeland in 2021."
The report specifically singled out "abortion-related domestic violent extremists," referring to "DVEs with ideological agendas in support of pro-life or pro-choice beliefs" as examples of groups that may pose a national security threat. At the same time, the document stressed that "mere advocacy of political or social positions, political activism" and "use of strong rhetoric may not constitute violent extremism, and may be constitutionally protected."
Earlier this year, the FBI found itself subject to immense criticism after its Richmond Field Office circulated a memo describing "the increasingly observed interest of racially or ethnically motivated violent extremists (RMVEs) in radical-traditionalist Catholic ideology" as an opportunity for "threat mitigation through the exploration of new avenues for tripwire and source development." 
The memo classified RTCs as those "characterized by the rejection of the Second Vatican Council (Vatican II) as a valid church council; disdain for most of the popes elected since Vatican II, particularly Pope Francis and Pope John Paul II; and frequent adherence to anti-Semitic, anti-immigrant, anti-LGBT, and white supremacist ideology."  
It noted that Vatican II "took place from 1962-1965 and essentially shaped the Modern Roman Rite Catholic Church" and "was intended to help the church respond to global cultural changes in the aftermath of World War II and resulted in significant reforms to the liturgy, attitudes towards non-Christian religions, roles and responsibilities of the laity, views on religious freedom, etc." 
The document attempted to clarify that "radical-traditionalist Catholics compose a small minority of overall Roman Catholic adherents and are separate and distinct from 'traditionalist Catholics' who prefer the Traditional Latin Mass and pre-Vatican II teachings and traditions, but without the more extremist ideological beliefs and violent rhetoric." 
It predicted that "RMVE interest in RTCs is likely to increase over the next 12 to 24 months in the run-up to the next general election cycle complicating the overall RMVE threat picture while also creating new opportunities for mitigation efforts."
The memo expressed concern that "policy issues of mutual interest to RMVEs and RTC adherents will remain in the public spotlight," citing "areas such as abortion rights, immigration, affirmative action, and LGBTQ protections" as examples.
In response to pushback, the FBI concluded that the document "does not meet the exacting standards of the FBI" and insisted that the agency would "never conduct investigative activities or open an investigation based solely on First Amendment protected activity."