Gateway Church Pastor Robert Morris in 'Stable Condition' After Being Airlifted to Hospital for Surgery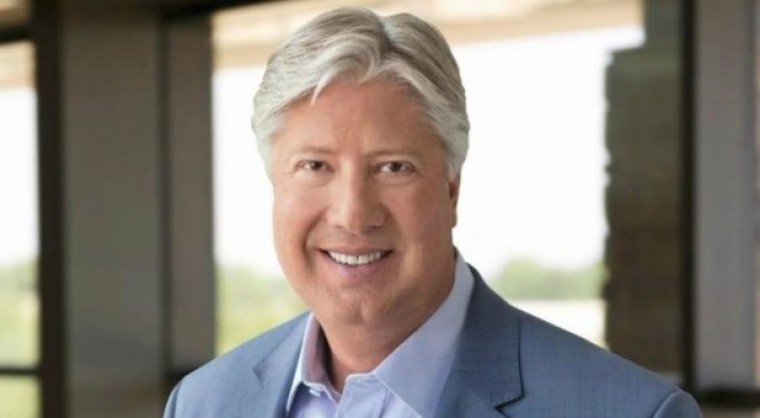 Robert Morris, founding pastor of the 39,000-member Gateway Church in Southlake, Texas, is in "stable" condition after being careflighted to the hospital for emergency surgery, his church has revealed.
In an update posted on the Gateway Church official Facebook page, church staff said that after contracting "some type of infection" stemming from a routine surgery, Morris was forced to undergo another surgery on Sunday to stop some internal blood loss.
"Pastor Robert's surgery was successful in stopping the bleeding," church staff noted. "Please continue to pray for no more bleeding and a quick and full recovery. Thank you all again for praying for him, Pastor Debbie, and the family. Your prayers are working!"
Following the surgery, Morris underwent an angiogram procedure to check for any additional bleeding.
"Everything went well and he is back in recovery," reads another Facebook update. "Keep those prayers coming as we ask the Lord for complete healing! We are so grateful for all the prayers and support you all have given for our pastor. We will post updates on this picture as we get them to keep you all informed. 'Then you will have healing for your body and strength for your bones.' - Proverbs 3:8."
Morris' wife, Debbie, also shared updates regarding her husband's health on her Instagram page.
"Thank you everyone for praying," she captioned a photo of church staff praying together. "@psrobertmorris is recovering from an angiogram. I am happy to report that they didn't find any active bleeding areas. Praise God!"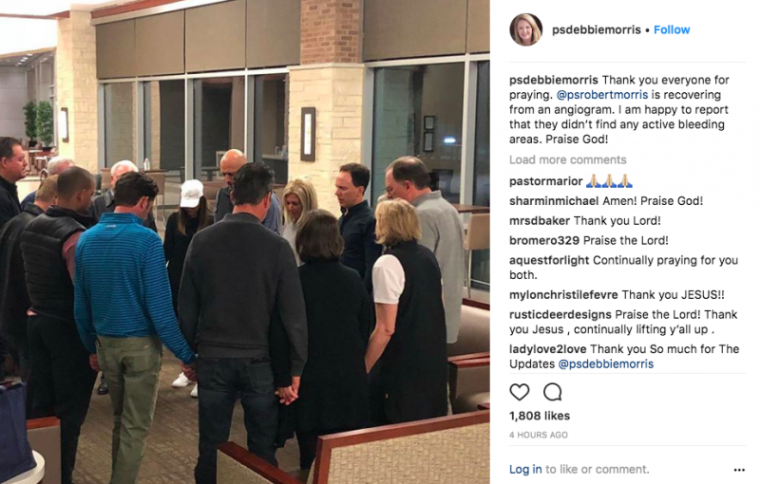 Earlier, she shared a photo from her husband's hospital room.
"At one point during the night I counted 9 different drip lines going into @psrobertmorris," she wrote. "I am grateful for the love and prayers that are dripping hope into our hearts. Pray for his blood pressure to stay in a normal range. Pray for continued improvement. Thanks to all of you for being the family of God."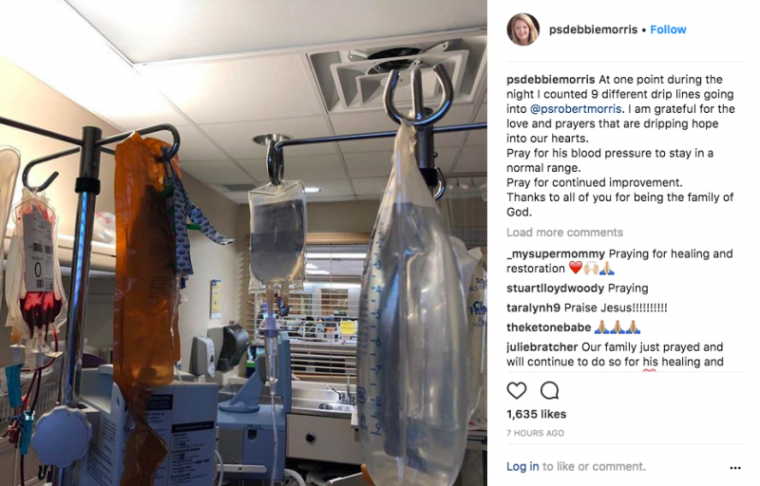 On Sunday evening, Pastor Jack Hayford also issued an urgent prayer alert for Morris.
"Please pray for the complete healing of my good friend Pastor Robert Morris, founding pastor of Gateway Church in Dallas, Texas," Hayford wrote in an email blast. "Last week, Pastor Robert underwent a surgery and was recovering, when, this weekend, he began to experience complications. He was taken by Careflight to the hospital where he continues to undergo tests. Please believe with me that the Blood of Jesus, shed for each of us, would make it's power manifest in the healing of this dear brother. Your prayers are powerful, and the corporate, united prayers of God's people are even more powerful. Thank you for standing in the gap with me as we trust and believe for healing."
Morris planted Gateway Church in 1999 after the Lord placed in his heart the desire to "start a Bible-based, evangelistic, Spirit-empowered church in Southlake, Texas, that would impact the Dallas/Fort Worth Metroplex and beyond," according to the church website. Today, the church has more than 39,000 active members meeting in multiple locations.
A well-known author, Morris frequently addresses hot-button social issues in his sermons, including racism, the fake news epidemic, and tithing.