Gaza: Women and Children Among 100 Killed in Bloodiest Day of Conflict; Netanyahu Blames Hamas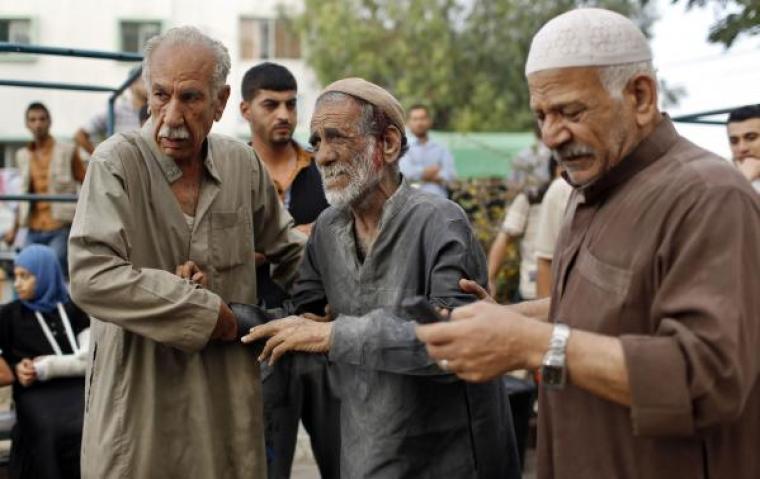 Over 100 people, including women and children, were killed on Sunday in the bloodiest day since the conflict between Israel and militant group Hamas began two weeks ago. Israeli Prime Minister Benjamin Netanyahu blamed Hamas for putting Palestinian civilians in the crossfire and using them as human shields, with the overall death toll reaching close to 500.
"We're sad for every civilian casualty. They're not intended. This is the difference between us. The Hamas deliberately targets civilians and deliberately hides behind civilians. They embed their rocketeers, their rocket caches, their - their other weaponry from where - which they fire - which they use to fire on us in civilian areas," Netanyahu told CNN in an interview on Sunday.
"What choice do we have? We have to protect ourselves. So we try to target the rocketeers. We do. And all civilian casualties are unintended by us, but intended by Hamas. They want to pile up as many civilian dead as they can, because somebody said they use - it's gruesome. They use telegenically dead Palestinians for their cause. They want the more dead the better."
The Palestinian government however has described Sunday's bloodshed as a "heinous massacre" and has called on the international community to stop the "Israeli aggression," The Guardian reported. The Arab League has also described the on-going shelling as a "a war crime against Palestinian civilians and a dangerous escalation."
Israeli ground forces moved in on the Gaza strip late last week, announcing that their intention is to take down terrorist tunnels and other targets.
Netanyahu's government has carried out airstrikes on Gaza for the past two weeks in response to rockets being fired from Hamas into Israel.
An Egyptian-brokered truce attempt earlier last week failed after Hamas refused to agree to the terms, demanding that Israel and Egypt lift border restrictions on Gaza that have led to economic struggles and unemployment.
On Monday, Israeli forces said that they are continuing to battle Palestinian militants and said that 10 fighters had been killed who slipped across the Gaza border through hidden tunnels.
The Guardian added that at least 13 Israeli soldiers were also killed on Sunday, representing a significant rise in casualties on the Israeli side. Israel's UN ambassador Ron Prosor denied claims made by Hamas, however, that an Israeli soldier had been captured during the fighting in Gaza.
"Those rumors are untrue," Prosor said.
Hospitals in Gaza are also reportedly becoming overwhelmed by the number of injured people and those seeking shelter from the relentless bombardment from air, sea and tanks in the ongoing battle between Israeli soldiers and Hamas militants.
Israel's ground invasion has prompted major protests across several European cities, including London and Paris.
NBC News reported that pro-Palestinian demonstrations led to clashes with police in Sarcelles, France on Sunday, with rioters setting fire to cars and garbage cans.
Pro-Palestinian supporters also shouted slogans and held demonstrations in Vienna, Austria, as well as in Sydney, Australia and Mumbai, India.
Netanyahu tried to put the situation in context, however, and said that he supports taking "whatever action is necessary" to stop "this insane situation."
"Just imagine - I mean, imagine what Israel is going through. Imagine that 75 percent of the U.S. population is under rocket fire and they have to be in bomb shelters within 60 to 90 seconds. So, I'm not just talking about New York - New York, Washington, Chicago, Detroit, San Francisco, Miami, you name it," he said in Sunday's interview.
"That's impossible. You can't live like that. So I think we have to bring back, restore back a reasonable, sustained quiet and security. And we will take whatever action is necessary to achieve that."
The U.N. Security Council held an emergency meeting Sunday night and called on an immediate ceasefire to the escalating conflict in Gaza.
"The members of the Security Council expressed serious concern about the growing number of casualties.
The members of the Security Council called for an immediate cessation of hostilities," Rwandan U.N. ambassador Eugene Gasana told reporters.