George W. Bush says immigration should be 'dear' to all religious people, become less political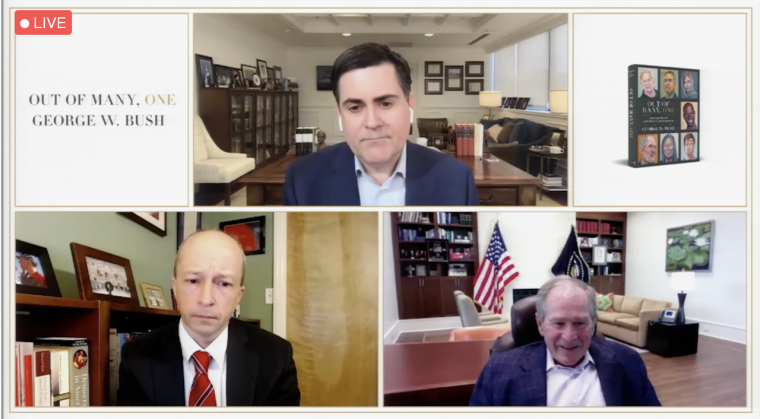 Former President George W. Bush said immigration should be "dear to all religious people" and immigrants should be viewed with a "loving eye" during a conversation Thursday with Southern Baptist ethicist Russell Moore and American Enterprise Institute's Yuval Levin. 
"It depends on where you start your philosophy from," the 74-year-old Bush, who served as the 43rd president of the United States from 2001 to 2009, said. 
"I start mine from 'all lives are precious, and we're all God's children.' … If that's how you view immigration, then you don't view them with a hostile eye. You view them with a loving eye. And a loving eye doesn't mean tearing down a border wall. [It] means treating people with respect."
The George W. Bush Institute, National Immigration Forum and the Ethics & Religious Liberty Commission of the Southern Baptist Convention hosted the panel discussion titled "Immigrants and the American Future."
During the conversation, Bush promoted his newest book released last month,Out of Many, One: Portraits of America's Immigrants, a collection of 43 portraits Bush painted of American immigrants and their stories. 
"Once an issue becomes politically hot, it's very difficult to paint a positive picture that rises above the noise," Bush shared. "So this book's an attempt to do that."
"Can we get something done?" he added, in reference to the need for immigration reform. "I think so. But it's going to have to be in bite-sized pieces."
The money earned from book sales is donated to organizations that help immigrants, asylum seekers and refugees resettle. 
Ali Noorani, president and CEO of the National Immigration Forum and the son of Pakistani immigrants, began the panel discussion by recounting how Bush handled the post-9/11 tragedy in treating Muslim immigrants with respect. 
"Over the course of his tenure as president … [immigrants] have always looked up to President Bush in his leadership," Noorani said. 
Bush-era Secretary of State Condoleezza Rice recently called immigration "America's secret weapon," and Bush shared this sentiment through his book by highlighting the contribution American immigrants have brought into the U.S.
"We should not fear the erosion of our culture [through immigration]," Bush stressed. "Immigrants enhance our culture of freedom and freedom of religion and freedom to speak and enthusiasm toward what America represents."
Born in Israel but grew up mainly in the U.S., Levin is one of the individuals painted in the  book. He served on the White House domestic policy staff under Bush, co-founded National Affairs magazine and now serves as the director of Social, Cultural, and Constitutional Studies at the American Enterprise Institute think tank in Washington, D.C. 
Levin said that the book shows "it's people who make America great."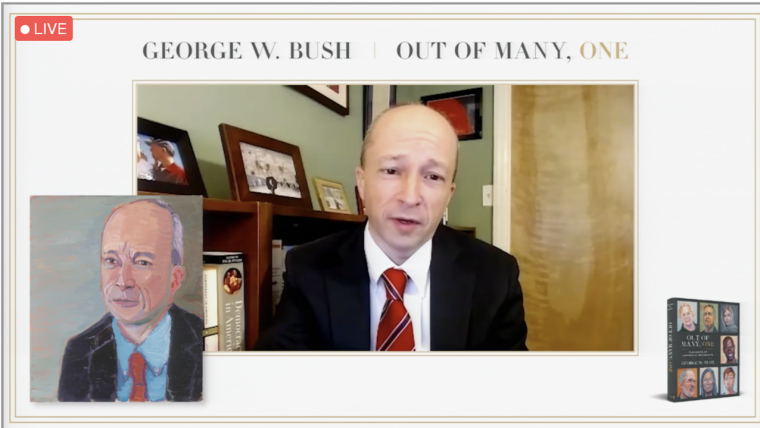 "Every immigrant is a face, is a story, is a human being who contributes something to who we are, and I think this [book] shows that so beautifully," Levin said. 
Levin said the book looks at immigration in a "human way" and as more than an "abstract set of policy problems but real human lives and people are trying to improve their lives and also our country."
The panelists discussed the southern border, which has seen an increase in crossings in recent months amid the changing policies of a new administration. 
Bush said a strong border is necessary though modern immigration reform is also important. He called for more asylum judges and properly functioning asylum systems in the countries of origin. 
The conversation shifted to the Uyghur Muslim population, which is facing mass internment and genocide in the Xinjiang province of China.
The former president said the U.S. is obligated to speak up for the Uyghurs and the oppressed, as it has done throughout history. 
"When we become an isolationist nation, turning inward, then all of a sudden, the sole voice, the most important voice for saying 'we hear the cries of the oppressed' is silenced," he explained. 
"And so first of all, as a country, we've got to understand our important role of helping the refugee or helping the imprisoned. We can't solve every problem, but we ... sure can bring it to the world's attention, and the Uyghur issue is now front and center. It's no longer a transactional matter. It's a matter of deep care."
Bush compared the U.S' success and ability to prosper and said, "our franchise [America] is fabulous."
"We've got a winning franchise," Bush, a former Texas Rangers baseball team owner, said. 
"We've been battered by historical trends. We've had moments of doubt. We've had uncertainty. And yet, we're still the winningest franchise in the world. And one reason why is [that] we self-correct. We recognize our weaknesses and we correct and the reason we are able to correct is because freedom is a corrective philosophy." 
While many have called on Congress for years to pass substantial immigration reform, Bush said it would take incremental work for that to happen.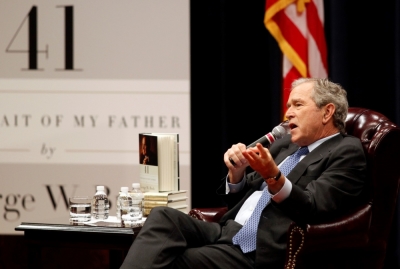 "We're a free society and gotta keep it that way, by the way," he said. "And somebody who comes from a non-free society takes a look at America and says, 'Wow I can make it.'"
Immigration is near to the former president's heart. He recounted what he remembers as one of the most profound moments of his presidency when he witnessed two wounded Marines, who were citizens of Mexico, finally become U.S. citizens. 
"That's the beauty of America," Bush declared.
In an April interview with NBC's "Today," Bush said he wants "border enforcement with a compassionate touch." He is opposed to open borders but wants it to be easier for people to legally enter the country.