Georgetown Univ. Students Accused of 'Hatred,' 'Intolerance' for Not Supporting Gay Marriage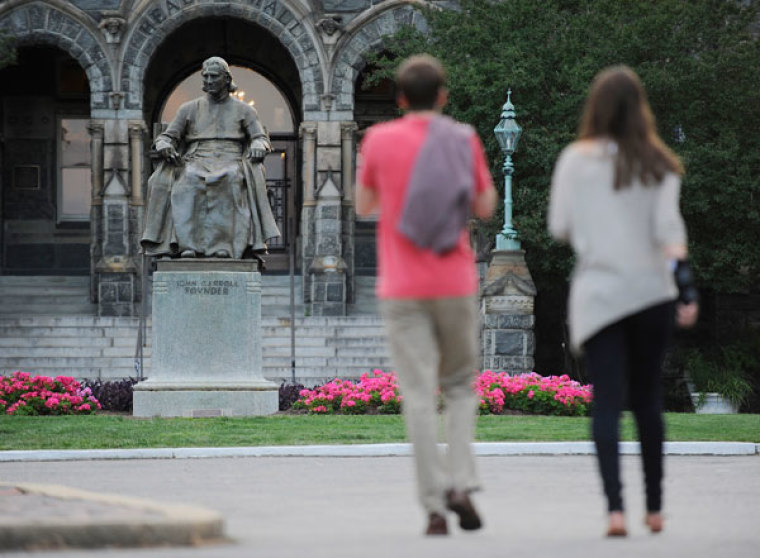 Accusations of "hatred" and "intolerance" are being lobbed against a student group at a prominent Catholic University in Washington, D.C. that supports the official Church teaching on marriage and sexuality.
Love Saxa is a Georgetown University group that exists to promote "healthy relationships and sexual integrity" on campus.
According to local reports, a September editorial in the Georgetown school newspaper The Hoya, titled "Confessions of a College Virgin," Love Saxa President Amelia Irvine, a junior, explained her decision to not have sex with her boyfriend. She aimed to dispel the notion that she and others like her who have made the same choice were "not plodding miserably through life," just because they have opted not to have sex.
"Love Saxa's definition of marriage does not include same-sex couples, as we believe that marriage is a conjugal union on every level — emotional, spiritual, physical and mental — directed toward caring for biological children. To us, marriage is much more than commitment of love between two consenting adults," Irvine wrote.
That expressed exclusion of same-sex marriage set off a firestorm, which yielded a editorial response from the The Hoya called "Defund Intolerance."
"Love Saxa's advocacy of denying individuals' rights on the basis of their sexual orientations is inherently intolerant," the editorial claimed. "The club is antithetical to what a university club should be, and it should be ineligible for any university benefits."
Like other groups officially recognized by the Student Activities Commission, Love Saxa receives $250 per year in university funds.
The "Defund Intolerance" editorial further argued that the standards govering campus organizations state that student groups that foster "hatred or intolerance" are ineligible to receive the benefits of university recognition.
"If SAC seeks to uphold these standards, it must vote to defund Love Saxa," the editorial concluded.
In the coming days a Student Activities Commission hearing is expected to be held to consider a complaint that was filed by individual students on Oct. 22.
In support of Love Saxa, U.S. Sen. James Lankford, R-Okla., tweeted Wednesday: @Georgetown shouldn't use its freedom as a private school to discriminate against students based on their beliefs."
He also quoted President Obama's 2015 remarks following the Supreme Court ruling Obergefell v. Hodges that legalized same-sex marriage in a subsequent tweet: "We must "recognize different viewpoints, revere our deep commitment to religious freedom."
Writing on their Facebook page, Love Saxa said Monday that they "are not interested in promoting hatred of any kind, nor are we interested in the support of individuals who use threats and harassment."
Georgetown University has yet to take an official position on the defunding issue, saying in a statement that the school listens "deeply and discerningly" to many voices present among our students, faculty, and staff and "is committed to the care of each member of our community."
"Through the student-governed Student Activities Commission, the university supports more than 200 co-curricular student organizations with access to benefits, including Love Saxa."
"We strongly support a climate that continues to provide students with new and deeper contexts for engaging with our Catholic tradition and identity. Love Saxa is one of many groups operating on campus with positions that affirm the teachings of the Catholic Church. We also support a climate that is welcoming to all students and supporting of our LGBT communities," the Georgetown statement read.
On Love Saxa's "About" page, the student group noted that many Georgetown students "lack a space to discuss their experiences of the harmful effects of a distorted view of human sexuality and the human person."
"Through programs consisting of discussions, lectures, and campaigns, we hope to increase awareness of the benefits of sexual integrity, healthy dating relationships, and the primacy of marriage and family as central pillars of society."