Georgian Church Banners Violate Sign Ordinance, Says City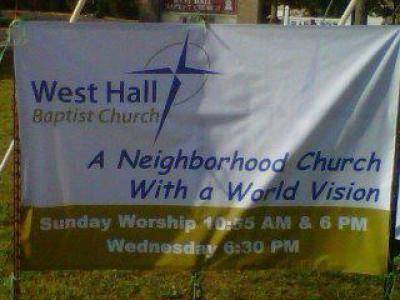 A city in Georgia has told a local church to remove a couple banners, saying that the use of such displays is in violation of an ordinance regarding signs.
The City of Oakwood informed West Hall Baptist Church that the banners placed on its property that gave the church's name and times for worship were not in compliance with the Code of Ordinances.
Dr. Mike Reynolds, pastor at West Hall Baptist, told The Christian Post that the banners were put on display last year, well before the recent complaints were made by Oakwood officials.
"We put up the banners to announce our service times. We did not have enough numbers and letters for our permanent sign and it was a pain getting replacements," said Reynolds.
"We also were changing our logo with a new slogan and wanted them up to announce all of that. We put them up nearly a year before the city said anything about them."
While West Hall Baptist has agreed to take down the banners, Reynolds explained to CP that in the near future they intend to place banners up once more despite the city ordinance.
"Yes the banners are down. We did not want this to become our focus nor define our church," said Reynolds.
"However, in the future when we have special events like Easter events, Vacation Bible School or other such things we will put up temporary signs and we will not ask for permission."
According to Oakwood's Code of Ordinances, Sec. 54-246, "Except as otherwise excepted by the provisions of this subdivision, it shall be unlawful for any person to erect, construct, enlarge, move, replace or convert any sign without first obtaining a permit from the zoning administrator…"
Stan Brown, city manager for the City of Oakwood, told The Christian Post that in the future West Hall Baptist can display the banners once they apply and are given a permit.
"Like most communities we have a sign ordinance that regulates the number, size, location of signs in the city," said Brown, who noted that as a nonprofit the church does not have to pay a fee for a permit. "No enforcement action was ever taken. We merely advised the church that the banner was a violation and offered a remedy to bring it into compliance."
"As a city we have a long history of seeking 'win-win' solutions. Church has taken the banner down. We continue to stand ready to work with the church and anyone else to assist in any way."
Reynolds, however, maintains that the City of Oakwood does not have the right to regulate how his church displays banners like the ones that were up until recently.
"The ordinance has to do with signs and banners and the city requires that we have a permit from them to place them. My disagreement with that is that they cannot regulate churches when it comes to the message we present and how we present it," said Reynolds.