GLAAD's Claim of 'Alarming' Drop in Support for LGBT Causes Due to Transgender Policies, FRC Says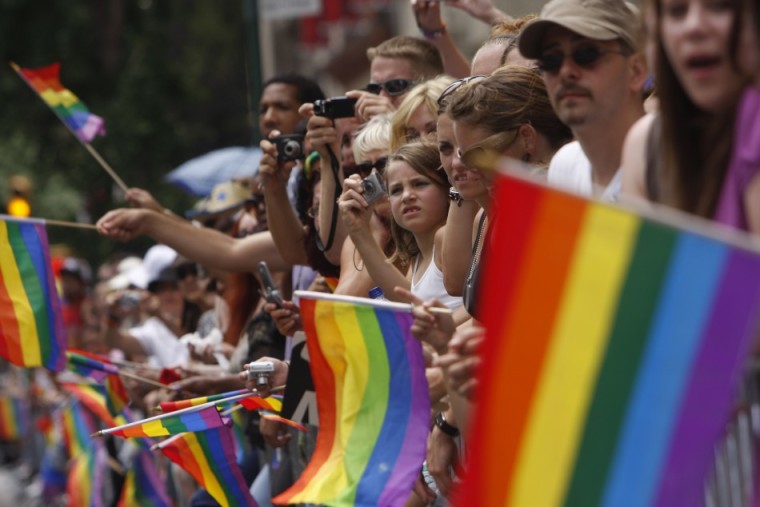 A pro-traditional family group says a new report showing a drop in Americans' support for LGBT causes could largely be due to the "militancy of transgender activists" and the push to allow men who identify as female to use women's bathrooms.  
GLAAD, an LGBT activist organization, released its "Accelerating Acceptance" report last month, saying that it shows an "alarming" 3 percent decline in public support for the queer community. It blamed the decline on the Trump administration rescinding Obama's directive that schools allow students who identify as transgender to use any gender bathroom they choose, and its opposition to allowing transgender persons to enlist in the military. 
"In the past year, there has been a swift and alarming erosion of acceptance which can only be fought by being visible and vocal," said GLAAD President Sarah Kate Ellis in a statement. "This report puts numbers to the bias that too many LGBT Americans have recently experienced. 
The "Accelerating Acceptance" report is based on a survey of 2,100 American adults carried out Nov. 16-20. It found that less than half, or 49 percent of non-LGBT adults, are "very" or "somewhat" comfortable with LGBT people in various situations.
The 2017 report found that over half, or 53 percent of the same group, said the same a year ago.
What is more, GLAAD and The Harris Poll found that 55 percent of LGBT adults said they have experienced discrimination because of sexual orientation or gender identity, which is an 11-percentage-point increase from the previous year.
Peter Sprigg, Family Research Council's Senior Fellow for Policy Studies, told The Christian Post in an email interview that the size of the changes in the poll is "quite small," and while a 3-point change may be considered "statistically significant," it's not large.
"The largest change — an 11-percentage-point increase in 'LGBT people' reporting 'discrimination based on gender identity or sexual orientation' — requires further breakdown to actually be helpful," Sprigg said.
"Are they claiming they were personally victims of acts of discrimination in employment? In housing? In 'public accommodations?' Or simply a general, subjective feeling of not being respected? Without a clearer definition of what respondents mean by 'discrimination,' it is hard to know how to interpret this statistic."
The FRC representative suggested that "LGB" section should be separate from the "T" when it comes to public opinion polling.
"My suspicion is that while there has been a continual gradual increase in acceptance of homosexuality, the relatively sudden increase in both the prominence and the militancy of transgender activists has led to somewhat of a backlash on that issue," he told CP.
"Many people rationalize the acceptance of homosexuality based on an attitude that 'I don't care what people do in the privacy of their own bedroom.' But the transgender movement, by definition, involves what people do in public (including public restrooms, locker rooms, and showers), as well as demands for explicit affirmation in the form of the 'correct' pronouns, etc."
The GLAAD report pointed to several of Trump's policies as possible factors for the change in public opinion.
"2017 brought heightened rhetoric toward marginalized communities to the forefront of American culture," it positioned.
It identified a number of policies that it said were anti-LGBT, such as the proposed ban on transgender people entering the U.S. military.
Last year Trump effectively nullified former President Barack Obama's controversial mandate urging schools to give boys who identify as female access to girls' bathrooms, locker rooms and showers. 
The Departments of Education and Justice withdrew Obama's previous guidance in February 2017, despite protests from some parents of transgender students. Secretary of Education Betsy DeVos told the Conservative Political Action Conference at the time that the last administration's guidance was "a very huge example of the Obama administration's overreach."
Sprigg suggested that the "aggressive promotion of the transgender issue" under Obama and in popular culture, such as Bruce Jenner now identifying as a transgender woman, named Caitlyn, is what has led a pushback in public opinion.
"The Trump administration's reversal of the school bathroom policy and the transgender military policy may have served for some people as validation of the reluctance they had about embracing these new policies," Sprigg said.
"And the administration's initiatives for defending religious liberty may have given some people a bit more confidence that they could express their true feelings without fear of punishment or retaliation," he added.
Trump has made various statements and expressed different sentiments on LGBT issues throughout his political career, which have drawn both praise and criticism from social conservatives.
Days after becoming President-elect in November 2016, for instance, Trump told CBS' "60 Minutes" program that the debate over gay marriage in America was settled with the Supreme Court's 2015 ruling that legalized the practice nationwide.
"It's irrelevant because it was already settled. It's law. It was settled in the Supreme Court. I mean it's done," Trump said at the time.
"It's done. ... These cases have gone to the Supreme Court. They've been settled. And, I'm fine with that."
The president has also received support from some LGBT Americans, with a group called Gays for Trump petitioning to take part in a gay pride parade in June 2017 in North Carolina with "Make America Great Again" flags, though organizers rejected them.
Still, both the National Center for Lesbian Rights and the GLBT Legal Advocates & Defenders filed a lawsuit against Trump in August over his announcement that transgender individuals would be barred from openly serving in the U.S. Army, though Trump's directive was eventually blocked by judges.
Other major developments regarding sexuality issues in the U.S. Army included the U.S. Senate's repeal of the "don't ask, don't tell" policy that barred openly gay people from serving in military, which was enacted by former President Bill Clinton in 1993.
The repeal under Obama's administration in December 2010 was harshly criticized by FRC President Tony Perkins.
"Today is a tragic day for our armed forces," Perkins said at the time. "The American military exists for only one purpose — to fight and win wars. Yet it has now been hijacked and turned into a tool for imposing on the country a radical social agenda."
The Trump administration has also sided with Christian baker Jack Phillips in his ongoing Supreme Court case. Phillips is seeking to overturn a lower court's verdict that found him guilty of discrimination for refusing to make a wedding cake for a gay couple, citing his religious beliefs.
Most recently, the Department of Health and Human Services under Trump announced in January that medical professionals opposed to abortions or gender reassignment surgery will have their conscience rights protected.
Office of Civil Rights Director Roger Severino said in a statement that the decision is aimed at protecting religious freedom laws, warning that they are "just empty words on paper if they aren't enforced."