Glenn Beck, Christine Caine, Michael Reagan Among Notable Speakers at Liberty University's Spring Convocation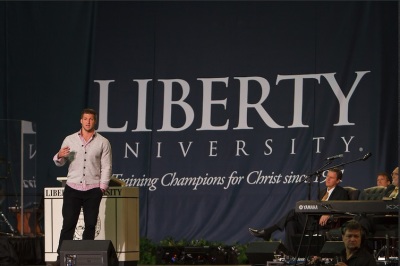 Mormon political pundit Glenn Beck, Hillsong pastor and anti-human trafficking activist Christine Caine, and the 40th president's adopted son and conservative columnist Michael Reagan will speak as part of Liberty University's spring convocation series.
Johnnie Moore, the Viriginia-based school's senior vice president of communications, said that the school annually offers dozens of prolific leaders in church, business, science and culture a platform to speak with young evangelicals.
"Liberty's convocation is the largest weekly gathering of Christian young people in America. There's no other environment where you can speak to more 18 to 22 year olds each week," Moore told The Christian Post.
Among the roughly 80 people who spoke during the fall convocation included Patti Malette, mother of the singer Justin Bieber, and former Alaska governor Sarah Palin. And the now-NCAA football analyst Tim Tebow hailed a packed house in the spring of 2013.
While the school does not have an official process for selecting speakers, Moore said LU looks for student to administrator feedback when making decisions.
"We have a running list of people that we are interested in bringing to Liberty. And it's also a list of people who are particularly relevant in the national conversation. There are lots of personalities in the business world, entertainment world, world of government, in education, in the sciences. [The people we choose are those] we would like to come and share their ideas to our audience."
Unlike many Christian schools, Moore made it clear that Convocation is not a chapel service. Although it includes prayer and singing worship songs, speakers do not need to share the school's faith. As a result, Mormons, such as Beck and former Massachusetts governor and presidential candidate Mitt Romney, have both accepted the school's invitation. (Moore pointed out Romney was the fourth Mormon commencement speaker in the school's history.)
In 2012, businessman and "friend of Liberty" Donald Trump came to the school, where he was "well-received" by students, said Moore.
"You wouldn't necessarily think of him as speaking at a university chapel service, maybe, but this isn't chapel, this is Convocation," Moore emphasized. "We're friends with lots of people that you wouldn't think of intuitively as friends of Liberty."
As a whole, Moore says, LU makes an effort to expose their students to a broad array of political, theological and cultural ideas and affiliations.
"Diversity is important to us. We often are educating students on that a Convocation invitation doesn't necessarily mean that Liberty agrees with everything speaker says," said Moore. "The best convocations aren't those that tell students what to believe, but those that leave the campus all abuzz in conversation."
"We've had Democrats. We've had Republicans. We've had those who generally agree with Liberty's position and those that don't. We've had every denomination you can imagine. We are ardent believers in what [theologian] Francis Schaeffer called 'co-belligerency' which means you don't have to agree on everything to move forward," Moore added.
The school's convocations lasts for one hour each Monday, Wednesady and Friday and are open to the public, although seating is limited. They are also available for livestream—an option that Moore says is frequently taken advantage of by interested parents, alums and online students.
Convocation attendance is mandatory for LU students, but Moore says that is rarely an issue as students are often loathe to miss out.
"In my experience, chapel services at Christian high schools and universities sometimes have a negative connotation," said Moore. "At Liberty University students love Convocation. We have lots of Liberty students who choose Liberty University because of Convocation."