Glenn Beck: I Left Fox News Because They Told Me to 'Stop Telling People to Pray'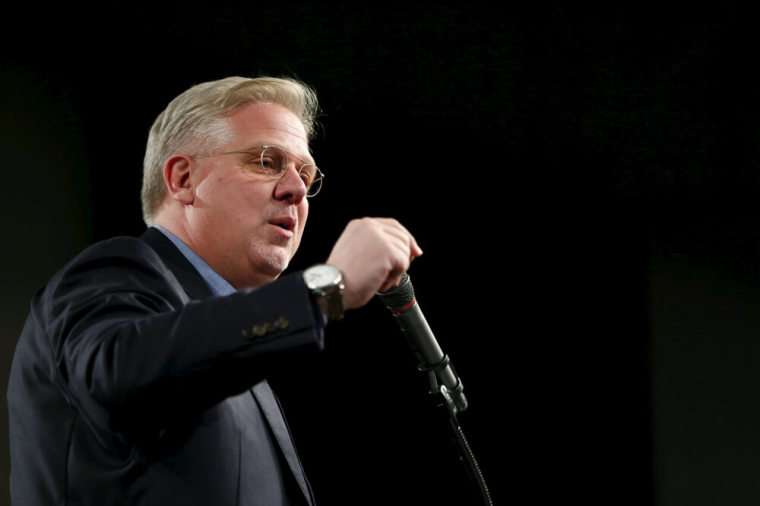 Former Fox News host Glenn Beck told supporters at a Ted Cruz campaign event in South Carolina on Saturday that he left his comfortable job with the cable news channel because he was told by his superiors to stop telling people to pray.
Beck, who left Fox News in 2011 and now runs his own cable news channel called TheBlaze, revealed to audience members at a rally for the Texas senator at the Springmaid Beach Resort in Myrtle Beach that one of the reasons he left the premiere conservative cable network was because he was told to "stop talking about God."
"I was told, 'Stop telling people to pray.' I was told not to tell people to pray on their knees because there's a lot of people in the audience whose knees hurt and I make them feel bad," the 52-year-old Beck explained. "I was told, 'Stop praying because that takes God's focus off the important things like war.'"
"I was just like, 'Uh huh. Wow," Beck continued. "I thought I was gonna get this speech at CNN.'"
Even after he was told to stop telling people to pray, Beck continued to talk about God and prayer on his show. Four months later, he was called back into the same unnamed Fox News superior's office.
"Do you realized how many times you've said the word 'God' on the air since [that conversation]?" Beck recalls being asked.
"I said, 'You counted?'" Beck replied.
The person then explained that since he was told to stop talking about God and prayer, Beck had done so at least 91 times on the air.
It was at that moment that Beck said that God was telling him and his wife that they were in the wrong place and they had to leave.
"The Lord was telling us, 'You are in the wrong place. You're just in the wrong place,'" Beck stated. "And when we left, I wanted to stay there. In fact, the guy who runs the placed told me, 'You're not leaving.'"
Beck responded by asserting that he was, in fact, going to leave.
"No, you won't. ... Because you're famous, make good money, you're living a great life. Nobody leaves," Beck recalled being told. "I said, 'Well, I'm going to.' And that's because God said to me: 'If you don't leave now, you're not going to leave without your soul. Because once your start wanting it, that's when you start compromising."
In January, Beck endorsed Cruz for president during a rally at Faith Bible College in Ankeny, Iowa, and told supporters that Cruz intends to "repoint the cornerstones" in Washington.
"Ted doesn't want this. Ted would have compromised if he wanted it. Ted would have done whatever he had to do, he would have played the game if he wanted it," Beck asserted at the Myrtle Beach rally. "What he wants is to restore the Constitution and put us back on track."