Glenn Beck, Born-Again Mormon Christian, Defends Fellowship Church Pastor Ed Young Amid 'Attacks'
Texas Megachurch Invites Beck as Special Guest During July 4-5 Services to Discuss American History
Radio host and television personality Glenn Beck has come to the defense of megachurch pastor Ed Young amid criticism over the Dallas, Texas, minister inviting Beck, a Mormon, to speak to his evangelical congregation.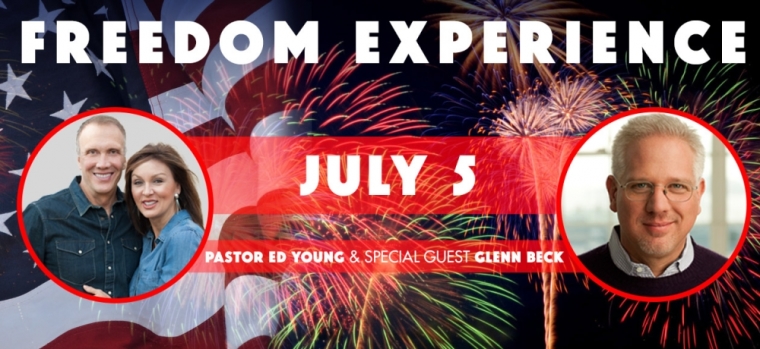 The Christian Post reported Wednesday that Beck, who describes himself as "a born again LDS Christian," will be the special guest this Independence Day weekend at Young's Fellowship Church.
Beck was invited to the church's Freedom Experience on July 4-5 for "a special interview" with Young focused on the significance of America's Independence Day history.
Fellowship Church spokesman Andy Boyd made it clear that Beck had been tapped for what the leadership believes is his expertise on U.S. history and his love for God.
"At Fellowship, we wanted to bring in one of the most qualified people to speak on that subject. Glenn Beck is a man who is undoubtedly an American patriot, loves this country, and has shown his love for God in many ways. His knowledge of our history and his understanding of our nation is unmatched, and we're excited to have him here. We encourage everyone to join us because this is going to be a great weekend to celebrate who we are, where we are, and where we are headed!" Fellowship Church spokesman Andy Boyd told CP via email on Tuesday.
Now, amid criticism from those concerned about the Latter-day Saint's presence at the Southern Baptist-affiliated multi-campus ministry, Beck has issued a lengthy statement in an attempt to clarify exactly what those who will be watching his Freedom Experience in person or via livestream can expect.
In his statement, Beck calls Young "brave" for "taking a beating for inviting me to speak at his church all three sessions this weekend."
It was not clear who Beck believed was "beating" Young up over his invitation, although he states: "Darkness knows if we, the children of the God of Abraham, Isaac, and Jacob present a united front we can and will defeat any force on Earth."
The Blaze website and network founder, whose company was reportedly "quietly" downsizing amid upheaval as it transitions productoin operations to Dallas, also addressed speculation over his association with the evangelical Christian community of late.
As CP reported Wednesday:
In May, Beck was given "a new mantle for the future" by charismatic preacher Chuck Pierce. Pierce later issued a defensive statement addressing why he gave Beck, who he said "is a Mormon," a cut of cloth believed to be symbolic of one's calling by God.

Leading evangelical Christian school Liberty University also faced criticism last year when it hosted Beck at its convocation where he reportedly "preached a sermon threaded with Mormon theology."
One point on which the Church of Jesus Christ of Latter-day Saints and traditional Christians differs is the former's teaching in the Book of Mormon, which Mormons view as holy writ along with the Bible, that Jesus visited North America after his resurrection.
On Tuesday, the Fellowship Church spokesman did not express any concern over Beck's standing as a member of the Mormon Church, and focused only on the former Fox News host's "unmatched" knowledge of U.S. history.
Indeed, Beck confirmed Thursday: "My topic is God's role in American history and how we always rise to the occasion as we turn back toward God."
Here is a video promo of Beck pitching his July 4-5 appearances at Fellowship Church, followed by his full statement defending pastor Young against "attacks."
Beck's statemetn as posted on Facebook:
I want to point out a very brave man. Someone who's willingness to come under attack should be commended.

There are more and more everyday but it is not often you find one with this much to lose willing to take a beating for something he could easily avoid.

Ed Young is the pastor of fellowship church here in Texas. It is a family of churches that he shepherds from here in Texas to Florida and all the way to London.

He is currently taking a beating for inviting me to speak at his church all three sessions this weekend.
 My topic is Gods role in American history and how we always rise to the occasion as we turn back toward God.

Those who wish to continue to divide Americans are attacking him on every front. Because Incase you didn't know I am LDS.

I will go a step further just for the fun of the press:

I am a born again LDS Christian who teaches Gospel Doctrine in my church, speaks about God and Jesus more than any other main stream radio or television host in the last 70 years, who also studies the Torah with rabbis on a regular basis and met today with the Dalai Lama. [smile emoticon.]

Oh, I almost forgot, I was texting my atheist friend from the meeting with the DL. (that will drive them nuts) I refuse to be put in a box. We all should. If everyone I know loves Jesus, I don't know enough people.

But that is not why Ed and brave men like him are being attacked.

Personally I think the rules for radicals that Saul Alinski taught in his book that was dedicated to lucifer, are alive and well on the fringes of faith.

Isolate and ridicule. It stops us from uniting. Abe Lincoln had it right, divided we fall.

All faith is under attack. It won't just hurt my church or yours. In the end it destroys all of us.

Darkness knows if we, the Children of the God of Abraham, Isaac, and Jacob present a united front we can and will defeat any force on earth. If we are on Gods side who can stand against us?

Glenn Beck

|

(Photo: Reuters)

I am NOT speaking about theology this weekend and I do not wish to do anything but strengthen people's faith in one God. The God of their understanding.

The God who established this nation and the God that is telling us if we turn our face to Him, He will heal our land.

I have met many wonderful people from many faiths. America is crying out to her pulpits. We need men of character, humility, love and fearless boldness.

Ed Young is one of those men.

I know this doesn't help Ed with his detractors, but I admire him for his willingness to link arms with others while remaining true to His beliefs and setting an example of how Christ would have is treat one another.

I hope his congregation knows how strong he is in his faith and doctrine. It is not a sign of weakness but a sign of strength and conviction in what you know and believe when you are not afraid of others. He knows who he worships and he knows his congregation. They are strong in the faith.

This is a man who is not hiding his light under a bushel. And when that happens the enemy can more easily see the target.

Please join me this weekend on line or in person at one of his many fellowship houses of worship. One service on Saturday and two on Sunday for America's day of independence.

It is humbling and an honor to stand with Ed and his wonderful congregation.

Here is one story that does a fairly good job of playing down the middle.
http://www.christianpost.com/news/ed-youngs-megachurch-says-glenn-beck-is-headlining-july-4-freedom-experience-because-hes-an-american-patriot-who-loves-god-141024/